Top Paul operative accuses Rubio operative of punching him 'in the face'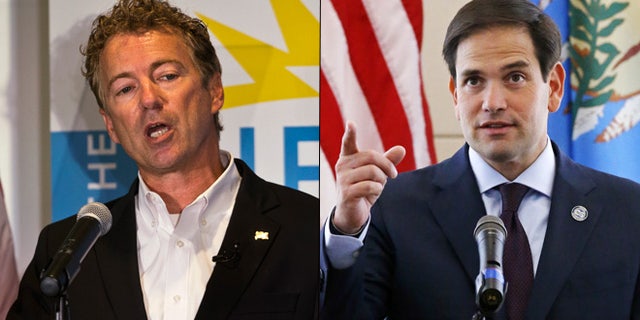 NEWYou can now listen to Fox News articles!
The Republican presidential race has come to blows.
A top political operative for Rand Paul on Friday accused a top Marco Rubio operative of punching him "in the face" at a Michigan bar the night before, near the site of a weekend Republican conference.
John Patrick Yob, Paul's national political director, took to social media Friday morning to detail the incident -- which allegedly involved Rich Beeson, Rubio's deputy campaign manager -- and call for Beeson's firing. He said the run-in happened at a bar on Mackinac Island, where several GOP campaigns are converging for the Mackinac Republican Leadership Conference, which starts Friday.
Yob posted on Facebook:
"I ran into a guy named Rich Beeson, who frankly I didn't even know who it was at first because he isn't relevant in our political world. ... He literally physically assaulted me by punching me in the face. The state police are looking for him. I have it on video, from multiple angles. This will play out in the national media in the next few hours."
The "video" was not posted on his account, but the Guardian has since posted purported security footage of the incident.
Yob also tweeted:
Rubio spokesman Alex Conant told FoxNews.com they're looking into the allegations.
"We're aware of the initial media reports and seeking more information about what really happened," Conant said Friday.
The grainy footage posted by the Guardian seems to show one patron striking another. While Yob claimed "state police are looking" for Beeson, the Guardian reported that the matter is being handled by the Mackinac Island police department -- whose chief Brett Riccinto told the Guardian the confrontation is being blown out of proportion.
"It wasn't a brawl," Riccinto told the Guardian. "If anything, it was a shove."
The scuffle reportedly happened at Horn's bar. A woman who answered the phone at the bar told FoxNews.com "no comment" when asked for details.
A flurry of accounts by Michigan reporters were also posted Friday morning. MLive reported that the incident, according to an unnamed source, was personal and not political.
Blogger Brandon Hall, with the news site West Michigan Politics, claimed he was at the bar when the confrontation happened.
"I witnessed Beeson suddenly, out of nowhere, approach one of Rand Paul's advisers, John Yob -- unprovoked -- and try to hit him. Beeson missed a full on shot but still struck Yob's in the face with a powerful blow near the jaw," he wrote.
Hall wrote that "Beeson has been banned from Horn's by the owner and is no longer welcome in the establishment."
Florida Sen. Rubio and Kentucky Sen. Paul are trailing in the polls, in a race dominated by Donald Trump. The two candidates participated in Wednesday's Republican presidential primary debate.