Tom Steyer, Democratic megadonor seen by some as 2020 hopeful, calls for Trump impeachment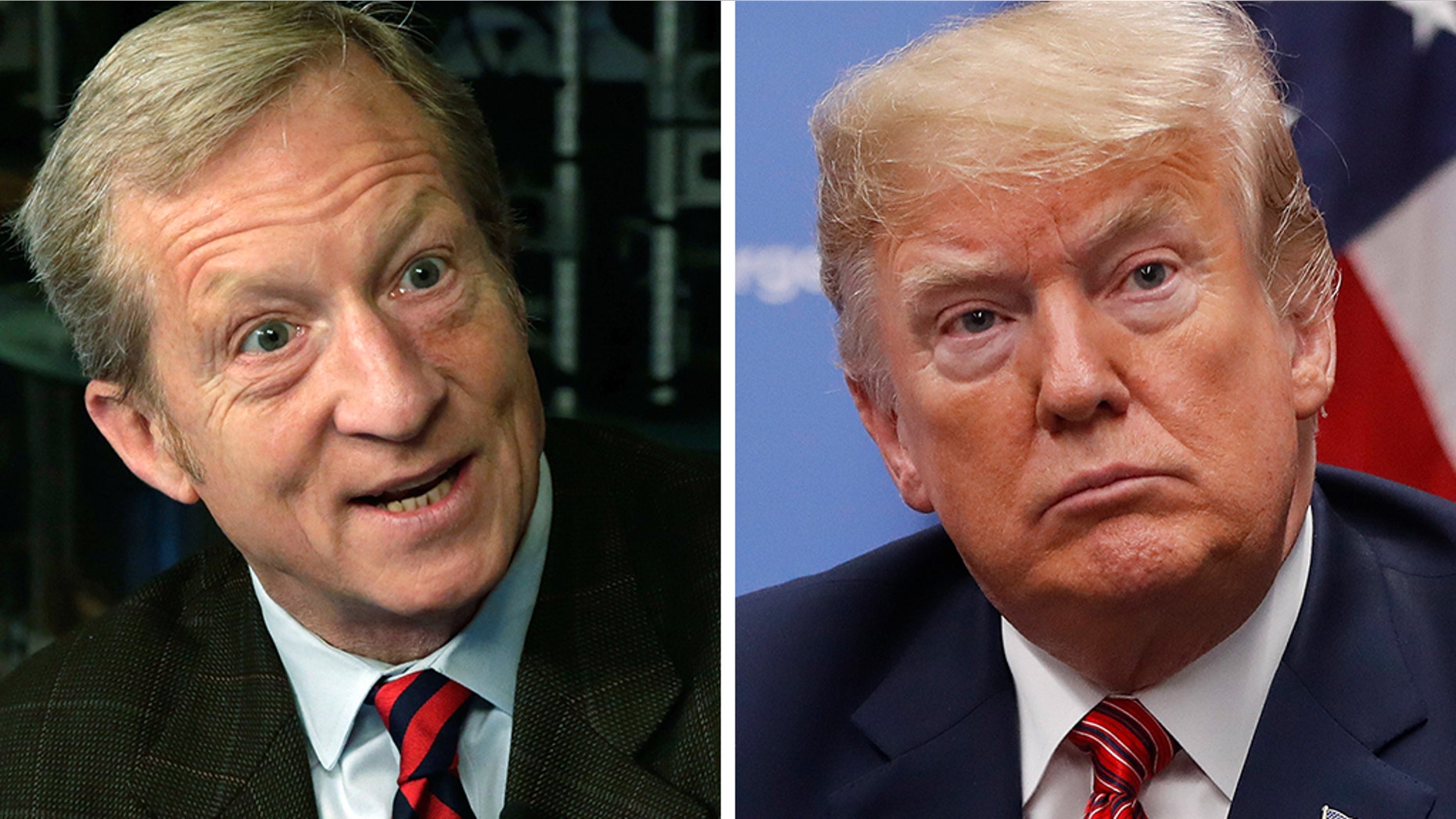 Liberal megadonor Tom Steyer kicked off what many consider his 2020 presidential bid at town hall event in South Carolina on Tuesday night, assailing Republicans for creating unfair elections and renewing calls for impeachment.
Steyer spoke alongside a panel in Charleston at what was the first of five scheduled town halls. Each event will focus on the "Five Rights" of his platform, which he calls the "social contract for the 21st century."
The liberal billionaire focused on "free and fair elections" on Tuesday.
TOM STEYER UNVEILS SIX-FIGURE AD BUY, PLATFORM IN APPARENT SIGNAL OF A 2020 PRESIDENTIAL BID
"I truly believe that what Republicans are trying to do is to figure out how to win with less than 50 percent of the people," Steyer started out. "Rather than changing their message to appeal to more than 50 percent of the people, which seems to me the logical thing to do in a democracy, what they're trying to do is how to win knowing that they have a minority and without appealing to the majority."
Steyer pointed to gerrymandering, voter ID laws and polling locations as leading problems, adding that South Carolina was the "perfect place" to discuss these issues because they are so prevalent in the this early-primary state.
While never explicitly confirming a bid for the White House, Steyer took many opportunities to fuel the rumors.
"I am here to listen," he told the crowd before a Q&A.
Steyer also took aim at former President Barack Obama and President Trump.
"Barack Obama likes to say that in a midterm election, people vote against something, but in a general election, people want to vote for something -- and I believe that Americans can in fact walk and chew gum at the same time," he said.
"We can recognize that we have the most corrupt president in American history who is a basic threat to our system and our safety and to the constitution itself and understand that we have to act on that."
Steyer quickly moved the conversation to impeachment, something he has strongly advocated through his organization Need to Impeach.
At one point during the town hall, someone from the crowd shouted "I want to hear about impeachment!"
BILLIONAIRE LIBERAL TOM STEYER SAYS DEMS 'LACK COMMON SNESE' FOR NOT FIGHTING TO IMPEACH TRUMP
"When you think about what it would mean to impeach, what would happen is what's supposed to happen in the United States, which is we would get all a free and fair hearing of what this president has done," Steyer said.
Steyer last month rolled out his "Five Rights" list, calling on Democrats to "take a stand" ahead of 2020 and "champion the peoples' positive vision of the future."
The stated rights include: "the right to an equal vote in a fair democracy; the right to clean air and clean water; the right to learn, from pre-K through college and advanced skills training; the right to earn a living wage; and the right to health."
Fox News' Brooke Singman contributed to this report.