The lure of ISIS: Feds catching more Americans trying to aid terror groups in Iraq, Syria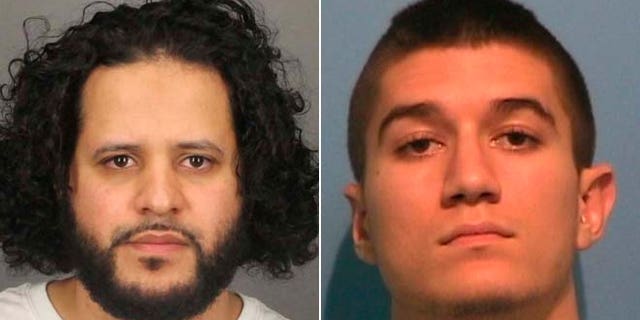 NEWYou can now listen to Fox News articles!
On the heels of the deadly hostage situation in Sydney, where the suspect claimed Islamic State ties, a review by Fox News shows an increasing number of Americans are trying to aid terror groups in Iraq and Syria.
Since March 2013, more than 20 American citizens or legal residents have tried to join or provide support to terror groups in those two countries.
At a time when the threat of lone-wolf Islamic State sympathizers once again has risen to the fore, the review shows that since early this year, federal law enforcement in the U.S. have been dealing with homegrown terror cases at a rate of one almost every other week.
The cases involve individuals from all across the country, from Florida to Minnesota to Colorado. They underscore the challenge U.S. law enforcement continue to face, as well as the global reach of recruiters and propagandists from ISIS and other groups. While investigators are still looking into the hostage-taker -- now dead -- in the Sydney case, a counterterrorism source told Fox News there's little doubt it was Islamic terrorism. The question is whether suspect Man Haron Monis was directed by ISIS, or inspired by their message.
One of the most recent American cases involved two Minnesota men, Abdi Nur and Abdullah Yusuf.
Nur was charged last month with conspiracy to provide support to the Islamic State, or ISIS. However, the Minneapolis resident is not in custody and is believed to still be fighting for the terror group in Syria. Yusuf, though, was charged and arrested after being intercepted at the Minneapolis airport, allegedly on his way to Turkey in hopes of joining up with ISIS.
An early case was that of Eric Glenn Harroun, a former American soldier charged in March with conspiring with Al-Nusra in Syria. He died earlier this year, of an apparent overdose.
Then there was the case of Zale Thompson, a self-radicalized convert who allegedly stalked and attacked New York City rookie police officer with a hatchet. He was killed by police. A law enforcement bulletin later showed Thompson's online search history turned up more than 277 search terms for jihad.
Other cases are:
Abdella Tounisi. The teenager left home in April 2013, allegedly bound for Syria, via Turkey. He was arrested at Chicago's O'Hare airport, about to board a plane to Istanbul. He has pleaded not guilty.
Sinh Vinh Ngo Nguyen. The suspect was sentenced this year in Los Angeles to 13 years in federal prison for attempting to assist a terrorist organization.
Basit Javed Sheikh. The North Carolina resident has been charged with attempting to provide material support to a foreign terrorist organization. He was arrested last November, allegedly on his way to Lebanon.
Avin Marsalis Brown and Akba Jihad Jordan. FBI agents raided the Raleigh, N.C., apartment belonging to Jordan in March, allegedly finding an AK-47, swords and other weapons. Both have pleaded guilty to charges of trying to aid militants in Syria.
Nicholas Teausant. The California resident was charged in March of this year with providing material support to a terror group, though has pleaded not guilty.
Mohammad Hassan Hamdan. The Detroit-area man was accused of planning to travel to the Middle East to fight Syrian rebels with Hezbollah. He was charged with providing material support to a foreign terror group in March.
Michael Wolfe. The Austin man pleaded guilty in June to charges of attempting to provide material support to a terror group, after being arrested at the Houston airport, allegedly trying to leave the country to join up with ISIS in Syria.
Shannon Maureen Conley. The Denver teenager pleaded guilty to a "material support" charge in September after being arrested over the summer, also allegedly on her way to join ISIS in Syria.
Adam Dandach. The California man was arrested over the summer after federal officials alleged he was trying to join the Islamic State.
Shelton Bell. The Florida man pleaded guilty in March of this year to trying to provide material support to terrorists, after being accused of trying to aid terrorists linked to Al Qaeda.
Mufid Elfgeeh. The Rochester, N.Y., resident -- a naturalized U.S. citizen originally from Yemen -- was charged in September with multiple counts of trying to provide support and resources to ISIS, and other counts. The FBI had been investigating him since 2013. He allegedly also plotted to kill returning U.S. military personnel and Shiite Muslims living in the area.
Mohammad Hamzah Khan. The Chicago resident was charged in October with trying to provide support to ISIS.
Donald Morgan. The North Carolina man was indicted in August on a firearms charge, but was questioned by the FBI over social media postings allegedly in support of ISIS. He allegedly told investigators he planned to return to Lebanon in a few days -- authorities said this made him a flight risk. Morgan has pleaded not guilty.
Denver teenagers. Three teenage girls from Denver were stopped in Frankfurt, Germany, in October. All three are U.S. citizens -- two of Somali descent, one of Sudanese descent -- and allegedly were on their way to Syria, potentially to join the Islamic State. According to the Associated Press, they were returned to their families, but have not been charged.
Fox News' Catherine Herridge and Lucas Tomlinson contributed to this report.