'Ten Commandments Judge' Roy Moore's star rising in Alabama Senate runoff race
Former Alabama Supreme Court Justice Roy Moore is seeing his star rise in the state's Republican Senate race despite both President Trump and Vice President Pence publicly backing his incumbent rival.
Moore, a Christian conservative known as the "Ten Commandments Judge," finished atop a crowded field during the Aug. 15 primary, winning 39 percent to incumbent Sen. Luther Strange's 33 percent.
Because no candidate won more than 50 percent of the vote, Moore and Strange, endorsed by Trump and Pence, head to a Sept. 26 runoff.
MOORE, STRANGE HEAD TO ALABAMA SENATE RUNOFF
Last week, Moore, who has portrayed himself as an anti-establishment crusader, was endorsed by former Alaska Gov. Sarah Palin.
"Judge Moore has shown he has what it takes to stand up to the out-of-touch political establishment," Palin said.
The other top candidate who didn't make the runoff, Rep. Mo Brooks, hasn't endorsed either of his former rivals. But on Saturday, the Moore campaign announced state Sen. Trip Pittman, who also sought the Republican nomination, is backing his campaign.
Breitbart News, the populist conservative website run by former top Trump adviser Steve Bannon, has written favorably about Moore, calling the Palin endorsement a "huge momentum booster for the conservative candidate."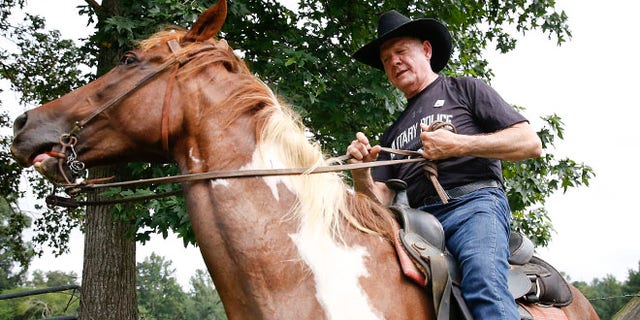 Breitbart has also dinged Strange for not accepting an invitation to appear on its SiriusXM radio show.
"It is unclear why he is refusing to talk to conservatives who support the president," Breitbart's Matt Boyle wrote this week.
But Moore's rise in the polls has come under more scrutiny in recent days. Old video surfaced last week of Moore questioning whether former President Barack Obama was a natural-born citizen.
"My personal belief is that he wasn't," Moore said in 2016.
Local polls have shown Moore with a significant lead over Strange. But the Senate Leadership Fund, a super PAC with ties to Senate Majority Leader Mitch McConnell, circulated a poll last week that shows Strange still within four points of Moore.
Earlier this month, before the initial primary election, Trump tweeted: "Senator Luther Strange has done a great job representing the people of the Great State of Alabama. He has my complete and total endorsement!"
But Trump turned heads in Alabama by congratulating both candidates – and not just Strange -- on Twitter "for being the final two and heading into a September runoff in Alabama."
Meanwhile, the Washington Post reported Friday that Trump is considering backing away from Strange in the runoff, a scenario that could further inflame tensions between the president and McConnell.
But there have been no outward signs of the president abandoning Strange and a source told Fox News that Strange spoke with both Trump and Pence on Friday about how they could help him in the race.
Moore, a favorite of religious conservative voters, has a colorful political history that has both fueled and complicated his rise.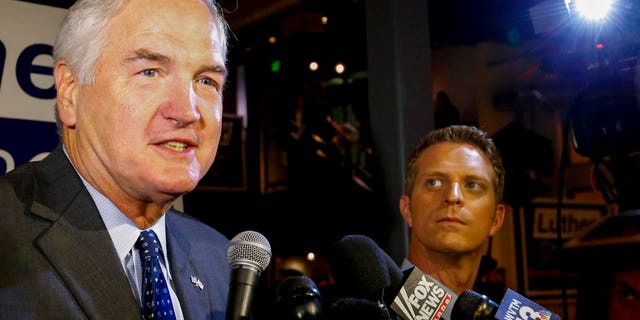 He first got national attention in the 1990s as a county judge when he hung a wooden Ten Commandments plaque on the wall of his courtroom.
Benefiting from his popularity after the episode, Moore then ran and won a race for chief justice of the state's Supreme Court in 2000. But he was ousted after refusing to remove a 5,280-pound granite Ten Commandments monument from the rotunda of the state judicial building.
He resurrected his political career in 2012, getting elected chief justice again. But his tenure was short-lived once more: In 2016, Moore was suspended as chief justice after he directed probate judges not to issue marriage certificates to gay couples.
Strange, the state's former attorney general, was temporarily appointed to the seat in April after then-Sen. Jeff Sessions joined the Trump administration.
Strange was appointed by then-Gov. Robert Bentley, who later resigned in the cloud of a scandal. His opponents have used that appointment from Bentley against him: Strange's office was investigating Bentley before the governor made him senator.
The winner of the runoff will face Doug Jones, a former U.S. attorney under the Clinton administration who was endorsed by former Vice President Joe Biden. Alabama hasn't elected a Democrat to the Senate in more than 20 years.