Ted Cruz says McCain is questioning his citizenship because he secretly backs Rubio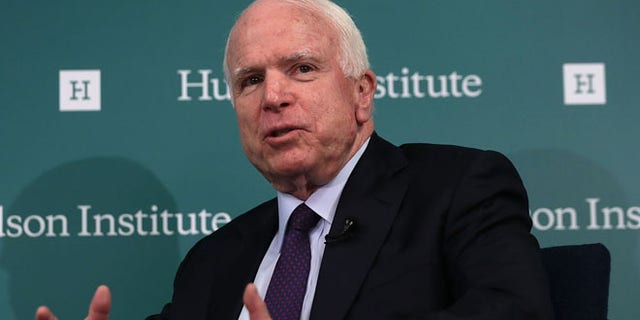 WEBSTER CITY, Iowa (AP) – Texas Sen. Ted Cruz said Thursday that fellow Sen. John McCain is calling for an exploration of his right to run for president because he intends to endorse Marco Rubio in the race.
McCain on Wednesday said questions about Cruz's eligibility due to his being born in Canada should be explored, keeping the issue alive after Donald Trump raised concerns about it earlier in the week. Cruz has dismissed the issue, saying it's part of the political "silly season" as Iowa's Feb. 1 caucuses near.
"Everybody knows that John McCain is going to endorse Marco Rubio," Cruz said before a town hall meeting in an airplane hangar in Webster City, Iowa. "Their foreign policies are almost identical. Their immigration policies are identical. And so it's no surprise people supporting other candidates in this race are going to jump on with the silly attacks that occur as we get closer and closer to election day."
Speaking on the Chris Merrill Show in Phoenix late Wednesday, McCain said concerns raised by Republican front-runner Donald Trump over whether Cruz can be president are legitimate.
"I think there is a question," McCain said. "I am not a constitutional scholar on that. But I think it's worth looking into. I don't think it's illegitimate to look into it."
Cruz was born in Alberta, Canada to an American mother and Cuban father. He renounced his Canadian citizenship in 2014.
McCain himself was born on a military base in the Panama Canal, an issue raised during his 2008 presidential run against Barack Obama, whose American birth was doubted by some, leading to failed legal challenges.
"That's different from being born on foreign soil," McCain said of his own situation, noting that the Panama Canal was an unorganized territory of the United States for much of the 20th century.
At a campaign stop in Iowa on Wednesday, Cruz said it is "quite straightforward and settled law that the child of a U.S. citizen born abroad is a natural born citizen."
"John McCain was born in Panama, but he was a natural born citizen because his parents were U.S. citizens," Cruz added.
Both men used the example of Barry Goldwater, the Republican party's nominee for president in 1964, as an example to defend their claims. Goldwater was born in Arizona before it became a state, but both of his parents held U.S. citizenship, allowing him to run.
Cruz on Thursday also said he would not seek a declaratory judgment from a judge to clear up any question about his eligibility given his Canadian birth. Trump has suggested Cruz seek such a judgment.
"It's not anything that's going to happen and I'm not going to be taking legal advice any time soon from Donald Trump," Cruz said.