Tea Party allies rally on Capitol Hill for ObamaCare repeal
Tea Party activists and allies planted their flag Wednesday on Capitol Hill in the Republican battle over dismantling ObamaCare -- rallying with stalwarts like Kentucky GOP Sen. Rand Paul, then rolling through the halls of Congress to press their case for repealing the 2010 law.
"The battle is just beginning," said Paul, elected to the Senate in the 2010 Tea Party wave.
The rally, sponsored by FreedomWorks, served to highlight the growing tensions in the GOP over House Republican leaders' current approach to repealing and replacing the health law. Paul called the GOP lawmakers who crafted the bill "weak-kneed," suggesting they put the insurance industry's interests ahead of consumers'.
"They have to remember it was the Tea Party that put them in power," Paul told a crowd standing in cold, snow-swept Upper Senate Park. Organizers estimated roughly 700 people attended.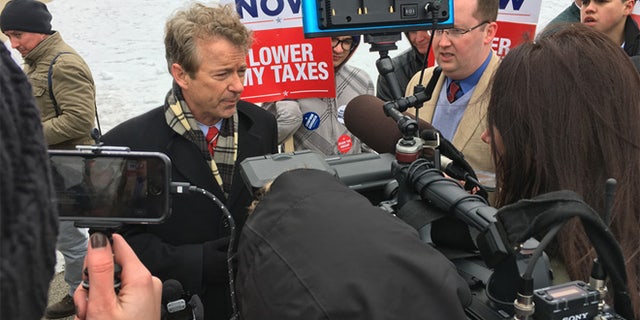 FreedomWorks' primary goal is to get Congress to swiftly repeal and replace ObamaCare, which it considers big government run amok -- but it has concerns with the current legislation.
The group also has singled out Republican Sens. Rob Portman, of Ohio; Shelly Capito, of West Virginia; Cory Gardner, of Colorado; and Lisa Murkowski, of Alaska, for what it considers backpedaling on support for a repeal.
FreedomWorks' Noah Wall, in campaign-style rhetoric, recently said the senators "would be in jail with Bernie Madoff if they had orchestrated such a fraud in the private sector."
While Speaker Paul Ryan and others have joined with President Trump and Vice President Mike Pence to advance their version of the bill, the American Health Care Act, many fiscal conservatives say it doesn't go far enough.
FreedomWorks' major focus is opposing any plan that delays efforts to stop the Medicaid expansion, continues to require Americans to buy insurance and keeps refundable tax credits, group spokesman Jon Meadows told Fox News.
The bill on the table includes such provisions and has already been approved by two House committees. But it faces a key vote Thursday in the chamber's budget committee, where opposition from conservatives and moderate Republicans alike threatens the legislation.
"How many of you here write letters to [your] newspapers? ... We need you right now," Virginia Republican Rep. Dave Brat, a Tea Party favorite who upset party incumbent Eric Cantor in the 2014 election, told the rally.
If the bill indeed passes the chamber and reaches the Senate, Republicans would need support from 51 of 52 senators to ultimately get the measure to President Trump's desk.
Ryan has been a target of conservatives essentially since he became the chamber's top Republican in fall 2015. However, the Wisconsin lawmaker was not the focal point of the rally, which was followed by participants going to the congressional offices of Portman, Virginia GOP Rep. Bob Goodlatte and others to voice their concerns.
Hours before the rally started, Ryan tweeted an open letter to Congress from nearly a dozen conservative groups -- including Americans for Tax Reform -- supporting his American Health Care Act.
"As advocates of free market principles and limited government, we endorse this significant legislation," the letter states. "AHCA repeals nearly all of ObamaCare's tax increases, thereby saving taxpayers hundreds of billions of dollars."
To be sure, essentially every Republican elected to Washington ran on a promise to end ObamaCare, which has insured tens of million Americans but has also failed many with rising premium costs and fewer options.
"If we don't pass this bill now, we never will," said 78-year-old Jim Hulett, who came to the rally from Elizabeth City, N.C. "We need to start all over."
The recently released, non-partisan Congressional Budget Office report found the bill would reduce the federal deficits by hundreds of billions of dollars but that tens of millions fewer Americans would have insurance.
That situation has caused problems for Portman and others, who have supported ending ObamaCare but are committed to providing affordable, comprehensive premium options to voters at home.