Snow Globes Out, Pumpkin Pie In -- Embattled TSA Issues Holiday Rules for Air Travel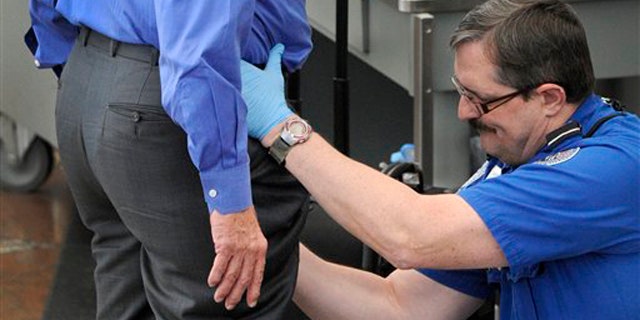 Don't pack cranberry sauce in your carry-on. Prepare to have your pies and cakes screened. And for goodness' sake, keep your pants on.
Those are just a few of the ultra-specific tips the Transportation Security Administration is offering to passengers before the busiest travel crunch of the year. Though the agency is under fire for giving travelers aggressive and, in some cases, humiliating pat-downs in the name of preventing a terror attack, the TSA has posted a litany of guidance to help the Thanksgiving weekend crowd make the best of a tense situation.
TSA Administrator John Pistole told Fox News on Monday that he's "open" to trying less invasive screening to allay privacy concerns. But until the agency determines what that would entail, all passengers can do is follow the TSA's advice to the letter in the hope that their pumpkin pie doesn't cause a scene and that their holiday gifts make it home in one piece.
The do's and don'ts for Thanksgiving eve travel include the traditional rules of the air -- no carry-on box cutters, razor blades, lighter fluid, etc. -- but also a host of rules pertinent to the holiday season.
"When passengers are prepared for security and understand the prohibited items list, it makes it easier on them and their fellow passengers," TSA spokesman Greg Soule told FoxNews.com.
According to the TSA, the following liquid-y items should be packed in checked baggage, shipped ahead of time or left at home altogether: Cranberry sauce, creamy dips and spreads, jams, gravy, maple syrup, soups and liquor. Snow Globes are also prohibited in carry-on luggage.
For a complete list, click here.
The TSA advises passengers that they can bring pies and cakes with them on their flights, but that those delectables could be "subject to additional screening." Passengers are also urged not to bring wrapped gifts onto planes, because TSA officers might unwrap them during the security check. Passengers are better off wrapping their gifts once they touch down.
Soule said the holiday rules have been in effect ever since a liquid explosives plot was foiled by British officials in 2006. He said that, as with other liquid items, the prohibited ingredients listed above could actually be carried on board provided they are kept in 3-ounce containers inside a 1-quart plastic bag -- though three ounces of gravy would be an outrage at most Thanksgiving tables. Soule said carry-on snow globes are prohibited in all sizes, since security officers cannot determine the volume of the liquid inside the globe.
Though these details may seem trivial, the particulars of TSA travel policies have caused a national uproar in recent days as travelers have been offered a choice between walking through a graphic body scanner and receiving an intimate pat-down from an officer.
First-hand accounts from indignant passengers about allegedly inappropriate behavior by TSA agents have soared through the media. Most recently, a video was posted on YouTube that appeared to show a boy with his shirt off going through security. The TSA explained in a blog Monday that the videotaped incident occurred Nov. 19 in Salt Lake City. According to the TSA, the boy's father removed the shirt to "expedite the screening" after his son set off a metal detector. For future reference, the TSA urged passengers not to remove clothing.
"It should be mentioned that you will not be asked to and you should not remove clothing (other than shoes, coats and jackets) at a TSA checkpoint. If you're asked to remove your clothing, you should ask for a supervisor or manager," the TSA said.
The new policies were implemented after a Nigerian allegedly attempted to set off explosives he had stored in his underwear on a flight from Amsterdam to Detroit last Christmas.
Pistole recalled that incident Sunday in a written statement defending the TSA's policies.
"We cannot forget that less than one year ago a suicide bomber with explosives in his underwear tried to bring down a plane over Detroit. The terrorists allegedly behind the thwarted cargo attempt last month are out there bragging about how they will strike again," he said. "We all wish we lived in a world where security procedures at airports weren't necessary, but that just isn't the case."
He said the agency is "constantly evaluating and adapting our security measures" and would try to make them "as minimally invasive as possible."
He told Fox News on Monday that "not many people could have predicted" the latest outcry to TSA procedures, but that he's open to conducting the screening "less invasively" upon further consultation with the inspector general and Government Accountability Office.