Senate Confirms Army Gen. Dempsey to Head Joint Chiefs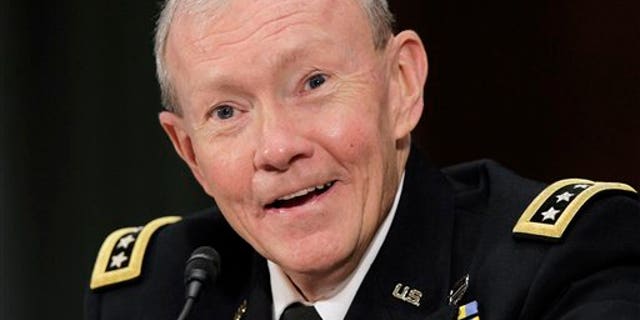 NEWYou can now listen to Fox News articles!
WASHINGTON – The Senate voted Tuesday to approve President Barack Obama's nomination of Army Gen. Martin Dempsey to be the next chairman of the Joint Chiefs of Staff.
Dempsey, who currently is the Army's chief of staff, will succeed Navy Adm. Mike Mullen, who is due to retire Oct. 1.
Obama will be looking to Dempsey and new Defense Secretary Leon Panetta to manage future defense spending cuts without undermining military readiness. The new lineup comes as Obama looks to wind down the wars in Iraq and Afghanistan.
The Senate also confirmed Navy Adm. James Winnefeld as vice chairman of the Joint Chiefs, Gen. Ray Odierno as Army chief and Adm. Jonathan Greenert as chief of naval operations.
Matthew Olsen, a former prosecutor with extensive experience in intelligence matters for the government, was confirmed as director of the National Counterterrorism Center, an agency born in the aftermath of the Sept. 11, 2001, terror attacks.
The nominations were all approved by voice vote as the Senate wrapped up its work before starting a monthlong recess. The Senate Armed Services Committee had approved the military nominees earlier Tuesday.
Dempsey has taken an unusual path to the military's top job. He has joked that he may go down in history as the shortest-serving Army chief. He took that job April 11, and barely a month later Obama picked him to succeed Mullen.
Dempsey, who grew up in New Jersey and New York, received a master's degree in English from Duke University in 1984 and then taught English at West Point. He also earned master's degrees from the Army's Command and General Staff College in 1987 and from the National War College in 1995.