Sarah Brady, wife of former Reagan press secretary and gun control advocate, dies at 73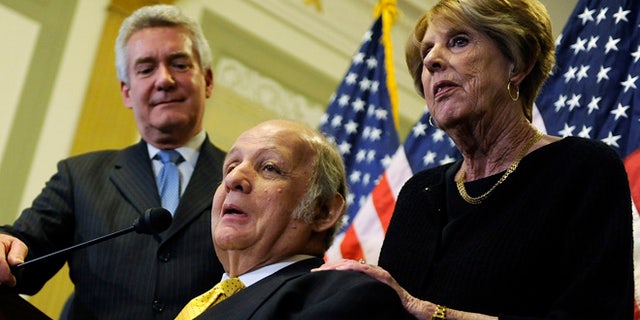 NEWYou can now listen to Fox News articles!
Sarah Brady, the wife of former White House Press Secretary James Brady and tireless advocate for gun control, has died at the age of 73, her family announced in a statement Friday.
"We are deeply saddened that our beloved Sarah passed away today after battling pneumonia. Her son, Scott, daughter-in-law Andree, stepdaughter, Missy, and brother, Bill, have been by her side in her final days," the statement said.
"We are enormously proud of Sarah's remarkable accomplishments and the impact she had on so many people -- whether as an elementary school teacher, advocate for a safer America, devoted mother, friend, wife and caregiver. Sarah fought the good fight her whole life. "
Brady became a political force on Capitol Hill after her husband was shot in the head by John Hinckley Jr. during the 1981 assassination attempt on President Ronald Reagan.
In a statement, former first lady Nancy Reagan called Sarah Brady a "dear friend."
"Just over 34 years ago, we shared an experience that bonded us for life, as we comforted each other in a tiny, windowless office at the George Washington University Hospital Emergency Room, while awaiting word about whether our husbands would survive the horrific gunshots that had brought them there," Reagan said. Over the years, I found her to be a woman of immense courage, strength and optimism. I will miss Sarah very much, but take comfort in knowing that she joined Jim on Good Friday and is now at peace."
James Brady died in August last year, also at 73, in part due to injuries sustained in the attack. The Virginia medical examiner's office ruled his death a homicide attributable to the gunshot wound and its complications.
Sarah Brady went on the lead "The Brady Campaign to Prevent Gun Violence" in the 1990's, which led to the passage of The Brady Handgun Violence Prevention Act. The law, signed into law by President Bill Clinton in 1993, required a waiting period for handgun purchases and created a national registry for background checks.
Brady was seen frequently on Capitol Hill in recent years, particularly after the Sandy Hook shootings in Newtown, Conn, and pushed for the passage of stricter gun control legislation in the wake of the massacre.
Fox News' Chad Pergram contributed to this report.