Rumsfeld's Office Rejects White House Explanation of Obama's Criticism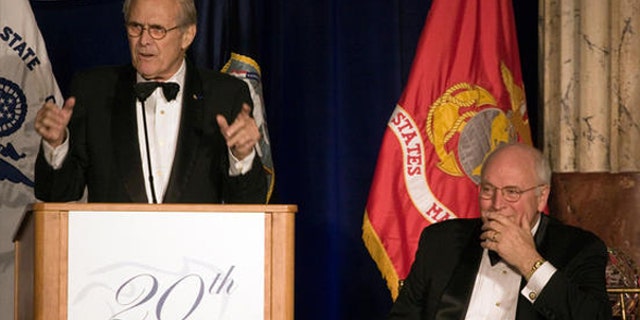 NEWYou can now listen to Fox News articles!
A spokesman for Donald Rumsfeld fired back Friday at the White House, saying Obama administration officials "are not credible" in explaining President Obama's claim that the Bush administration neglected the war in Afghanistan.
The back-and-forth started Tuesday when Obama, in his prime-time address announcing his new Afghan war strategy, said the Bush administration had rebuffed U.S. commanders' repeated requests for more troops in Afghanistan.
That provoked Rumsfeld, largely quiet since leaving the Pentagon in late 2006, to issue a rebuttal calling Obama's claim a "bald misstatement."
The White House said Obama was referring to troop requests made during 2008.
"I will let Secretary Rumsfeld explain ... whether he thinks that the effort in Afghanistan was sufficiently resourced during his tenure as secretary of defense," White House spokesman Robert Gibbs said Wednesday.
On Friday, Rumsfeld spokesman Keith Urbahn rejected that explanation.
"White House officials are not credible in denying President Obama's intended meaning when he said ... that 'commanders' were 'repeatedly' denied additional troops and resources in Afghanistan," Urbahn said in e-mail to Fox News.
"The administration now claims President Obama was actually referring to denials of troops by his own secretary of defense in 2008," Urbahn said, referring to Secretary Robert Gates, who replaced Rumsfeld under Bush and continued to serve under Obama.
"If it is what the president meant, he owes an apology to Gen. (David) McKiernan for dismissing him, for it was Gen. McKiernan who sought additional forces in 2008," Urbahn said. "This looseness with the facts seems to be a pattern in the current administration's efforts to blame their challenges on their predecessors. Nearly one year into this administration, that approach is wearing thin.
"Afghanistan has always posed challenges, but in the judgment of the commanders at the time, Afghanistan was properly resourced for at least the first five years of the conflict. Those resources were aligned with proper and achievable goals: eliminating an Al Qaeda sanctuary and preventing further terrorist attacks against the United States."
Obama's speech Tuesday night at the U.S. Military Academy at West Point, N.Y., included a detailed history of the eight-year-old conflict in Afghanistan, starting with the Sept. 11, 2001, terror attacks. He argued that the Iraq war drew needed resources away from Afghanistan, allowing the situation to deteriorate since 2003.
"Throughout this period, our troop levels in Afghanistan remained a fraction of what they were in Iraq," Obama said. "Commanders in Afghanistan repeatedly asked for support to deal with the re-emergence of the Taliban, but these reinforcements did not arrive."
Rumsfeld responded in a written statement: "Such a bald misstatement, at least as it pertains to the period I served as secretary of defense, deserves a response," he said. "I am not aware of a single request of that nature between 2001 and 2006."