Rumsfeld Cries Foul on Obama Claim Troop Requests for Afghanistan Were Denied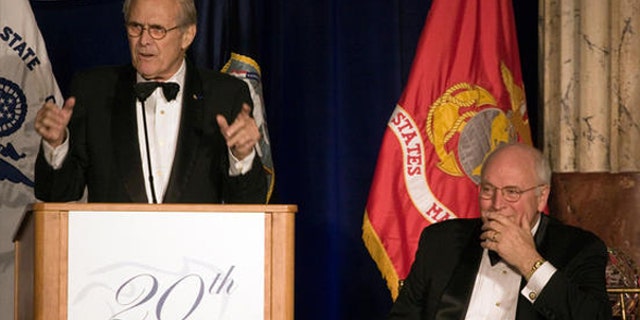 Former Defense Secretary Donald Rumsfeld on Wednesday lashed out at President Obama for claiming the Bush administration rebuffed commanders' repeated requests for more troops in Afghanistan.
In a rare break in his public silence since leaving the Pentagon, Rumsfeld rejected the claim as a "bald misstatement" and "disservice" that cannot go unanswered.
"Such a bald misstatement, at least as it pertains to the period I served as secretary of defense, deserves a response," Rumsfeld said in a written statement. "I am not aware of a single request of that nature between 2001 and 2006."
The president leveled the charge in his speech Tuesday night outlining his plan to send 30,000 more U.S. troops into Afghanistan.
In his speech, Obama gave a detailed history of the Afghanistan war starting with the Sept. 11, 2001, terror attacks. He argued that the Iraq war drew needed resources away from Afghanistan, allowing the situation to deteriorate since 2003.
"Throughout this period, our troop levels in Afghanistan remained a fraction of what they were in Iraq," Obama said. "Commanders in Afghanistan repeatedly asked for support to deal with the reemergence of the Taliban, but these reinforcements did not arrive."
White House Press Secretary Robert Gibbs explained Wednesday that Obama was referring to requests that came in during 2008, and suggested Rumsfeld was on thin ice with his criticism.
"I will let Secretary Rumsfeld explain ... whether he thinks that the effort in Afghanistan was sufficiently resourced during his tenure as secretary of defense," he said.
But if Obama were referring to the 2008 period, he would seem to have been pointing the finger at his own secretary of defense, Robert Gates, who served in the same position in the previous administration.
Rumsfeld said in his statement the White House should make public any such requests if they exist to back up the allegation.
"The president's assertion does a disservice to the truth and, in particular, to the thousands of men and women in uniform who have fought, served and sacrificed in Afghanistan," Rumsfeld said.
He urged Congress to review the claim in the upcoming debate to "determine exactly what requests were made, who made them, and where and why in the chain of command they were denied."
Unlike former Vice President Dick Cheney, Rumsfeld has kept largely out of the public eye since leaving the administration after the 2006 mid-term elections in which Republicans suffered huge losses, largely the result of setbacks in the Iraq war.