'Rules for thee': First lady roasted online for cooking on gas stove the Biden admin is looking to ban
Old photo draws backlash for 'shameful' use of gas stove
An old photo of first lady Jill Biden cooking with a gas stove has gone viral this week as the Biden administration is weighing the ban of such appliances, according to a report.
"Hey @Antoni, what are you cooking tonight?" Biden wrote on Twitter in September 2020, including the photo of herself using a gas stovetop to cook and directing the question toward Canadian chef and TV personality Antoni Porowski.
The photo surfaced just days after Bloomberg first reported that the U.S. Consumer Product Safety Commission (CPSC) is considering a ban on gas stoves because of concerns about indoor air pollutants from the appliances.
PRESIDENT BIDEN'S FIRST STATE DINNER PUTS JILL BIDEN IN THE SPOTLIGHT
The agency reportedly plans to act on the appliances because the pollutants can cause respiratory and health issues.
Other Twitter users blasted Biden, with some jokingly criticizing her use of the gas stove and accusing her of being hypocritical, considering the potential new policy.
"Rules for thee but not for me," Sen. Ted Cruz, R-Texas, tweeted.
"FLAG ON THE PLAY: That is a GAS Stove........ Shameful," wrote one user," while another quipped, "I didn't think gaslighting was a part of the [first lady's] agenda."
One user joked that Biden had a "mighty fine gas cooktop," while another said someone needed to "call 911" to report her.
BIDEN PROMISES BILLIONS FOR 'NATURE-BASED SOLUTIONS' TO CLIMATE CHANGE
"Now we're cooking with gas!" Committee to Unleash Prosperity President Phil Kerpen wrote. Another user joked, "Joe Biden's gas stove. What we have here is the whole Kit and caboodle of Biden economics. Jeez.."
"Yeah they want to eliminate gas cooking… yet here they are," another wrote.
Roughly 35% of U.S. homes are equipped with gas stoves that reportedly release carbon monoxide, nitrogen dioxide and other matter that the World Health Organization and EPA considers unsafe for various reasons.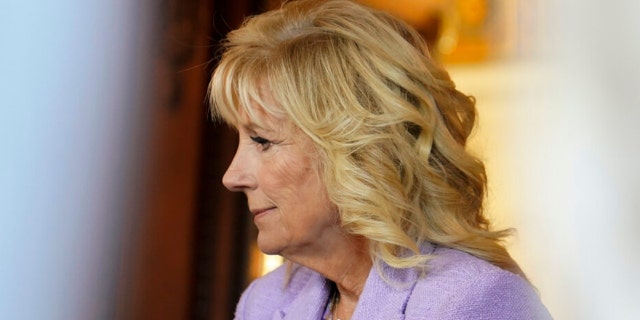 CLICK HERE TO GET THE FOX NEWS APP
CPSC Commissioner Richard Trumka Jr. told Bloomberg that the commission could issue a proposal on the matter as early as this year, but that would be "on the quick side."
Fox Business' Greg Wehner contributed to this report.