Roy Moore defeats Trump-backed Luther Strange in Alabama Senate runoff
NEWYou can now listen to Fox News articles!
Former Alabama Chief Justice Roy Moore soundly defeated Sen. Luther Strange in Tuesday's Senate primary runoff, overcoming heavy GOP establishment support for the incumbent, including from President Trump himself.
The hard-fought Alabama runoff battle had pitted Trump against some of his most loyal supporters including former chief strategist Steve Bannon, former Alaska Gov. Sarah Palin and a slew of House conservatives who all backed Moore. Despite his outsider image, Moore seemed to have the edge over Strange from the start.
With 92 percent of the precincts reporting, Moore led Strange by 55 percent to 45 percent, a margin of more than 41,000 votes. State officials estimated a low turnout of between 12 and 15 percent of eligible voters.
The crowd at Moore's election party broke into loud applause as media outlets called the race. Bannon took the stage to introduce Moore as supporters waving flags cheered Tuesday night.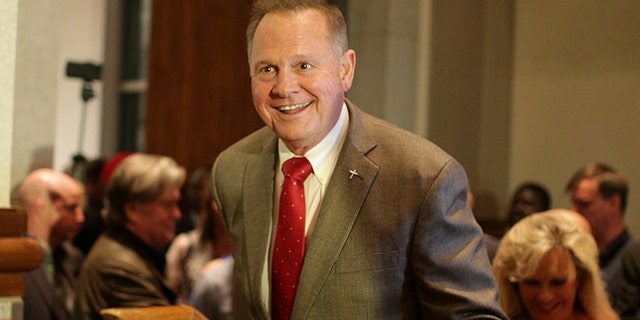 "We have to return the knowledge of God and the Constitution of the United States to the United States Congress," Moore told the crowd. He also said he supports the president and his agenda.
Bannon declared Moore's win a victory for Trump, despite the president's support for Strange. Both Trump and Vice President Mike Pence traveled to Alabama to make the case for the incumbent in the final week of the race.
In his concession statement, Strange thanked Trump and Pence for their support and vowed to "go back to work with President Trump and do all I can to advance his agenda over the next few weeks."
Addressing supporters in Birmingham, Strange admitted that "We're dealing with a political environment that I've never had any experience with."
"I'm telling you, the political seas and winds in this country right now are very hard to navigate," Strange added. "Very hard to understand."
After Strange's concession, the president Tweeted his congratulations to Moore and implored him to "WIN in [December]!"
Moore is now the favorite in December's general election against Democrat Doug Jones, a lawyer and former U.S. attorney during President Bill Clinton's administration. The winner of that race will complete the Senate term started by Attorney General Jeff Sessions and be up for re-election in 2020.
At a rally in Huntsville Friday, Trump portrayed Strange as loyal to him and said he appreciated how Strange agreed to vote for ObamaCare replacement legislation this summer without asking any favors from him. However, Trump's endorsement was overshadowed nationally by his attack on NFL players who kneel during the National Anthem prior to games.
Trump also said at the Alabama rally that he would campaign for Moore in the general election if he secured the nomination, but he believed Moore would have a tougher time against Jones in the general election.
Pence also flew to Birmingham on Monday evening to campaign for Strange.
The Senate Leadership Fund, a group with ties to Senate Majority Leader Mitch McConnell, R-Ky., spent an estimated $9 million trying to secure the nomination for Strange. That support played into Moore's argument that the election was an opportunity to send a lesson to what he called the "elite Washington establishment."
SLF President and CEO Steven Law said Tuesday that Moore won the nomination "fair and square" and the group will now back him.
Law said Moore "has our support, as it is vital that we keep this seat in Republican hands."
Moore, known in Alabama as the "Ten Commandments Judge," has a colorful political history that has both fueled and complicated his rise.
Moore first received national attention in the 1990s as a county judge when he hung a wooden Ten Commandments plaque on the wall of his courtroom. The ACLU filed a lawsuit against him.
Benefiting from his popularity after the episode, Moore then ran and won a race for chief justice of the state's Supreme Court in 2000. But he was ousted after refusing to remove a 5,280-pound granite Ten Commandments monument from the rotunda of the state judicial building.
Moore resurrected his political career in 2012, when he was elected chief justice again. But his second tenure was short-lived: in 2016, Moore was suspended as chief justice after he directed probate judges not to issue marriage certificates to gay couples.
Strange, the former attorney general in Alabama, was temporarily appointed to the seat in April by then-Gov. Robert Bentley, who has since resigned in disgrace. Opponents have used the appointment against Strange, accusing Bentley of naming him to the seat so he could install someone who might be more sympathetic to him in the state attorney general's office.
On the outskirts of Montgomery, 76-year-old Air Force retiree John Lauer said Trump's endorsement swayed him to vote for Strange on Tuesday.
"I voted for Strange. I'm a Trump voter. Either one is going to basically do the Trump agenda, but since Trump came out for Luther, I voted for Luther," said Lauer said.
Merlene Bohannon, a widow with three grown children, said she had planned to vote for Strange until seeing Bannon stump for Moore on Fox News on Monday night.
"Steve Bannon and God spoke to me, and this morning when I went in I voted for Moore," said Bohannon, 74.
Fox News' Alex Pappas and the Associated Press contributed to this report.