Republicans Launch New Latino Outreach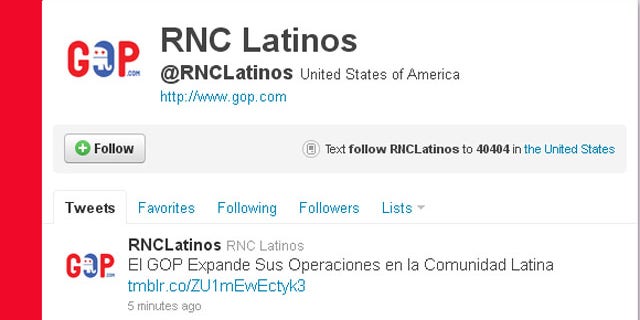 The Republican National Committee (RNC) announced that Bettina Inclan will be the director of their newly expanded Hispanic Outreach Campaign that will focus on ensuring that the Latino community receives "the Republican message."
That message "is about the economy and jobs," the RNC Chairman Reince Priebus said while introducing Inclan as the leader of a more "aggressive approach" to reach Latinos.
"The President sold the Hispanic community a bill of goods," Priebus said. "He had Harry Reid and a super majority and he didn't get anything done."
Inclan touted the RNC Latinos new twitter handle, @RNCLATINOS, a new bilingual Tumblr blog, and a mobile text messaging campaign called 'Unete' or 'Unite.'
"I've been involved in this issue for 10 years from Florida to California," she said. "We want to do things even better."
With the Latino population growing in key swing states such as Nevada, Colorado, and Florida, Republicans need to chip away at Hispanics' overall 2-1 preference for Democrats to have any hope of capturing the presidency.
During a phone conference Wednesday, reporters pressed both Priebus and Inclan on how Republicans were going to get the Latino vote despite the party's candidates hard-line position on immigration, including opposing the DREAM Act position, which would give college students and military personnel a path to citizenship.
"Immigration is important. But the number one issue is the economy," Inclan says, "It's how can Latinos feed their families."
The RNC did not give details about how much money has gone into the revitalized Hispanic Outreach, which would concentrate on Latinos in upcoming primaries such as Florida and Nevada.
The chairman and Inclan also made it clear that they will be relying on prominent Latino Republicans to help spread the message of "economic security" and "family values." Priebus referred to New Mexico Governor Susana Martinez, Florida Senator Marco Rubio, and the "Golden Republican" Nevada Senator Brian Sandoval as stars of the party but did not go a step further in giving any insight on potential Latino vice presidential bids.
"We don't have a nominee, but I tell you we take the Hispanic vote seriously...not just for a vote to win but it's an investment in the party's future," Priebus said.
The announcement of the revamped GOP Hispanic Outreach campaign comes a year after Republicans gathered for a conference in South Florida, co-chaired by Former Gov. Jeb Bush, where Republicans discussed how to tackle trade, education, and – the elephant in the room – immigration.
Follow us on twitter.com/foxnewslatino
Like us at facebook.com/foxnewslatino