Republican Chambliss gets hole-in-one during golf match against Obama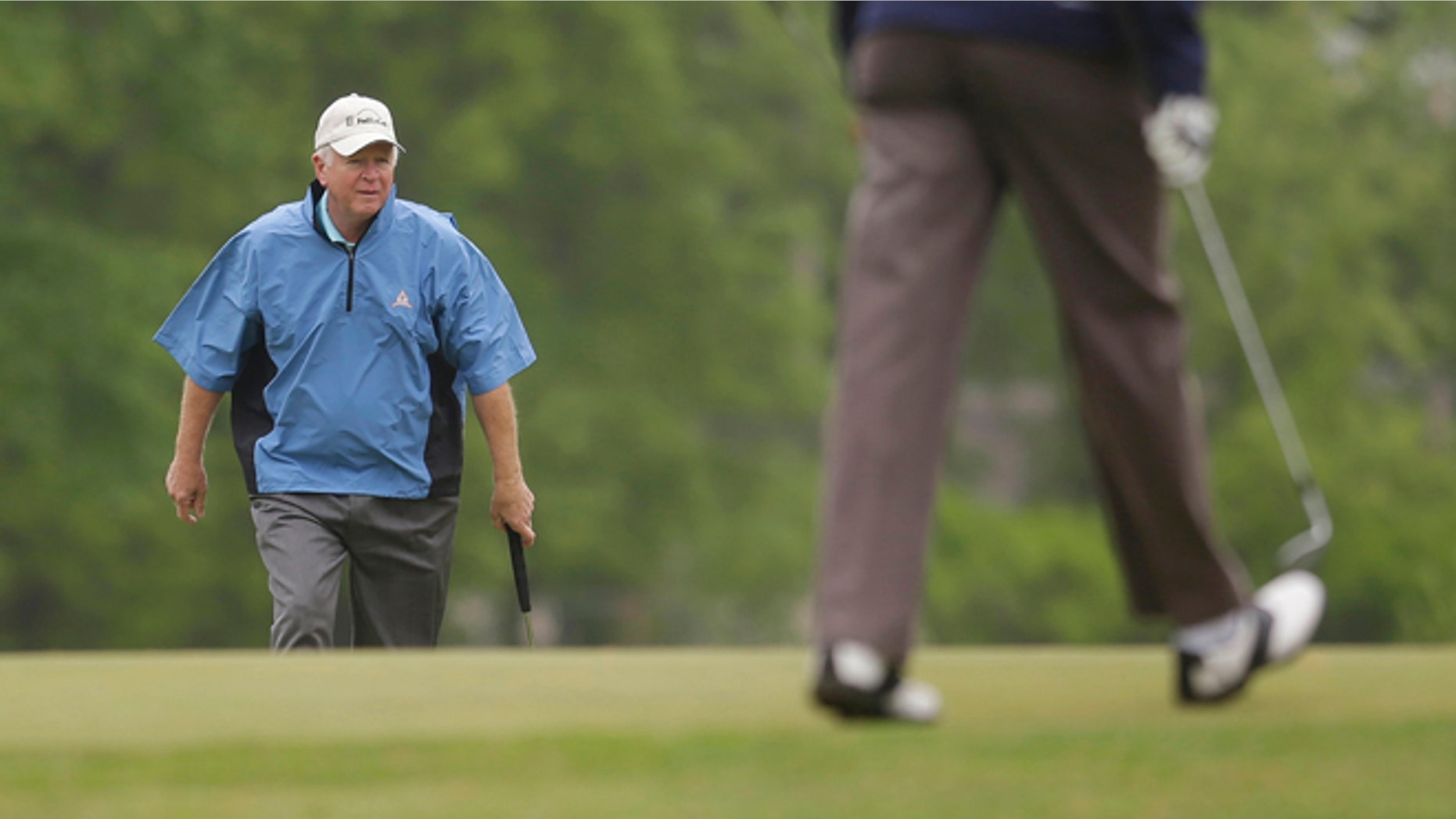 President Obama took his congressional outreach effort to the green on Monday by playing a round of golf with a bipartisan trio of senators, including one who sank a hole-in-one.
The pressure of playing with a president who rarely invites lawmakers along to golf didn't seem to intimidate Sen. Saxby Chambliss, R-Ga., who aced the 11th hole. Rounding out the foursome were Sens. Bob Corker, R-Tenn., and Mark Udall, D-Colo.
Obama took the senators to a favorite course at Maryland's Andrews Air Force Base, where he frequently plays on weekends with aides and friends. He once took along House Speaker John Boehner, R-Ohio, and has also included Rep. Jim Clyburn, D-S.C., but this was his first outing with any lawmaker in his second term.
"We had a delightful day of golf with folks who enjoy playing the game," Chambliss said in a statement from his office, which disclosed the hole-in-one. "We talked some business, but it was mainly a day for everyone to get away from the office for a little while."
Under overcast skies, the three chatted casually with Obama, wearing a windbreaker and baseball cap. They putted on the first green before leaving the view of reporters on a pair of golf carts.
The afternoon outing added a recreational twist to Obama's months-long effort to strengthen ties with lawmakers, hoping some quality face time now can lay the groundwork for compromise on pressing issues down the road.
"He's looking for partners anywhere he can find them -- including on the 8th hole," said White House press secretary Jay Carney.
The White House and Democrats are working to secure support for an immigration overhaul -- especially from Republicans. They're hoping that a strong bipartisan showing in the Senate will strengthen the bill's prospects for passing the Republican-controlled House. Obama is also hoping to find common ground with lawmakers that could lead to a broad budget deal.
"With the major fiscal issues our country is facing, not to mention foreign relations issues around the world, anytime you can get the president's ear for a few hours, I think that's a good thing," Corker said in a statement issued by his office.
To that end, in recent weeks Obama has entertained senators from both parties at the White House, held dinners at a nearby hotel, traveled to Capitol Hill to meet with lawmakers and made countless phone calls.
In addition to immigration and fiscal issues, Carney pointed to energy and gun control as two other topics that might come up as Obama and the senators teed off.
"He's willing to try anything," Carney said. "Whether it's a conversation on the phone or a meeting at the Oval Office, or dinner at a restaurant or dinner at the residence, he's going to have the same kinds of conversations."
Obama could have his hands full on the golf course. All three of the senators who golfed Monday with Obama were ranked among the top 40 on Golf Digest's 2011 list of "Washington's Top 150 Golfers."