Rep. Steve Scalise re-admitted to intensive care unit
Doctors at the hospital where House Majority Whip Steve Scalise, R-La., has been recovering from a gunshot wound downgraded his condition from "fair" to "serious" Wednesday after he contracted an infection.
MedStar Washington Hospital Center said Scalise had been re-admitted to the intensive care unit. The hospital added that it would provide another update sometime Thursday.
Scalise and four others were hurt when a gunman opened fire on a GOP baseball practice in Virginia on June 14. The gunman, identified as James T. Hodgkinson, was fatally shot by Capitol police.
The congressman was struck in the hip and the bullet tore into blood vessels, bones and internal organs. He has undergone several surgeries.
Sources told Fox News that doctors had anticipated that Scalise would suffer an infection related to the shooting. Sources close to the congressman indicated that they had been told from the start that the Louisianan's recovery would have ups and downs.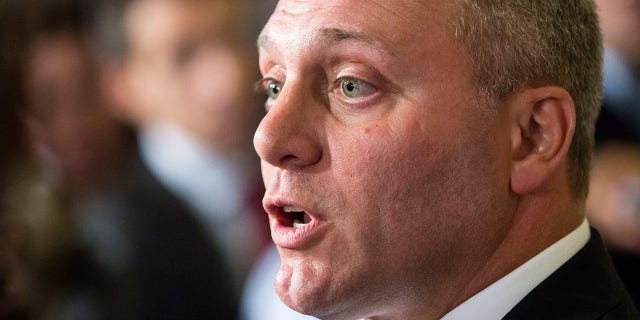 The shooting in the Virginia suburb that critically wounded Scalise and injured several others has forced members of Congress to examine their security arrangements to determine if they are sufficient.
House Minority Leader Nancy Pelosi, D-Calif., has said she favors more money for the U.S. Capitol Police force, which is seeking an 8 percent increase to nearly $427 million for next year.
Pelosi said more money would help the agency enhance its presence when members of Congress, staff and others congregate away from the Capitol.
"It's security for other people who are there, too," she said at one point. "If somebody is coming after a member of Congress, you don't want to be anywhere nearby."
Even before the shooting, Speaker Paul Ryan and Pelosi had begun talking about changes that could improve members' safety, said Ryan's spokeswoman, AshLee Strong.
Fox News' Chad Pergram and the Associated Press contributed to this report.