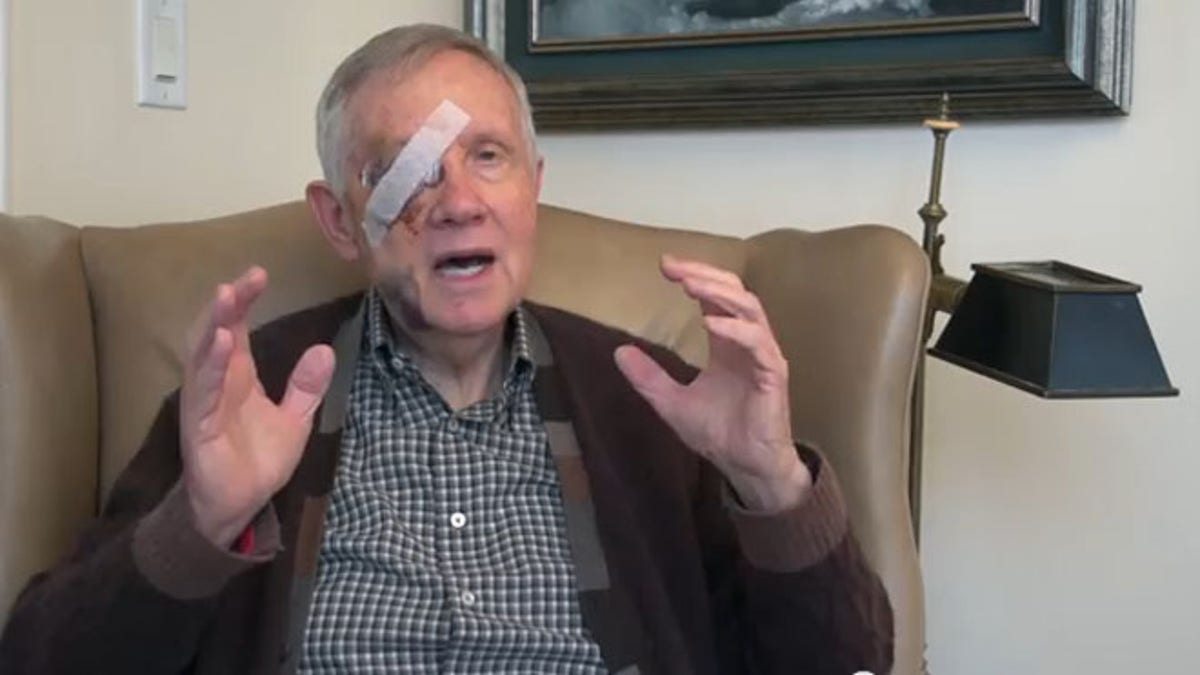 Senate Minority Leader Harry Reid says he could lose sight in one eye as a result of an exercise accident but is optimistic about a full recovery including running for re-election in 2016.
The 75-year-old Nevada Democrat said he sustained the injury and several others while exercising at home on New Year's Day. Reid, the Senate's top Democrat, told an NPR affiliate in Las Vegas that he was injured when an exercise band snapped and "catapulted" him into cabinets but also touted his exercise regime that includes hundreds of pushups several days a week.
"I don't know how many people out there could sit down and do 250 sit-ups or do the strength exercise I did with those bands hundreds and hundreds of times -- hundreds of times -- every week, three times a week," he told the station.
Reid sustained a concussion and broke four ribs and several bones around the severely injured right eye, which kept him from returning this week to Capitol Hill for the first days of the new, 114th congressional session.
Reid said he cannot see as long as blood remains accumulated in the eye but that his doctors are "hopeful" about a full recovery.
He said he was just finishing his regimen when the band broke and he was "catapulted … backwards and to one side."
Though Reid said he thinks he's "doing pretty good," he acknowledged the recovery "is going to take a bit of time" and that he'll miss the annual congressional Democratic retreat, scheduled for next week in Philadelphia.
Meanwhile, Sens. Chuck Schumer, N.Y., and Dick Durbin, Ill., are leading Democrats in the upper chamber.
To perhaps bolster confidence in Reid's physical capacity to lead, a spokesman for the minority leader tweed his workout regimen: "To recap Sen. Reid's exercise routine: 250 SITUPS 3x/wk (750 total). Arm & chest: 420 reps w/exercise band 3x/wk. Walks 3 mi/day. Plus yoga."
"I've always been fairly confident in my ability to fight back," said Reid, a former amateur boxer who in November was unseated as Senate majority leader. "I'll continue to fight back. I'm in the process of setting up for the next go-around."
Fox News' Kara Rowland contributed to this report.