Raúl Castro: U.S. and Cuba ambassadors to be named at the end of May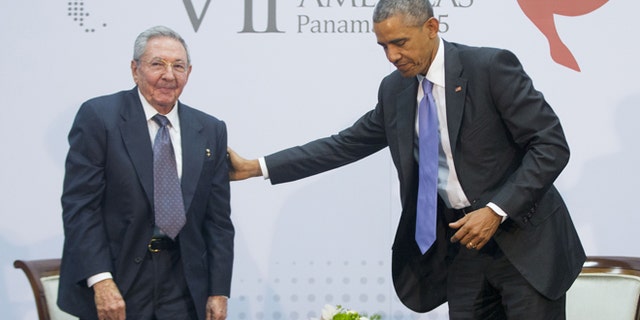 NEWYou can now listen to Fox News articles!
Cuba and the United States plan to name ambassadors to each other's nations when Cuba is officially removed from the U.S. list of countries that sponsor terrorism, President Raúl Castro told reporters on Tuesday.
Castro spoke to journalists Tuesday at Havana's airport after seeing off visiting French President François Hollande, who called for an end to the U.S. trade embargo against Cuba.
Hollande is the first French president to visit Cuba since 1898. During his visit to Cuba, Hollande was said to have met with both Fidel and Raúl Castro.
The United States and Cuba currently have lower level missions called Interest Sections in each other's countries in lieu of full embassies with ambassadors.
President Barack Obama in April announced his decision to remove Cuba from the list of countries that sponsor terrorism, which was an obstacle for the opening of full embassies. The 45-day waiting period for the removal ends on May 29.
Castro and Obama announced in December they would work toward a restoration of diplomatic relations.
Cuba was designated a state sponsor of terror in 1982 because of what the White House said was its efforts "to promote armed revolution by organizations that used terrorism."
White House press secretary Josh Earnest said several weeks ago that taking Cuba off the list does not change the fact that the U.S. has differences with the island nation's government.
"Our concerns over a wide range of Cuba's policies and actions fall outside the criteria that is relevant to whether to rescind Cuba's designation as a state sponsor of terrorism," Earnest said.
The terror list was a particularly charged issue for Cuba because of what its government sees as a U.S. history of supporting exile groups responsible for attacks on the Communist nation, including the 1976 bombing of a Cuban passenger flight from Barbados that killed 73 people aboard.
The attack was linked to Cuban exiles with ties to U.S.-backed anti-Castro groups. Both men accused of masterminding the crime took shelter in Florida, where one, Luis Posada Carriles, still lives.
Obama made the final decision to remove Cuba from the terror list following a State Department review.
In a message to Congress, Obama said the government of Cuba "has not provided any support for international terrorism" over the last six months. He also told lawmakers that Cuba "has provided assurances that it will not support acts of international terrorism in the future."
Last month, Obama and Castro met on the sideline of a regional summit in Panama. The talks marked the first formal meeting between the leaders of their countries in a half-century.
However, Obama held off on making a final decision amid indications that the White House was reluctant to grant Cuba's request until other thorny issues – such as restrictions on U.S. diplomats in Havana – were resolved.
Based on reporting by the Associated Press.
Like us on Facebook