Removal of Cuba from terrorist list would be 'miscarriage of justice,' critics say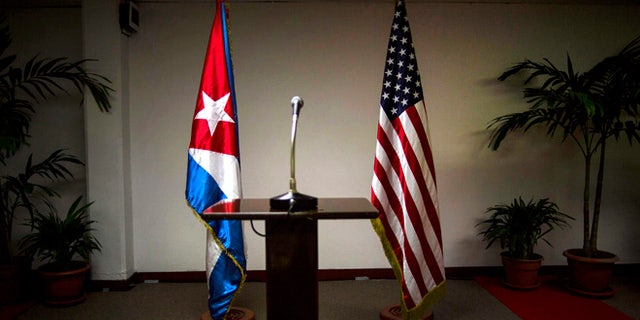 NEWYou can now listen to Fox News articles!
The Obama administration's consideration of removing Cuba from the State Department's terrorism sponsors list is drawing praise from some who say the designation no longer applies and that it poses an impediment to restoring diplomacy between the two nations.
But others say Cuba continues to support and facilitate actions by other nations and groups that pose a national security threat to the United States, and that taking it off the list would be a mistake.
Some White House officials have indicated in public forums and in media interviews that the State Department, which under President Barack Obama's orders has been reviewing Cuba's designation on the list, is poised to recommend to him that Cuba be removed. Interest in Cuba's status on the list is particularly heightened this week, as the Summit of the Americas in Panama approaches on the weekend.
Cuba will be attending the summit for the first time, after having been banned from earlier ones.
Publicly, administration officials have been vague about what the State Department will recommend, or when it will send the president a report.
At a White House briefing on Wednesday White House spokesman Josh Earnest in reference to news reports that the State Department is preparing to recommend removing Cuba from the terrorism list: "I'm not going to make any news on status of that on-going review."
Many Cuba experts say it should not be on the list.
"The grounds for Cuba being on the list have gotten thinner and thinner and thinner over the years," said William LeoGrande, a professor American University's School of Public Affairs and author of "Back Channel to Cuba: The Hidden History of Negotiations Between Washington and Havana."
LeoGrande notes that the State Department's own website on the countries on the list of state sponsors of terrorism gives a rather muted description of Cuba's concerning activities.
LeoGrande said the Cuba entry – which is markedly shorter and more perfunctory than the entries for the other nations on the list, Iran, Syria and Sudan – virtually serves as a basis for the State Department to argue for its removal.
"One of the arguments that conservatives make for why Cuba should stay on the list is that Cuba has relations with Iran and Syria," LeoGrande said. "But that's not one of the criteria of the law for being on the terrorist list."
Proponents of removing Cuba from the list say that though Cuba once supported such groups as Colombia's FARC, a guerrilla group involved in the illegal drug trade, kidnappings and extortion, among other crimes, and Spain's ETA, a violent separatist group, it now is playing a key role in efforts to broker agreements between those organizations and their governments.
"Cuba was designated a State Sponsor of Terrorism in 1982 because of its support of armed movements such as Colombia's FARC and Spain's ETA," said Peter Schechter, director of the Atlantic Council's Adrienne Arsht Latin America Center, in a statement. "But today, Cuba's involvement in the Colombian peace process has received international praise, and US policy should reflect changing realities."
Should the State Department announce its intention to remove Cuba from the State Sponsors of Terrorism List as it is expected to do, it will be yet another positive step towards normalizing our country's relationship with Cuba."
But taking Cuba off the list has plenty of fierce opposition.
U.S. Rep. Ileana Ros-Lehtinen, a Florida Republican, said in a statement: "The expected decision by President Obama to remove Cuba from the State Sponsors of Terrorism list would be nothing short of a miscarriage of justice borne out of political motivations not rooted in reality."
"It would be a miscarriage of justice for the 11 million Cubans on the island suffering under the oppressive Castro regime and a miscarriage of justice for the millions of Cubans who risked their lives to flee the island with the hopes of one day returning to a free and democratic Cuba."
Ros-Lehtinen, a Cuban-American, and other members of Congress who oppose the restoration of diplomatic ties with Cuba without any meaningful democratic reform on the island, have vowed to do such things as block the confirmation of a U.S. ambassador to Cuba.
"U.S. law is clear that a country cannot be removed from the SST list if it has not changed its policies and so long as the country is still supporting acts of international terrorism," she said, "but President Obama is yet again willing to circumvent the law by ignoring the Castro brothers continued policies in support of terrorism by providing safe haven to foreign terrorist organizations and repeated violations of international sanctions."
"The Obama administration is so desperate to open up an embassy in Havana at any cost that it is willing to concede to Castro's demand to remove Cuba from the SST list, serving only to further embolden the regime and undermine U.S. national security."
One priority the Cuban government has publicly pushed since Castro and Obama announced in December a restoration of diplomatic relations has been its removal from the watch list. That would pave the way, experts say, for a lifting of the embargo.
The process of removing it from the State Department list requires that Cuba vow not to have links with terrorism. Obama would then send Congress an initiative to remove Cuba from the list.
Being put on the list results in actions by the U.S. such as "restrictions on U.S. foreign assistance; a ban on defense exports and sales; certain controls over exports of dual use items; and miscellaneous financial and other restrictions," according to the State Department.
But that is likely to run up against strong opposition, given that the House and Senate both have a Republican majority that generally objects to restoring ties with Cuba while Raul Castro is in power and while there are no tangible steps toward democratic reforms.
LeoGrande said that even if Congress opposes Cuba's removal from the list, and attempt to make it difficult to do so, or to create delays, Obama can proceed unilaterally with taking the nation off.
Indeed, delisting a nation always draws outcries.
When President George Bush announced plans to remove Libya and North Korea from the list after negotiations over their nuclear programs, critics said it amounted to making a deal with the devil.
"The important thing to understand is that it's a highly political process," LeoGrande said about the state terrorism watch list. "There are glaring omissions. Pakistan is not on it, even though it harbors al-Qaeda and the Taliban and the groups that keep attacking India."