Rangel's Ethics, In His Own Words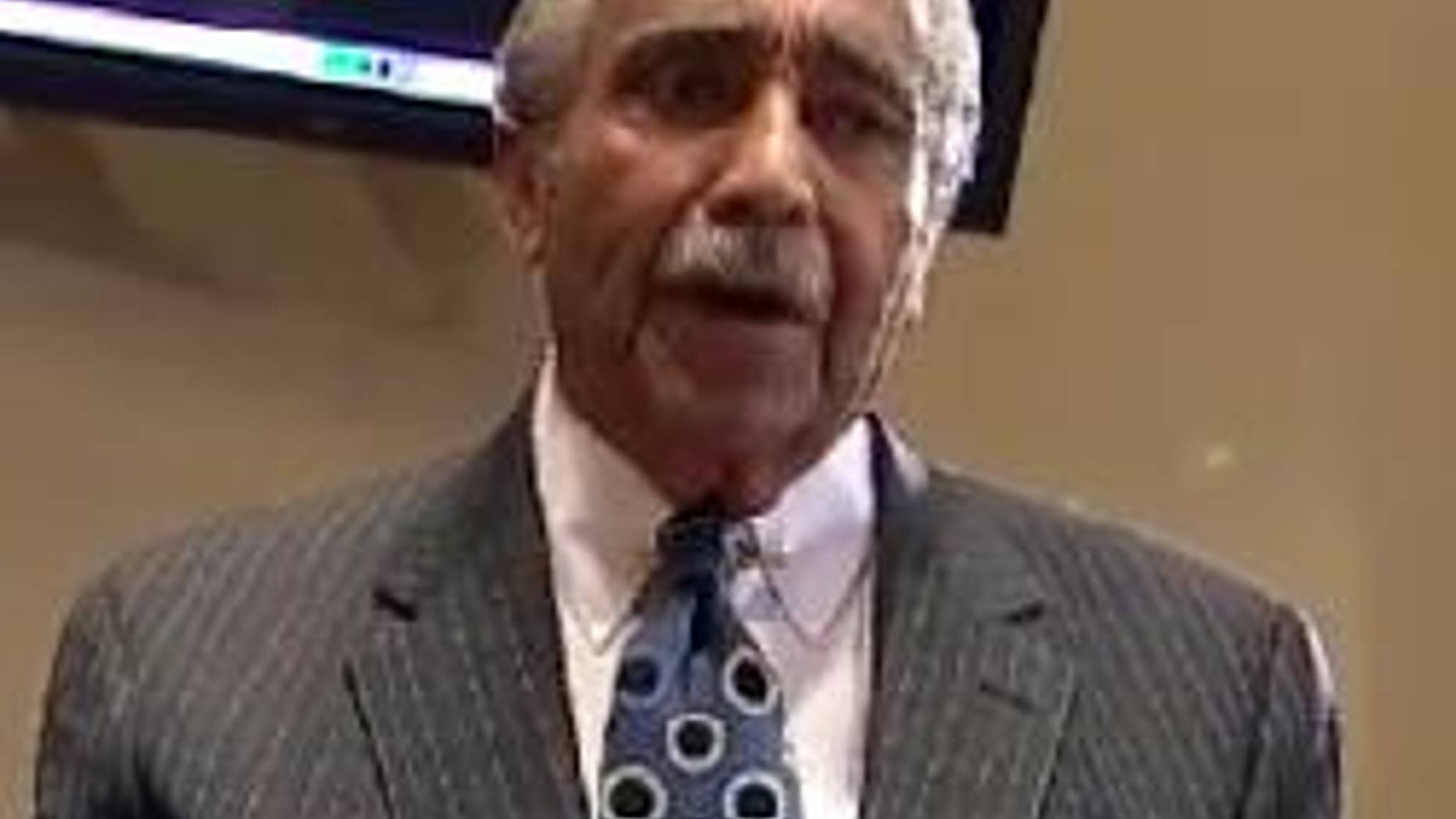 Embattled. Disgraced. Corrupt.
These descriptions of Congressman Charlie Rangel have been common among his detractors in the months leading up to the New York Democrat's ethics committee trial this week.
But brazen? Fearless? Unabashed?
If you'd listened to Rangel over those same few months, that's the impression you would likely come away with.
The congressman hears his fate today on 13 charges of ethics violations, including allegations that he violated House rules on accepting gifts, improperly utilized his position as chairman of the House Ways and Means Committee for personal gain, and failing to disclose finance statements that may have hidden tax evasion.
Rangel railed against the proceedings this week--proceedings which he'd vocally advocated since charges were announced in July--claiming that the committee's refusal to allow witnesses or representation in Rangel's defense was a serious miscarriage of justice. But the congressman has been equally vocal in his own defense.
AEHQ pored through its extensive Rangel file and devised this timeline of the congressman's woes over the past few months, in his own words.
WHEN: August 10, 2010
WHERE: On the floor of the House of Representatives
WORDS: "If it's the judgment of people here for whatever reason that I resign, have the ethics committee expedite this. Don't leave me hanging in the wind until November."
"Hey, if I was you I may want me to go away too. I am not going away."
"Maybe, just maybe, the members of the ethics committee might think about telling me when they think they might have a hearing so that whatever they decide I can let my constituents, my family, my friends know, that I did the best I could as an American as a patriot and someone that loves this country."
"I didn't want [to] say anything because I didn't want to offend and don't want to offend the ethics committee. But the ethics committee won't even tell me when I'm going to have a hearing. Heck, people are concerned about me. I'm 80 years old! I don't want to die before the hearing."
WHEN: August 17, 2010
WHERE: An interview on CNN
WORDS: "Why would any intelligent person scream for an investigation if he thought it was going to embarrass his family and community or the Congress or the country?""Seldom in America do you find someone screaming...for a hearing or a trial and not getting it, by the press or by even your colleagues. It's a very very unusual situation, except African Americans have felt this before.""Let me tell you, the president's a politician like everybody else. He obviously didn't mean what people thought he meant. There's no one, probably except [House Speaker] Nancy Pelosi, that he calls more to say, 'Thank you for what you've done' [than me]. He would have to know that people in my district know the role that I played with him."
"I think the numbers look odd in terms of the number of African Americans that have been brought before the Ethics Committee."
"I'm not going anywhere, you can depend on that."
WHEN: August 23, 2010
WHERE: A candidates' forum in Harlem, reacting to President Obama's remarks in a July 30 TV interview that Rangel should "end his career with dignity"
WORDS: "Frankly, he has not been around long enough to determine what my dignity is. For the next two years, I will be more likely to protect his dignity."
"My dignity is 80 years old! How can somebody so much younger tell me how to leave with dignity?"
WHEN: August 29, 2010
WHERE: A Harlem gathering of church leaders in support of his reelection campaign
WORDS: "...[T]his fight is never, never going to end. I'm just one of the foot soldiers; just one of those [who] fought in the march so that one day our kids [will] be able to say, 'Do you remember when there was bigotry and prejudice in this country? Do you remember when there wasn't fairness?...This is not Charlie Rangel's struggle. All over this country these things are happening."
WHEN: September 29, 2010
WHERE: Capitol Hill
WORDS: "I want to get the goddamn thing over with."
"I think I deserve to be treated better than this. I don't know whatever happened to the bipartisan ethics committee."
WHEN: November 15, 2010
WHERE: House Committee on Standards of Official Conduct (ethics committee) hearing on the matter of Rep. Rangel
WORDS: "I don't think it's fair that I participate in any type of proceeding if, in fact, what you are basically telling me, that the political calendar will not allow you enough counsel-enough time to allow me to get a lawyer at this crucial point in my life. Fifty years of public service is on the line."
WHEN: November 15, 2010
WHERE: Outside the ethics committee hearing, after walking out on the proceedings, to reporters
WORDS: "Did I wish you guys a Happy Thanksgiving?"
WHEN: November 15, 2010
WHERE: An exclusive Fox News interview on Capitol Hill
WORDS: "Ever since the Magna Carta, the Constitution, the hearing--I don't care what it is. A person should have the right to counsel if they're accused of anything and, in addition to that, have the opportunity to prepare."
WHEN: November 18, 2010
WHERE: Ethics Committee hearing, closing statements
WORDS: "Charles Rangel never sought any personal gain."
"Please make certain that my name, notwithstanding the imagination that some people have, there is no way to stretch this that I am a corrupt individual."
"I never attempted to enrich myself. No matter what your decision, I am grateful that I had this opportunity to serve and recognize that had it not been for God's gift in saving my life, I would not be here to talk to you. I thank you for this opportunity to express myself, and I apologize for any embarrassment I may have caused you or this institution."
Fox News's Whitney Ksiazek contributed to this report.