Rahm Emanuel's challenger says his win would send a message 'to Democrats who cater to the rich'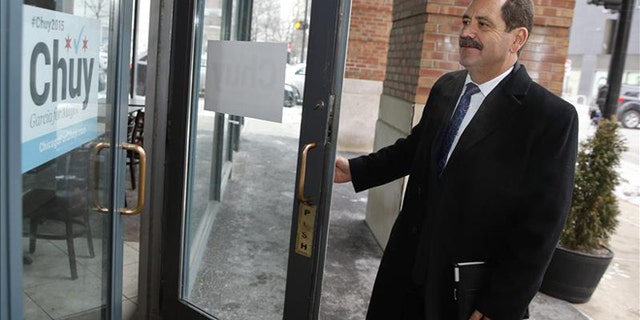 NEWYou can now listen to Fox News articles!
Chicago – Chicago's first mayoral primary runoff since the city adopted nonpartisan elections in the 1990s takes place Tuesday between the incumbent Democrat, Rahm Emanuel, and his surprise challenger, Cook County Commissioner Jesus "Chuy" Garcia.
Garcia told EFE that the election in the nation's third-largest city could be a "referendum" between the two wings that seek control of the party.
A Garcia victory would send a message "to Democrats who cater to the rich and powerful with a corporate agenda that seeks to privatize everything without a thought for our neighborhoods," the Mexican-born candidate said.
The candidates crisscrossed Chicago a day earlier to greet commuters, rally supporters and call voters. Emanuel, a former White House chief of staff, has tried to convince the public he's the best person to navigate Chicago's mounting fiscal problems. Garcia has criticized Emanuel for not listening to neighborhood residents and touted a strong get-out-the-vote effort.
The city is overwhelmingly Democratic, so the winner of today's runoff will be the overwhelming favorite to win in November.
Emanuel failed to win a majority in February's first-round election. He finished first in the five-candidate field, winning 45 percent, while Garcia came in second with roughly 34 percent.
According to Garcia, 59, his campaign "has assembled the elements of victory," with the majority backing of Latinos, who make up 14 percent of the electorate, and significant support among African-Americans, Asian-Americans, Muslims and white progressives.
"We've got together a pretty diverse coalition, something that's unprecedented for a candidate from the minority community," he said.
Garcia, who has lived in Chicago since the age of 10, was a city alderman and Illinois state senator before winning a seat on the Cook County Commission.
Supporters — including the Rev. Jesse Jackson — rallied Monday in the heavily Mexican Pilsen neighborhood. They blasted Emanuel for not taking down widely criticized red-light cameras, while praising Garcia for meeting with residents over noise complaints near O'Hare International Airport.
"We weren't supposed to be here. We were counted out," Garcia told supporters. "People had their say in Chicago."
For his part, Emanuel has tried to convince voters that controversial actions — such as closing dozens of schools in 2013 — were beneficial. But in the process he's admitted his famously aggressive approach could have been softer. He's also tried to poke holes in his opponent's experience.
Emanuel spent Monday shaking hands with the breakfast crowd and calling voters. He told reporters he's been reminding people of his achievements: lobbying successfully for full-day kindergarten and a higher minimum wage.
"People going to the polls are interested in Chicago's future," he said. "They're voting for the basic things that they want for their families, their neighborhoods and their communities."
The Chicago Board of Election Commissioners says more than 142,300 residents voted early, compared with nearly 90,000 ahead of the February election and roughly 73,200 before the 2011 election.
Both campaigns emphasized early voting, with the candidates casting ballots ahead of Tuesday. Still, election officials have been uncertain about how many early votes may have been due to Chicagoans trying to vote before heading out on spring break vacations.
Chicago's next mayor faces major issues, including the worst-funded pensions of any major U.S. city, upcoming contract negotiations with a teachers union that went on strike in 2012 and a persistent crime problem. The leader of the nation's third-largest city will also have to attract new residents and businesses.
Based on reporting by the Associated Press and EFE.
Like us on Facebook