Who is Jesus 'Chuy' Garcia, the man giving Rahm Emanuel a run for his money in Chicago?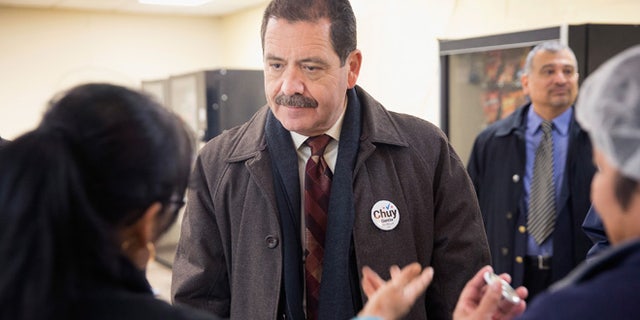 NEWYou can now listen to Fox News articles!
The accidental candidate for Chicago mayor is known mostly by his nickname, "Chuy."
It is fitting that Chuy (birth name: Jesus) Garcia has discarded a formal way of referring to himself.
Garcia, a native of a tiny Mexican village with a population of 200, was one of four children whose mother raised them alone for a long time while their father picked vegetables in the United States. Today, Garcia and his wife live in a modest home in a low-income Chicago neighborhood strewn beer bottles and never-ending police sirens.
That is quite a contrast from his opponent in the race, Mayor Rahm Emanuel, whose father was a pediatrician, attended private schools and who moved in the highest circles of the Beltway as President Barack Obama's chief of staff.
Now, as Garcia, 58, gives Emanuel, 55, a formidable challenge in the incumbent's quest to be re-elected, he is holding up his working class roots as a trump card, and pushing forth the race as David vs. Goliath. It has struck enough of a chord among the city's voters to make Emanuel fight for a second term.
During the primary election in February, Garcia garnered 34 percent of the vote, coming in second behind Emanuel, who got 45 – much less than the 50 percent he needed to avoid a runoff. Three other challengers got the rest of the votes. The runoff election is scheduled for April 7.
"He got under 50 percent, even though he had $14 million going into the election," Garcia said in a recent interview with Fox News Latino. "In spite of all his money, there's a great disconnect with his administration."
Garcia has raised slightly more than $2 million.
The reason for the gap between Emanuel and many of Chicago's voters , Garcia said, is due largely to what he and other Emanuel critics say is the mayor's disproportionate attention to the city's elite, and actions deemed inconsiderate to the poor and minorities.
"He's only worked for the elite in Chicago," Garcia said. "Poorer communities are underserved, they need community development."
It's a note that Garcia has hit repeatedly during the campaign. On Monday, in the first head-to-head televised debate before the runoff, Garcia questioned Emanuel's performance in regard to the city's financial problems and violence.
Garcia said Emanuel hasn't done enough to address crime. While crime overall has dropped, there was spike in homicides during part of Emanuel's first term. Garcia accused Emanuel of focusing on the downtown, benefiting companies and campaign donors.
"There isn't any gravy to be given out when I'm elected mayor," Garcia said. "I'm going to be collaborative and engaging."
The tone was snappy throughout the debate, with the former White House chief of staff trying to highlight what Emanuel says is Garcia's lack of experience, especially in managing the finances of the nation's third most populous city.
"The difference between being a legislator, and I was one, in that period of time, you pass a bill. When you're mayor you have to pay the bills," said Emanuel, a former Congressman.
Fox News Latino's efforts to get a comment from the Emanuel campaign were unsuccessful.
Emanuel got a solid 55 percent of the vote when he first ran for mayor in 2011. But he made several highly controversial moves, including closing nearly 50 schools, standing firm despite a strike by public school teachers, and tightening Chicago's belt with a strict budget.
At the same time, Emanuel has showed support for business development in Chicago. And that has earned him the backing of real estate and business leaders.
While some supporters have cast Emanuel's actions as courageous, a kind of "tough love" the city needed to recover from weak academic standards and financial problems, others, particularly minorities, have seen it as heavy-handed and brash, and not improving their lives.
So Garcia has been winning the endorsement of key minority groups and labor unions, among others, who see him as reflecting Everyman.
"We will find a way to bring investment to the most disinvested areas!" he said at a recent campaign stop before an African-American crowd, according to the Wall Street Journal. "This will be an administration that looks like Chicago!"
The crowd went wild, responding: "Chuy! Chuy! Chuy!"
Supporters scoff at Emanuel's glossy resume in Washington D.C., where he also worked for the Clinton administration.
"He has more experience in local government than Rahm Emanuel did when he came back from Washington, D.C.," said Michael Anderson about Garcia at a campaign event, according to the Journal. "He came up on the rough side of the mountain and he understands."
Garcia said that he never envisioned himself running for mayor of the Windy City.
"I remained active in politics, in community life, in public policy circles, in philanthropy," he said to Fox News Latino.
But working toward being Mayor Garcia?
"I didn't see this," he said. "It seemed something like that was beyond me."
Indeed, he had planned to support teacher's union president Karen Lewis, who was going to run against Emanuel, but withdrew after she was diagnosed with a brain tumor. Lewis strongly urged Garcia to run, something that caught him by surprise and which he initially resisted, then agreed to after getting the blessing of his wife, Evelyn.
Garcia has been cultivating support in the city's diverse communities, although he expects the biggest single group of voters casting ballots for him to be Latinos.
"Because of the historical nature of the race, it's my strongest base of support," Garcia said of Latinos, who've never seen one of their own as mayor of the city.
I got 26 percent of the African American vote, 40 percent of the white vote, that's the coalition that came together to force Mr. Emanuel into a runoff," Garcia said.
Just about a week ago, a poll showed Garcia and Emanuel in a dead heat.
During the weekend, however, other polls showed Emanuel as much as 10 points ahead of Garcia.
Garcia dismissed the latest polls, saying some voter surveys before the February primary failed to show him having the kind of strong support that he eventually got on election night.
"I expect my numbers to improve, and I think I can improve my numbers with white voters" by the runoff, he said, noting that "Now it's just two candidates."
Garcia has been criticized in the media for not having details about how he would fix some of the problems he has cited in the city under Emanuel.
He has said he has plans for programs, and that he will unveil them in more details soon.
He said he won't promise to reopen the schools that Emanuel closed, adding Chicago is in dire financial straits right now. But he said the violence – which has remained high in Chicago even as it tapered off in other big cities in the country – would be a priority, and community development programs, as well.
Garcia credits his late mother, who only got as far as the third grade in Mexico, with inspiring him to forge ahead with his dream and serve his community.
"She was always very involved in the community," said Garcia, who came to the United States when he was 9 years old. "She was engaged in community life and wanted to make a difference."
He believes the Chicago election will hold a lesson for the country. Chicago's Latinos, like those in many parts of the country, often have a low turnout.
"Chicago is important," he said. "It's the heartland, what happens in Chicago will have an important bearing on how the Latino vote is seen nationally, and in next year's presidential election. It's a bell weather of what's happening with the Latino vote as it grows across the country."
The Associated Press contributed to this report.