Race to Remember: Top moments from 2016's rollercoaster election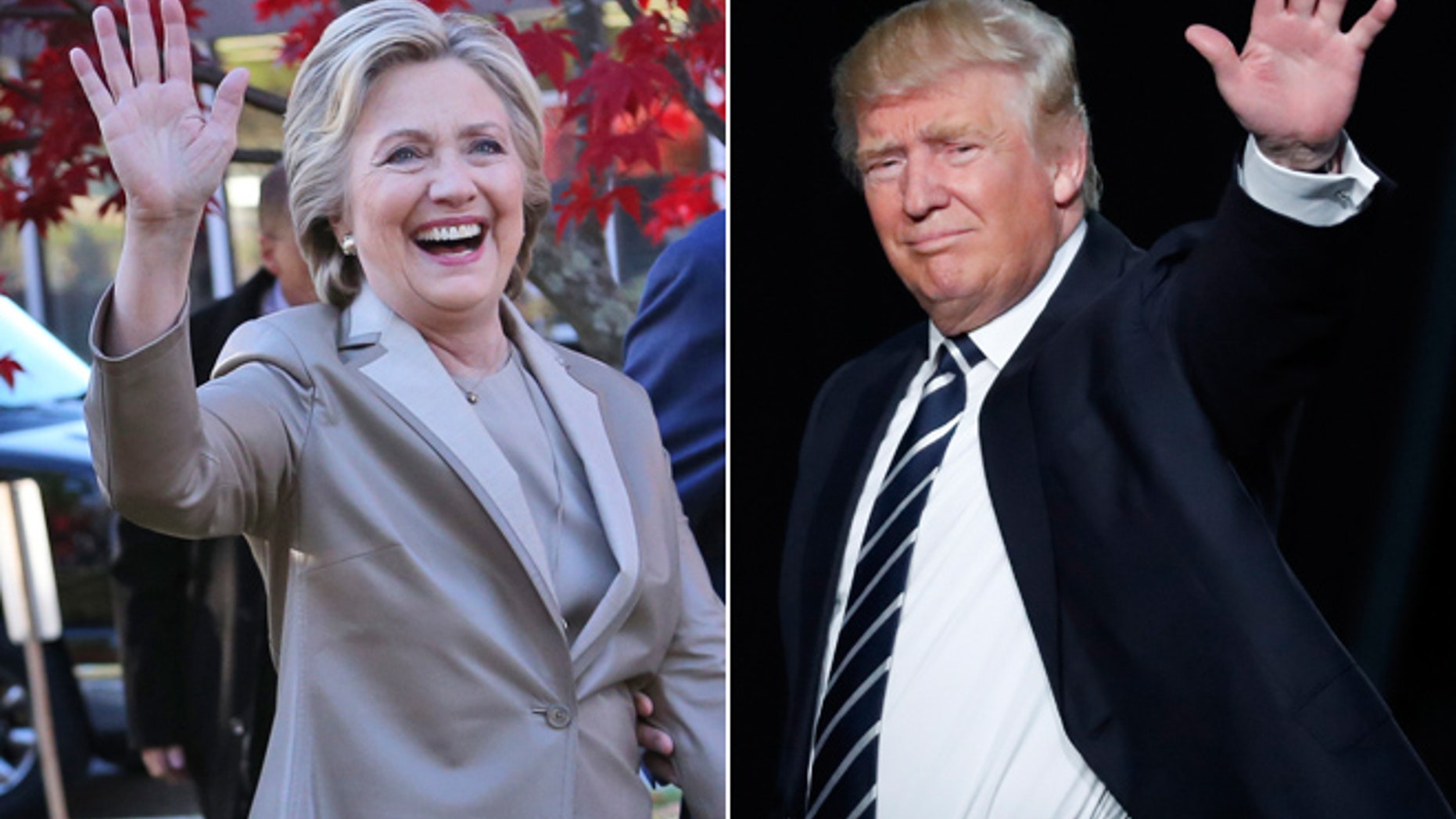 If you're reading this, you've survived the 2016 presidential race – through all its heart-stopping twists and turns.
As the vote gets underway Tuesday, FoxNews.com looks back on the memorable moments that have made this the most unusual, unpredictable White House battle in modern American history.
Hillary Clinton email scandal erupts
The first campaign bombshell came in March 2015, when the New York Times reported that Hillary Clinton -- then, not even an announced candidate -- had exclusively used a private email server, located at her New York home, when serving as secretary of state.
The bombshell sent shockwaves through the media, Congress and the country at large, and the issue would dog Clinton throughout both the primaries and general election cycle.
Shortly before the party convention, FBI Director James Comey in early July announced that while Clinton had been "extremely careless" in the handling of classified information, the agency did not recommend charges. That seemed to be the end of it, but there was still one more twist to the tale ...
Donald Trump announces his candidacy
It all began with a slow escalator ride at Trump Tower. On June 26, 2015, the billionaire announced his longshot anti-establishment candidacy with a searing speech remembered most famously for his so-called "Mexican rapist" line – in which he accused Mexico of sending bad people across the border.
"They're bringing drugs. They're bringing crime. They're rapists. And some, I assume, are good people," he said, in remarks that would kick off his unconventional campaign.
Most analysts gave Trump little chance of winning the nomination, believing he would be crushed underfoot by the likes of Jeb Bush, Marco Rubio and Ted Cruz. But the Trump Train proved much sturdier than many imagined.
Sparks fly at GOP primary debates as Democrats bury theirs
The primary debates, particularly on the Republican side, were some of the most fiery in recent history – with unusual two-tier debates being set up due to the number of candidates in the race.
At the debates themselves, all eyes were on Trump, and he didn't disappoint. Sparks flew as Trump beat up on "low energy" Jeb, took shots at Rosie O'Donnell and fought back against claims he had small hands by making a reference to his genitals -- and even boycotted one of the debates in order to hold his own veterans fundraiser.
Marco Rubio, meanwhile, wounded his own candidacy by repeating the same talking point three times at one debate.
On the Democratic side, there seemed to be very little interest in holding debates, as the DNC scheduled several on weekends and around the same time as top NFL games.
Bernie Sanders surges
When self-described "democratic socialist" and Vermont Sen. Bernie Sanders announced his candidacy for the Democratic nomination in April 2015, few gave him much of a chance against the Clinton campaign behemoth. But as the other rivals – former Maryland Gov. Martin O'Malley, former Rhode Island Gov. Lincoln Chafee and Former Virginia Sen. Jim Webb – fell by the wayside, Bernie remained and picked up momentum as young people in particular started to "Feel The Bern."
Despite winning states such as Michigan, Colorado and New Hampshire and hitting Clinton hard on issues like her speeches to Goldman Sachs, he was eventually defeated, but on the way inspired a movement of young people, and gave the former secretary of state somewhat of a scare.
Debbie Wasserman Schultz steps down
On the eve of the Democratic National Convention, then-Chairwoman Debbie Wasserman Schultz was forced to announce she would step down after emails released by WikiLeaks appeared to show discussions by DNC staff to help Clinton at the expense of her primary rivals.
The scandal infuriated Sanders supporters, gave red meat to Trump's claim that the process was "rigged" and threatened to undercut the DNC's show of unity at their convention.
Quickly, Wasserman Schultz was replaced by interim Chairwoman Donna Brazile, who herself would come under fire after emails showed her appearing to leak primary debate questions to the Clinton campaign.
Cruz stuns GOP convention audience
Trump's main primary rival Ted Cruz shocked the Republican National Convention by refusing to endorse the nominee in his speech in Cleveland, telling voters to "vote your conscience" in November, to boos from delegates.
Cruz would later go on to endorse Trump, much to the dismay of many of Cruz's supporters who had previously applauded his stance at the convention.
Clinton stumbles, is dragged into a van on 9/11
Rumbling questions over Hillary Clinton's health erupted on Sept. 11 when Clinton was forced to leave a 9/11 remembrance service early after reportedly feeling ill. Video emerged of Clinton stumbling and being carried by aides into a black van, fueling the rumors about Clinton's fitness for office.
The campaign later revealed the former secretary of state was suffering from pneumonia, as Clinton also suffered in the polls in the days after the health scare.
Leak of Trump tax records
Trump has continually come under fire for refusing to release his tax returns. In October, an unnamed source took the liberty of mailing Trump's 1995 tax records to a New York Times reporter. The records showed that the billionaire declared a $916 million loss -- so substantial it could have allowed him to legally avoid paying any federal income taxes for up to 18 years.
The release only increased the calls for Trump to release his tax returns – yet Trump still refused to play ball, saying he couldn't release them as he is being audited.
2005 tape reveals Trump's sexual remarks
In October, a 2005 tape of Trump making sexually crude comments on an "Access Hollywood" shoot was leaked to The Washington Post, raising again questions about Trump's language toward women. The video captured Trump on a hot mic talking to Billy Bush on a bus about groping and kissing women, saying "when you're a star, they let you do it ... You can do anything."
The tape forced Trump into a rare apology, and damaged his standing in the polls. It also led to a number of women coming forward to accuse the billionaire of having sexually assaulted or harassed them in the past. He denied it.
WikiLeaks dumps thousands of Podesta emails
In the second big phase of their leaks, WikiLeaks in October began an almost daily leak of Clinton Campaign Chairman John Podesta's emails. The emails led to a constant drip drip of negative stories about the campaign, and gave raw insight into the internal goings-on of the campaign.
Stories included the leaking of questions to the Clinton campaign by Donna Brazile, negative remarks about Catholics by Clinton staffers, criticism of Clinton by key allies, and coordination with the State Department.
Trump says he may not accept the election results
In the final presidential debate, Trump raised eyebrows once again by saying he would not necessarily accept the results of the general election. "I'll keep you in suspense," Trump said when asked by Fox News' Chris Wallace. He later clarified that he was reserving his right to challenge a "questionable result."
He also teased the media by promising an announcement the day after the debate, then saying he would accept the results, before clarifying, "If I win," to the delight of his supporters in Delaware, Ohio.
Clinton email scandal 2.0
The 2016 October surprise came at the very end of the month, when FBI Director James Comey announced in October that the bureau was revisiting the probe into Clinton's use of a private email server when she served as secretary of state. The decision came after the FBI found new emails on the computer of disgraced ex-Rep. Anthony Weiner – the estranged husband of longtime Clinton aide Huma Abedin.
The announcement put Clinton's lead in doubt and energized the Trump campaign, yet two days before the election Comey announced that the new review of the emails hadn't changed the agency's July opinion.