Priebus dishes on White House chaos, Sessions' near-resignation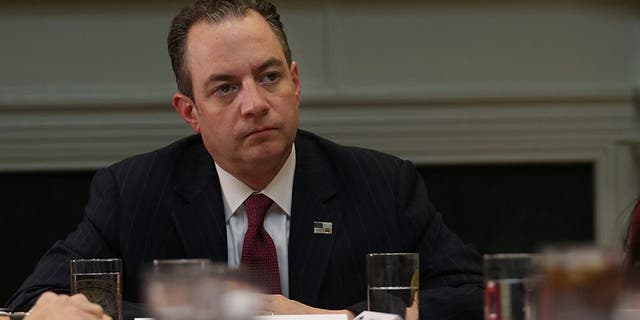 Reince Priebus, the former White House chief of staff who has kept a low profile since his ouster last summer, is speaking out on the chaos he witnessed in the West Wing in those early months – detailing the fiery infighting that consumed the Trump team after James Comey's removal, and the scramble to avert Attorney General Jeff Sessions' resignation.
"Take everything you've heard and multiply it by 50," Priebus said.
The former Republican National Committee boss spoke to writer Chris Whipple for an updated version of his book, "The Gatekeepers: How the White House Chiefs of Staff Define Every Presidency."
In an adapted passage in Vanity Fair, Priebus and other sources gave new details about what was happening behind the scenes after Trump ousted his FBI director, apparently against the wishes of Priebus and White House Counsel Don McGahn.
The account says in the immediate aftermath, chief strategist Steve Bannon blew up at Trump son-in-law and adviser Jared Kushner, who supported Trump's decision to fire Comey and supposedly was angry the communications team was struggling to defend it.
"There's not a f---ing thing you can do to sell this!" Bannon reportedly shouted at Kushner. "Nobody can sell this! P. T. Barnum couldn't sell this! People aren't stupid! This is a terrible, stupid decision that's going to have massive implications. It may have shortened Trump's presidency—and it's because of you, Jared Kushner!"
As a special counsel subsequently was named to take over the Russia meddling case, Priebus described the crisis that unfolded soon afterward on the sidelines with Sessions:
"Don McGahn came in my office pretty hot, red, out of breath, and said, 'We've got a problem.' I responded, 'What?' And he said, 'Well, we just got a special counsel, and Sessions just resigned.' I said, 'What!? What the hell are you talking about?' "
Priebus detailed a scramble from that point on to dissuade Sessions from leaving. He apparently ran to the West Wing parking lot and jumped into Sessions' sedan, telling him, "You cannot resign." This led to a meeting with Bannon and Vice President Pence, "and we started talking to him to the point where he decided that he would not resign right then and he would instead think about it."
According to Whipple, Sessions delivered a resignation letter, but Priebus said he convinced Trump to return it.
Sessions' resignation threat, which apparently followed a humiliating dressing-down by the president, has emerged in published reports before, though not in this level of detail.
The book adaption goes on to describe another clash. Whipple writes that Priebus was told over the summer to get Sessions' resignation, but Priebus convinced Trump otherwise.
Whipple also details what led to then-Press Secretary Sean Spicer's infamous January 2017 briefing appearance where he attacked the media for coverage of the inauguration crowd size.
He writes that Priebus got a call from a livid Trump just after 6 in the morning after the inauguration complaining about news reports that showed his inaugural crowds didn't measure up to those of his predecessor. Priebus said Trump insisted, "There's more people there. There are people who couldn't get in the gates. ... There's all kind of things that were going on that made it impossible for these people to get there."
Whipple writes that Priebus thought arguing about crowd size was not a good fight to pick on the day after the inauguration, but the chief of staff knew he had to decide: "Am I going to go to war over this with the president of the United States?"
Priebus was ousted by Trump last July and replaced by John Kelly, whose own job security is now in doubt as Trump complains about Kelly's handling of allegations of domestic abuse by top aide Rob Porter. Porter resigned last week.
For all of the drama and tumult of his days with Trump, Priebus told Whipple, "I still love the guy."
The Associated Press contributed to this report.