Political Prisoner in Cuba Being Abused, Rights Group Says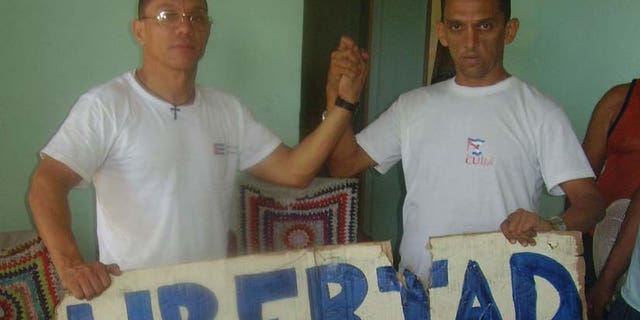 A Miami-based group that advocates for democracy in Cuba issued an alert regarding the health and safety of Néstor Rodríguez Lobaina, a Cuban prisoner whom Amnesty International in the past has described as "a prisoner of conscience."
Marcibel Loo, executive director of Directorio Democrático Cubano, held a press conference in Miami on Thursday to say that Rodríguez Lobaina has suffered beatings since being returned to prison in December.
"The Castro regime has only gotten worse in recent times, they beat men and women," said Loo. "We're sending a letter to all foreign ministries to denounce what is going on inside Cuba, and to demand the release of all political prisoners."
"Néstor Rodríguez Lobaina has been unjustly jailed since Dec. 9 and we fear for his life and physical health," said the group in a statement.
Cuba denies that it has political prisoners. Regime officials say people others describe as political prisoners are criminals because they have committed the crime of having engaged in "counter-revolutionary activities" and treason. International human rights groups, which are banned by Cuba from visiting its jails, estimate that at least 200 people are in Cuba's jails for having opposed the political system there.
The DDC alleges that Cuba security forces attacked Rodríguez Lobaina last year as he walked with his 10-year-old daughter, Diana; sprayed his face and testicles with pepper spray, and took him away, leaving Diana by herself, 15 blocks from her home.
The DDC letter also alleges that last year Lobaina's wife, Daneysi, who was then eight months pregnant, was subjected to rough physical handling by government security officers and on three occasions forced to undergo "vaginal exams."
"This political prisoner is in grave medical condition due to his severe and degrading imprisonment conditions," the letter said. "But the case of Rodríguez Lobaina is not unique."
Rodríguez Lobaina, who founded the Cuban Youth Movement, has been jailed by Cuban authorities on various occasions, according to human rights groups.
Said to be in his 40's, Rodríguez Lobaina is one of Cuba's most high profile dissidents. Last year he was invited by organizers of the Geneva Summit to be a speaker at their Summit for Human Rights, Tolerance and Democracy.
Cuba denied Rodríguez Lobaina permission to attend, prompting more than 30 human rights organizations from different nations, including Vietnam, Iran, Namibia and Morocco, to send a protest letter to the United Nations asking it to intervene on Lobaina's behalf.
"The Castro regime continues to repress activists like Néstor because there's a growing movement of Cubans working peacefully for freedom and democracy," said Aramis Pérez, spokesperson of DDC.
"At times the abuse is more prominent, and at times it seems to ebb, depending on their need for good publicity."
Elizabeth.Llorente@FoxNewsLatino.com
Follow us on twitter.com/foxnewslatino
Like us at facebook.com/foxnewslatino