Plagued by Gaffes and Scrutiny, Bachmann Emphasizes Campaign Message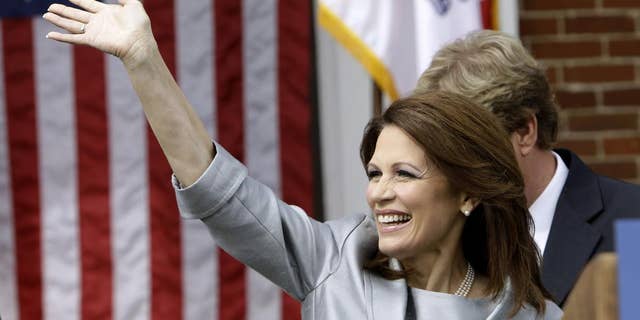 NEWYou can now listen to Fox News articles!
In the days surrounding her official announcement, GOP presidential candidate Michele Bachmann has been asked if she is a "flake," called a "Barbie with fangs," faced fears from within her party that she would be "Palinized," and taken heat for incorrectly claiming legendary actor John Wayne was born in her birthplace of Waterloo, Iowa.
Fox News Senior Political Analyst Brit Hume said Monday on "The O'Reilly Factor" that Bachmann's tongue may get in the way of her chances in the 2012 race. "She has a tendency to say things that, you know, may not have the additional attraction of being true, and while they may not in and of themselves be particularly important declarations, they're the kinds of things that may catch voters' eye and make people wary of her."
Bachmann refused to lend credence to these doubts in a round of morning show interviews Tuesday, dismissing her misstatements as simply human and disregarding media scrutiny as part of the job.
"I think we're proving them all wrong, aren't we?" Bachmann said of her critics during an appearance on "Fox & Friends" Tuesday. "Because right now, we're number two in the country so clearly, our message is resonating with people ... All we're going to do is continue to focus on expanding our message, because people are ripe for positive change and true hope. That's what we're going to be bringing to the American people."
"People can make mistakes, and I wish I could be perfect every time I say something, but I can't," Bachmann said on CNN's "American Morning," adding that she doesn't view her relatively frequent gaffes as a distraction. "People are most concerned about my economic message of positive change," she said.
Though she stuck in large part to that strategy throughout the Tuesday interviews, Bachmann made yet another misstatement in attempting to explain away an earlier claim that the Founding Fathers worked to end slavery.
"[I]f you look at one of our Founding Fathers, John Quincy Adams, that's absolutely true," she said on ABC's "Good Morning America." "He was a very young boy when he was with his father serving essentially as his father's secretary. He tirelessly worked throughout his life to make sure that we did in fact one day eradicate slavery..."
The fact is, as host George Stephanopoulos pointed out, John Quincy Adams was not a Founding Father; rather, he was the son of one and the sixth president of the U.S.
Pressed by NBC's Matt Lauer, Bachmann said being interrogated like this by journalists is her understanding of what it means to be "Palinized," a term that entered the political vocabulary in the wake of former Republican Vice Presidential candidate Sarah Palin's portrayal in the media during the presidential campaign of 2008.
"Well I think that means that there--that there will be a media onslaught of attack," she said. "But that's nothing new, that's something that goes with the territory. It doesn't matter who the candidate is. Whether they're male or female, there will be attacks that come, and that's simply what we have to be prepared to deal with, and I'm prepared."