Paul camp accuses Clinton of running from husband's legacy with prison reform speech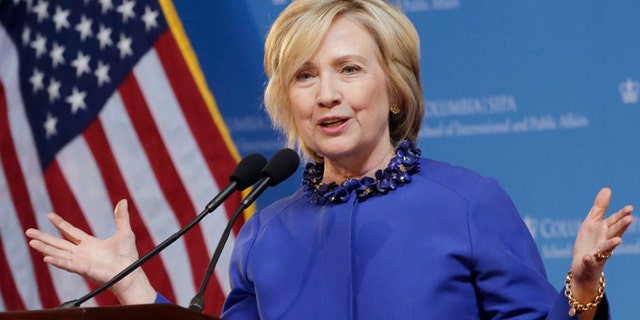 NEWYou can now listen to Fox News articles!
Sen. Rand Paul's presidential campaign mocked Hillary Clinton's call Wednesday for justice reform, claiming she's running from policies her husband advocated during the Clinton administration.
In a speech at New York's Columbia University, and in response to the Baltimore violence, the Democratic presidential candidate decried what she described as "mass incarceration" for low-level offenders.
"We have to come to terms with some hard truths about race and justice in America," she said, adding: "We need to restore balance to our criminal justice system."
But, within hours, her speech earned a rebuke from another declared presidential candidate, Kentucky Republican Sen. Paul, who for years has focused on the issue of criminal justice reform.
His campaign sent out an email accusing Clinton of pushing ideas that would "undo some of Bill Clinton's work -- the same work she cheerfully supported as First Lady." His campaign cited the Clinton administration's "war on drugs" focus, pointing in part to a Salon.com report that highlighted the findings of the Justice Policy Institute. They found "the number of prisoners under federal jurisdiction doubled" under the Clinton administration.
Paul's campaign accused Hillary Clinton of trying to reverse that legacy while also "emulating proposals" that Paul himself has pushed -- like moving away from mandatory minimum sentencing.
Still, the campaign said: "We welcome her to the fight."
Clinton on Wednesday made a few specific policy proposals. She called for every police department in the country to have body cameras to record interactions. And she called for overhauling sentencing.
"Without the mass incarceration that we currently practice, millions fewer people would be living in poverty," she said. "It's time to end the era of mass incarceration."
She called for a national debate on the matter, but urged -- among other ideas -- "alternative punishments" for low-level offenders. She also criticized certain mandatory minimum sentences. A Clinton aide said she also backs additional support for mental health and drug treatment and changes to the probation system.
Clinton's speech was her first major public policy address as a 2016 candidate. She effectively was trying to link the riots and protests in Baltimore -- over the death of Freddie Gray -- with underlying problems in these communities and called for reform.
On the heels of violent riots, which largely subsided Tuesday night, the Democratic presidential candidate also said "the violence has to stop." But she said Gray's death while in police custody, after suffering a severe spinal injury, is part of an "unmistakable and undeniable" pattern.
Several declared and potential presidential candidates have also weighed in on the situation in Baltimore in recent days, including former Baltimore Mayor Martin O'Malley -- who cut short a trip in Ireland to return to the city.
O'Malley, who is considering a Democratic primary run against Clinton, said on Twitter that the city "must come together" to "transform this moment of loss" into a "more just future."
On Tuesday, former Florida Republican Gov. Jeb Bush stressed that those filling the streets need to follow the law.
"When you have a situation where churches are burned and when nursing homes that are under construction to deal with frail elders are burned to the ground, there has to be a commitment to the rule of law and to law enforcement," he said.
Clinton said Tuesday night during a New York fundraiser that Gray's death and the aftermath were "heartbreaking," pointing to injuries to police officers and the burning of homes and small businesses.
"We have to restore order and security. But then we have to take a hard look as to what we need to do to reform our system," she said.
Clinton spoke Wednesday at the David N. Dinkins Leadership and Public Policy Forum, named after the former New York mayor.
The Associated Press contributed to this report.