Party of 'Sometimes'? Republicans Choose Battles Carefully Ahead of Midterms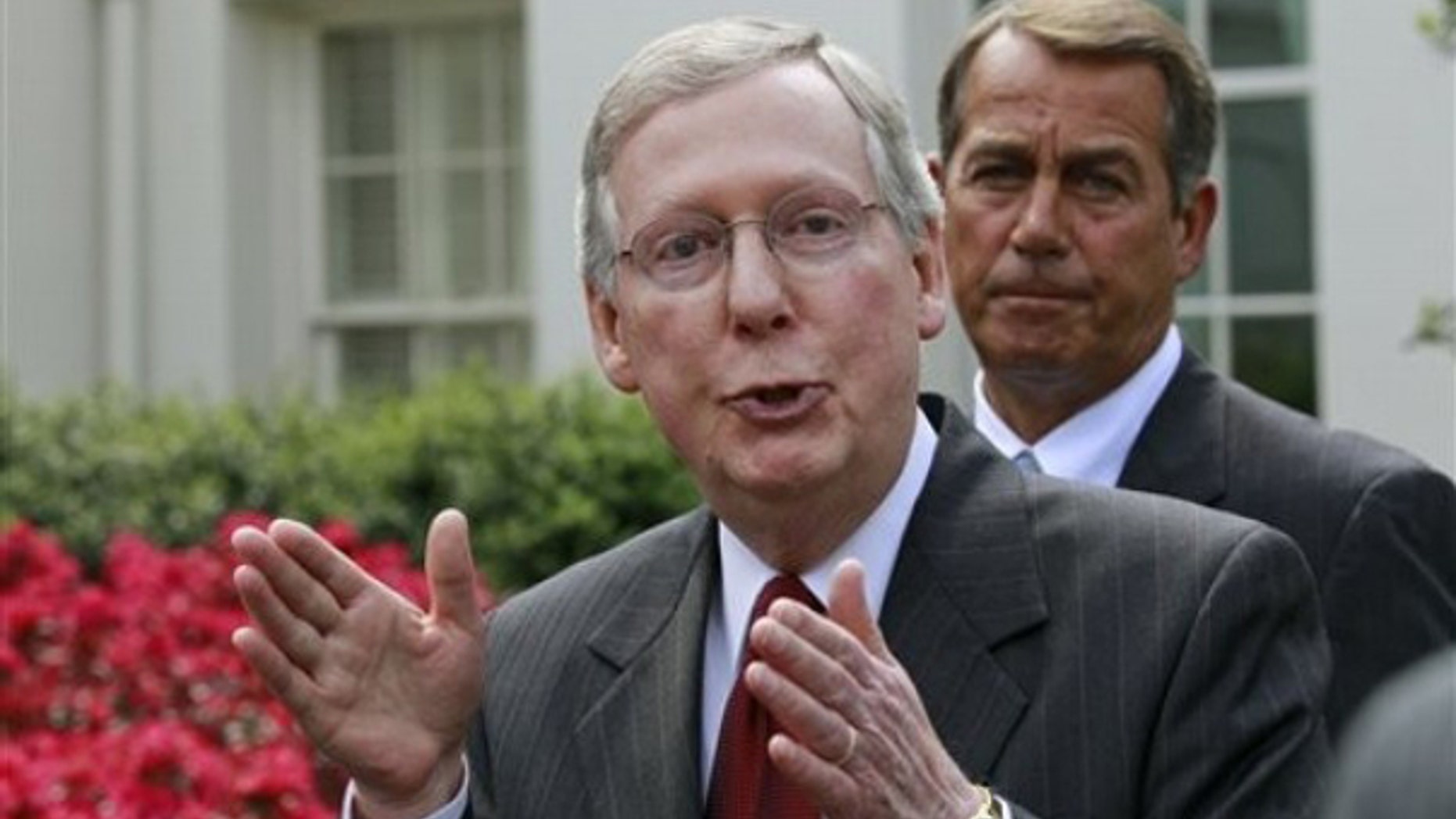 The health care fight is over. The battle over financial regulation might never happen. And few dispute President Obama's prediction that his Supreme Court nominee, whoever he or she is, will sail smoothly through confirmation hearings.
But harmony doesn't win elections, and Republicans say don't be fooled by this kumbaya moment in Washington. They're just picking their battles carefully and say they still plan to hold Democrats' feet to the fire for the big-ticket bills of the past year -- even if the next few months on Capitol Hill look unseasonably civil.
"Fundamentally, the election comes down to jobs and the economy," said Brian Walsh, spokesman for the National Republican Senatorial Committee. "It's a case of misplaced priorities."
The top campaign arms for House and Senate Republicans are planning to focus broadly on the economy and federal spending, and specifically on three pieces of legislation: the economic stimulus package, the health care law, and the cap-and-trade climate bill. The political debates of the coming months may play into that, but barring any drastic new developments the Republican talking points mostly have been set.
The health care law, while fading somewhat from public debate as the Obama administration pushes for a Wall Street regulation bill and starts testing the waters on immigration legislation, is still a rallying cry for Republicans. The National Republican Congressional Committee has an ongoing campaign to alert voters to the state-by-state repercussions of the bill and put pressure on House Democrats who switched their votes from no to yes.
NRCC spokesman Paul Lindsay said that as part of the broad message hammering Democrats for "record spending," Republicans will also take the majority party to task for passing the stimulus and voting the cap-and-trade energy bill out of the House. Even though the energy bill hasn't made it through the Senate, Lindsay said the Obama administration's unilateral orders regulating greenhouse gases are enough to raise alarm in many congressional districts.
"It has become a war on coal from this administration," he said.
Democrats don't see it that way. They view the climate bill as a way to protect the planet from harmful emissions while moving the country toward a clean-energy economy. And President Obama has flat-out dared opponents of his health care law to try and repeal it, saying Americans want the restrictions the law imposes on insurance companies.
House Speaker Nancy Pelosi said Thursday she intends to continue pushing for the climate bill, calling it the "flagship issue of my speakership."
It's unclear how the current financial debate will factor into the congressional races. It certainly hasn't struck the same chord with the public that health care reform did.
As key Democrats and Republicans work toward a deal, party leaders on both sides have tried to make a political brawl out of the package.
"They institutionalize 'too big to fail,'" House Minority Leader John Boehner told Fox News on Thursday, accusing Democrats of establishing a "permanent bailout" for Wall Street.
Democrats fired back that Republicans were following bogus GOP talking points, saying the package does nothing of the sort.
"The representations we hear are nothing less than an attempt to scare the average American. ... Bottom line -- on the health care bill, we allowed too many lies to get out there ... But we learned our lesson," said Sen. Charles Schumer, D-N.Y.
Yet Sen. Richard Shelby, R-Ala., ranking Republican on the Senate Banking Committee, is negotiating with Chairman Chris Dodd, D-Conn., on the package.
A GOP official said that no matter what lawmakers say about the finance bill, it may not be stirring up voter passions on either side of the aisle. He said it's certainly not revving up the liberal base.
"It's pretty much a wash at best," the official said.
But that doesn't mean voter passions have subsided.
A Fox News poll out Thursday found 58 percent of voters think the federal government is "broken." A Pew Research Center study released earlier in the week showed nearly 80 percent of Americans do not trust Washington, an unusually high percentage.
Republican pollster Adam Geller said "there's just no escaping from this issue of the economy and jobs." Plus he said umbrella concerns about "big government" -- the issue that drives the Tea Party phenomenon -- will continue to resonate with voters as campaigns move into full swing.
To that end, he said one issue on the horizon that could factor into the campaigns is the "value-added tax," a version of a national sales tax that top officials, including President Obama, have signaled a willingness to consider.
Democratic strategist Kirsten Powers said it's "extremely unlikely" the administration will pursue that tax, since it would be so politically dangerous.
"I don't think they're gonna do it," she said. "I don't even think there's enough support on the Hill."
Walsh said Republicans are still drawing inspiration for their battle plans from Scott Brown's successful campaign for U.S. Senate in Massachusetts. Brown's call for spending cuts, lower taxes, no health care bill and a tougher approach to terrorism form a blueprint for the GOP, Walsh said.
"If you can win on those four things in Massachusetts, that gives you an important path forward to running in every other state in the country," he said.