Palin: All Eyes on Georgia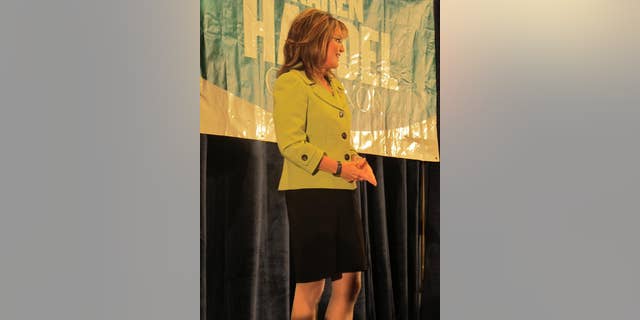 Former Alaska Governor and GOP Vice Presidential candidate Sarah Palin made a campaign stop in Atlanta on Monday to rally support for Secretary of State Karen Handel in the Republican runoff. Tomorrow, voters will decide if Handel or opponent former Congressman Nathan Deal will take on Democrat Roy Barnes for the Governor's Office in November.
Although Handel received the largest number of votes in a July 20th primary, she did not get the 50 percent needed to seal the Republican nomination, forcing her into a runoff with runner-up Deal.
"The eyes of America are on you, Georgia," Fox News contributor Sarah Palin said today to a cheering crowd of hundreds of people, packed into a hotel ballroom. "Georgia can show Washington the way to do it."
The rally in Atlanta lasted about 40 minutes and it was interrupted with cheers from a crowd that appeared to be as interested in seeing Palin as they were to support Handel for Governor.
Palin promised the crowd Handel will shrink state government, "stand up to the powers that be," and create jobs.
The Georgia Primary run-off is one of several races that is testing the star-power of former politicians turned endorsers, like Governor Palin. Not long ago, Palin endorsed Nikki Haley who went on to win the South Carolina GOP nomination. Nathan Deal is also pulling in GOP star-power support with a visit from former Arkansas Governor turned TV personality Mike Huckabee. At the gathering in Gainesville, Georgia yesterday, Fox News contributor Huckabee said the congressman is, "battle tested and armed and ready to fight."