Out of touch much? Hillary makes shaky start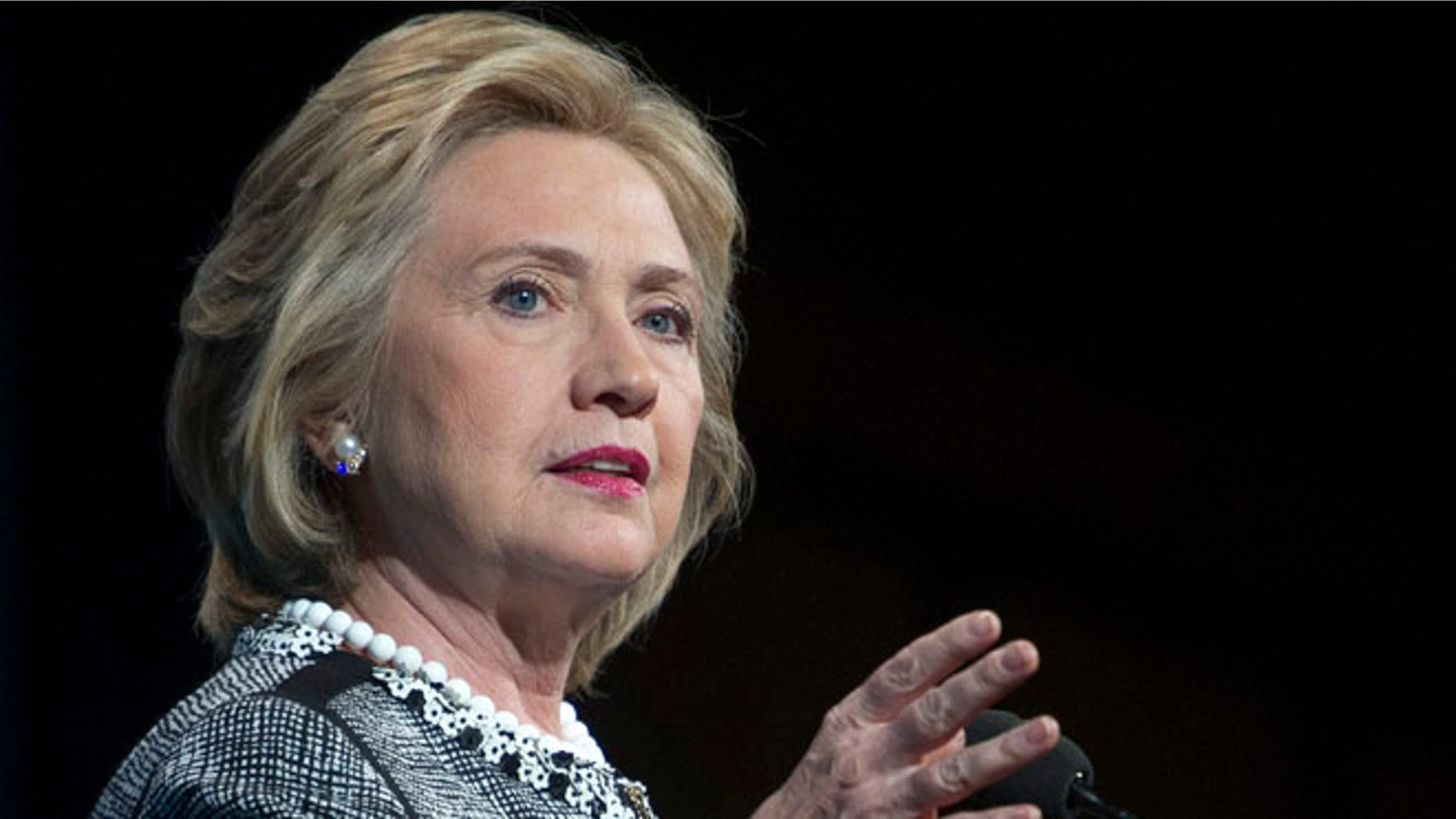 **Want FOX News First in your inbox every day? Sign up here.**
Buzz Cut:
• Out of touch much? Hillary makes shaky start
• Desperately seeking a new excuse for Taliban deal
• Amid border surge, Obama threatens more executive action
• Primary guide
• We hope the kids will rub off on them
OUT OF TOUCH MUCH? HILLARY MAKES SHAKY START
Is Hillary Clinton just a little rusty or is she again going to disappoint the lavish expectations of her supporters? We'll see this week as the 2016 Democratic frontrunner continues her laborious campaign rollout. But in round one, the omens are bad for supporters of the Clinton restoration. The campaign chose the tender ministrations of ABC News' Diane Sawyer and Robin Roberts for the former secretary of state's first interviews since leaving office. So what did a candidate who faces trouble with her base over self-dealing and exploiting insider status to get fabulously rich have to say? She complained about how hard she had it after leaving the White House in 2001. Oh, boy. "We had no money when we got there, and we struggled to, you know, piece together the resources for mortgages, for houses, for Chelsea's education," Clinton, whose family's estimated worth now exceeds $100 million, told Sawyer. "You know, it was not easy."
Do-over - Given the chance today by Roberts to revise and extend her remarks, Clinton wasn't ready to admit she was wrong. Instead, she defended her claim, blaming her husband's massive post-presidency legal bills, including a sexual harassment suit and an unsuccessful bid to avoid being disbarred as an attorney, for the family's plight. She acknowledged to Roberts that her family's experience was different from most Americans in "very dramatic ways" and that the Clintons had been "blessed." But Clinton also demanded credit for amassing the fortune, built through speaking fees and investments: "What we faced when he got out of the White House meant that we just had to keep working really hard." The understanding of how hard ordinary people work is, in fact, what Clinton said is driving her political ambition. That, and, she said a desire to prove Republicans wrong on Benghazi. (Um, weird.) Clinton is endlessly touting her own hard work. Doing what, though? Flying around the word to go to meetings. Campaigning. Giving speeches. It's no doubt tiring stuff, but those are the kinds of activities voters would likely think of as privileges, not "working really hard." If this is what Clinton does with softballs, it's no wonder she is trying to drive around even largely friendly media scrutiny to get the presidency.
'Hard Choices' easy to put down - And then there's the book itself. You wouldn't know it because it has been strategically leaked in a successful effort to squelch even the minimal controversy that a typical campaign tome can generate, but today is officially the launch of Clinton's book "Hard Choices." The closest to praise that even staunch admirers of the former first lady can muster is that the rollout of the book has been "masterful." Not the book, mind you, but the PR effort behind it. That would be like choking down a bad dinner but praising the restaurant's use of social media to get you through the door. As with everything about the Clinton candidacy, 'Hard Choices' wins praise for its caution and calculation. Who wouldn't want to grab a copy of something shrewdly unreadable?  The book, like its author, is an inevitability. She is the frontrunner because she will win. She will win because she is the frontrunner. The book is clever for being boring. The book is boring because its author is so clever.
DESPERATELY SEEKING A NEW EXCUSE FOR TALIBAN DEAL
As many as 90 people knew in advance about the deal to release five Islamist militant leaders from the Guantanamo Bay prison in exchange for accused deserter Sgt. Bowe Bergdahl. That revelation, which came in a closed-door briefing for lawmakers by administration officials, has shredded the most recent claim for why President Obama ignored the law requiring congressional notification before the releases. First, the White House said the deal happened too quickly to notify. But then we found out that the deal had been in the works for quite awhile. Then we were told that Bergdahl was ill and needed to be rescued urgently, making final notification impossible. But then we saw video that contradicted that claim. Then the White House claimed that Congress couldn't be told because of the threat his captors made to kill Bergdahl if news leaked. But that can't be true if the nearly 100 others knew about the deal but no one told the people explicitly required by law to be informed.
[Republican strategist Jim Pinkerton offers several reasons why the Taliban trade will continue to reverberate for years to come for Breitbart.]
The truth hurts - But there is a valid explanation, just not a politically popular one. The president intentionally ignored the law because he wanted to release the five Taliban captives in a bid to mollify Afghan Islamists. The administration has already tacitly made that argument. But why? Because members of Congress, Democrat and Republican, would never allow the president to release five such dangerous men. Obama apparently wanted to release the prisoners as part of his effort to complete his promised withdrawal from Afghanistan. Bergdahl provided the pretext for the release, but his service record and seeming security with his captors has badly attrited those claims. Meanwhile, U.S. troops are dying in combat while the administration declares combat operations over. If the president wants U.S. troops out of Afghanistan, why are they still dying there? And as for the theory of Obama's selective empowerment of certain Taliban factions in order to facilitate U.S. withdrawal, the news from Iraq today shows why Congress would be unlikely to go along if the president ever did come clean on his reasons for the Taliban release.
"[I]t's funny that the secretary would say that because members of the administration admitted in the briefing today that this could potentially endanger American soldiers, so I think the administration – between Secretary Kerry and between the folks that briefed us have got to get their message straight." –Rep. Adam Kinzinger, R-Ill., "On the Record with Greta Van Susteren. Watch here.
OBAMACARE REGRETS? THEY'VE HAD A FEW… 
Fox News: "The scandal surrounding the Department of Veterans Affairs health care system isn't making Americans feel more confident about ObamaCare, a just released Fox News Poll finds. Less than a third of voters believes that the government will do a better job with ObamaCare than the VA did managing care for vets (31 percent). Over half believe it won't (55 percent). Meanwhile, a majority regrets ObamaCare ever passed, and more voters than not say the country is worse off under the law. By a 55-38 percent margin, people wish the Affordable Care Act had never passed and the 2009 system were still in place. That includes a quarter of Democrats (25 percent), a majority of independents (58 percent)… In addition, by a double-digit margin, more voters say the country is worse off under the new health care law: 44 percent worse off vs. 29 percent better off. Another one voter in four says ObamaCare hasn't made much of a difference either way (24 percent)."
AMID BORDER SURGE, OBAMA THREATENS MORE EXECUTIVE ACTION
President Obama reiterated his threat of more executive action to further relax immigration rules even as officials in Texas and other border states are pleading for help as they claim a wave of teenage illegal immigrants are flooding across the border seeking amnesty under Obama's current policies. In a meeting with health worker union members at the White House Monday, the president reportedly said he thought the chances were "50-50" that Congress would act on the issue ahead of his threatened executive action.
Sessions: Obama trying to 'dismantle immigration enforcement' -  Sen. Jeff Sessions, R-Ala., is calling President Obama's extension of  temporary amnesty for illegal immigrant minors a "sustained and deliberate campaign to dismantle immigration enforcement." In a Breitbart OpEd, Sessions writes: "A wave of illegal immigration has overwhelmed authorities, producing a completely preventable humanitarian crisis-and further diminishing the integrity of our national borders. And there is but one way for the crisis to end: for the President of the United States to declare to the world: 'Do not attempt to come here illegally. Our border is no longer open. Our laws will be enforced.'''
JUNE 10 PRIMARY GUIDE
Milk run for Graham? - Reuters: "[Sen. Lindsey Graham, R-S.C.] a prominent foreign policy hawk who has angered some conservatives for his willingness to work with Democrats, hopes to avoid a run-off with the second-place finisher by capturing 50 percent of the vote in his crowded South Carolina primary. He has moved aggressively to beat back a challenge from the right, touting his conservative credentials and spending more than $8.5 million since January 2013 in preparation for a primary race, according to fundraising figures compiled by the Center for Responsive Politics…  The South Carolina field of challengers to Graham, a two-term U.S. senator, includes a minister, two lawyers and a state senator who gave away a handgun at a campaign event."
[Polls in South Carolina close at 7 P.M. E.T., For Results: The Charleston Post and Courier.]
Cantor spends big to thwart anti-immigration deal rival - National Journal: "When the House majority leader spends millions of dollars on a reelection campaign—especially against a little-known political novice who is not considered a serious threat—the national media are sure to notice. That's not because Rep. Eric Cantor's challenger, Randolph-Macon College economics professor Dave Brat, has begun to show some unexpected momentum. …  Instead, the contest has drawn such outsize attention in large part because of the effort Cantor felt he had to pump into it, running hard for the kind of safe seat party leaders once could take for granted. And for that he can thank immigration reform…"
[Polls in Virginia close this evening at 7 p.m. E.T., for election results: The Virginia State Board of Elections.]
As goes Maine? - Portland Maine Press Herald: "Primary races for an open seat in Congress, unusually intense races for county sheriff and a long-running feud over Portland's sale of a downtown plaza will draw Maine voters to the polls Tuesday… Voters in Maine's 2nd Congressional District, which covers northern, eastern and western Maine, will decide who will represent the major parties on the November ballot to replace Democratic Rep. Mike Michaud: Bruce Poliquin or Kevin Raye in the Republican primary, and Troy Jackson or Emily Cain in the Democratic primary."
[Polls close in Maine at 8 p.m. ET.  For Results: The Bangor Daily News]
WITH YOUR SECOND CUP OF COFFEE...
NYT's Katie Murphy shares how a chilling new medical trial at the University of Pittsburgh Medical Center is literally killing patients to save their lives: "By inducing hypothermia and slowing metabolism in dying patients, doctors hope to buy valuable time in which to mend the victims' wounds… Patients are routinely cooled before surgical procedures that involve stopping the heart. But so-called therapeutic hypothermia has never been tried in patients when the injury has already occurred, and until now doctors have never tried to replace a patient's blood entirely with cold saltwater… At normal body temperatures, surgeons typically have less than five minutes to restore blood flow before brain damage occurs… If the procedure works, the patient's heart should resume beating when body temperature reaches 85 to 90 degrees. But regaining consciousness may take several hours or several days."
Got a TIP from the RIGHT or LEFT? Email FoxNewsFirst@FOXNEWS.COM
POLL CHECK
Real Clear Politics Averages
Obama Job Approval: Approve – 43.5 percent/Disapprove – 52.5 percent
Direction of Country: Right Direction – 30 percent/Wrong Track – 62.8 percent 
Generic Congressional Ballot:  Democrats – 41.8 percent/Republicans 40 percent
COCHRAN RAMPS UP EFFORTS AHEAD OF RUNOFF
Washington Examiner's David Drucker looks at the blitz underway by Mississippi GOP leaders to resurrect the failing candidacy of Sen. Thad Cochran: "He's also calling in reinforcement from former Sen. Trent Lott. … A must-win for Cochran in the runoff is Jackson County, situated in the southeast corner of the state against the coast. McDaniel won the region 49.3 percent to 47.7 percent, despite Cochran's record of delivering federal funds that have helped keep humming a local shipyard and the jobs associated with it. McDaniel has been noncommittal on whether he would support future appropriations for disaster relief and local projects. Cochran is also calling in help from Lott, his one-time rival. Republican sources say the GOP former senator is anxious to help Cochran, who ran against him for Senate Majority Leader in the 1990s. Longtime Mississippi Republicans say Lott is considered a political 'favorite son' of Jackson County, where he lived all of his adult life until 2005, when his house was destroyed by Hurricane Katrina. … Lott recorded a radio advertisement in support of Cochran before the primary, and [Cochran strategist and the architect of Mitt Romney's 2012 campaign Stuart Stevens] said [Lott] has agreed to film a television spot for the senator in the runoff."

Realtors ready Mississippi air war - The National Association of Realtors has booked $160,000 in advertising to support Sen. Thad Cochran, R-Miss., ahead of the June 24 runoff against challenger state Sen. Chris McDaniel. The group has already doled out $400,00 in the lead up to the June 3 primary and is the first group to hit the airwaves following the contentious election.
HAGAN USES CANCER VICTIM, TAX POLICY FOR AD DEBUT 
Sen. Kay Hagan, D-N.C., is out with her first ads of the cycle. One spot touts Hagan's effort to get a new drinking water system for Marine Camp Lejeune, blaming contaminated water for a child's death by leukemia. The other ad touts Hagan's work on an Obama initiative to tax U.S. companies' overseas profits, which Hagan spins into an attack on Chinese competitors to North Carolina's ravaged textile industry, with a plant worker saying "Kay's going to bat for us against the Chinese."
GRIMES FLAKES ON COAL AT REID FUNDRAISER
Politico: "[Kentucky Democratic Senate nominee] Alison Lundergan Grimes' campaign insisted last week that she'd use a high-dollar fundraiser with Senate Majority Leader Harry Reid as a forum to promote Kentucky's coal industry and demand action to protect the use of fossil fuel. That didn't happen, according to an audio recording of the affair…Instead, when the Kentucky Democrat spoke at the Hyatt Regency on Capitol Hill last Thursday, she stuck to a partisan script, railing against Senate Minority Leader Mitch McConnell's record on jobs, the minimum wage and women's issues. The one word she didn't say during her 11-minute speech: 'coal'… It's a notable omission for a campaign that went out of its way last week to say that Grimes would "use the event" to raise concerns about environmental rules that are unpopular in Kentucky. After she was criticized for holding a fundraiser with Reid — whose views against coal are unpopular in her state — her campaign said the event would offer a chance to highlight opposition to newly proposed rules from the Environmental Protection Agency to dramatically cut carbon emissions."
["Alison Lundergan Grimes just did exactly what every Kentuckian knew she would - tell them one thing and do another with Harry Reid. If there was any question about what she would do as a Senator, this tape erased all doubt," – McConnell Campaign spokeswoman Allison Moore, in a statement.]

BOLTON GIVES BOOST TO MCCONNELL AND COTTON
The Hill: "Former United Nations Ambassador John Bolton is making his first two Senate endorsements of the cycle for Sen. Mitch McConnell (R-Ky.) and Rep. Tom Cotton (R-Ark.), who are running in two races that will be critical to control of the Senate this fall… 'After over seven years of Harry Reid's failed leadership in Washington, America needs change. Having worked with Mitch McConnell, I know he is the Senate Majority Leader we need to lead Congress in the right direction,' Bolton said in a statement . With a Senate victory in Arkansas from Congressman Tom Cotton, a GOP rising star and veteran who served in both Iraq and Afghanistan, I am confident the Republican Party will win back control of the Senate and turn back the clock on six years of botched Obama policies at home and abroad,' he added. Bolton's political action committee will max out to both candidates, and is meeting with McConnell on Tuesday to make the endorsement in person and, an aide said, to discuss the need to strengthen American national security."
DEMS RAIL AGAINST COTTON OVER DISASTER RELIEF
Arkansas' Democratic Party is ripping Rep. Tom Cotton, R-Ark., over votes he took against natural disaster recovery in a new ad. From the ad: "We wonder why Congressman Tom Cotton voted five times against disaster relief…Cotton was the only member form Arkansas to vote that way…turns out his Wall Street backers opposed disaster aid, and so did Tom Cotton." Sen. Mark Pryor, D-Ark., has sought to draw attention to Cotton's votes after the stage was recently ravaged by tornadoes.
DAINES DISSES WALSH OVER MONEY WOES
In his latest ad, Senate candidate Rep. Steve Daines, R-Mont., hits Sen. John Walsh, D-Mont., for "mismanaging" taxpayer money after being reprimanded by the military earlier this year for using his position as Montana's adjutant general to solicit National Guard troops to join a private association that he was seeking a leadership role in. "John Walsh: mismanagement, questionable ethics," the ad says.

MERKLEY TAKES FIRST WHACK AT WEHBY
Sen. Jeff Merkley, D-Ore., is taking his first shot at his Republican opponent Monica Wehby in a new ad. The ad seeks to tie Wehby to national Republican figures like Mitt Romney and Newt Gingrich, criticizing her for supporting policies that give "more tax breaks to millionaires and corporations who ship our jobs overseas while they gut the middle class."

NUNN TRAILS BOTH REPUBLICAN CONTENDERS
Washington Examiner: "According to the SurveyUSA poll, [Democratic Senate nominee Michelle Nunn] trails Rep. Jack Kingston, R-Ga., by six points among likely voters; she trails businessman David Perdue by five points. SurveyUSA found Kingston ahead of Perdue by 11 points [in their July 22 primary runoff].

GARDNER SPOTLIGHTS SMALL TOWN ROOTS IN DEBUT AD
Denver Post: "Congressman Cory Gardner shows off his rural roots and his eldest child in his first Senatorial campaign ad… The spot was filmed in Yuma, the tiny Colorado town where Gardner's family has lived for five generations. The commercial is called 'Big City,' but it might as well be called 'Big Dreams,' as Gardner gave up a safe congressional seat to try to knock off Democratic Sen. Mark Udall. The campaign commercial shows a typical small-town street with vehicles parked diagonally in front of stores and a water tower in the background. Gardner talks with his 10-year-old daughter, Alyson, and ends by saying, 'Let's shake up the Senate.' The campaign is spending $415,000 to air the ad on regular network stations and another $80,000 for cable starting Tuesday."

PICK SIX: BULLISH ON COLORADO?
Republicans have their sights set on six seats to win back control of the Senate from Democrats. So which seats are most likely to flip from blue to red?  Based on your tweets and e-mails, the current consensus among Fox News First readers is: Arkansas, Montana, Louisiana, South Dakota, North Carolina and West Virginia. Reader Ray Pittman agrees with list and adds, "I believe that Colorado will join them." Can Rep. Cory Gardner, R-Colo., unseat Sen. Mark Udall, D-Colo.? We are hearing from many readers that feel Iowa is in play too.
Share your top six picks. Email them – just your top six, please – to FOXNEWSFIRST@FOXNEWS.COM or tweet @cstirewalt.

WE HOPE THE KIDS WILL RUB OFF ON THEM
After all that politics, how about something to actually make you feel good? Picture it: a soft night under the glow of the lights at Washington Nationals' Park. Needy kids from the rough neighborhoods of D.C. bursting with smiles as they run the bases and enjoy carnival games. That would be pretty awesome even if there were politicians present, right?  Home Runs for Horton's Kids is on tonight at Nats Park, pairing up kids in need of a little boost with lawmakers for a chance to shag fly balls and take infield practice on that emerald sward. On hand will be a list of congressional luminaries like Rep. Jack Kingston, R-Ga., and Rep. Rosa DeLauro, D-Conn., and 14 others in a bi-partisan lineup. And you can still get in on it. Proceeds go to Horton's Kids, which supports a wide range of educational, social services for 500 D.C. children, to help improve their daily lives and nurture their desire and ability to succeed. And for the kids tonight, who knows where stepping up to home plate, or snagging that high fly ball might lead.  Click here to learn more about the event and here to learn more about Horton's Kids.
AND NOW, A WORD FROM CHARLES…
"….[Hillary Clinton's accusations of partisanship against Benghazi investigators] is a way to say 'This is what they're always going to do. This is old news. I'm not going to stoop to answer such a question'... But it's not going to work on Benghazi because…if there are hearings, and they're public hearings, are going to happen next year when the campaign starts." – Charles Krauthammer, on "Special Report with Bret Baier" Watch here.
Chris Stirewalt is digital politics editor for Fox News. Want FOX News First in your inbox every day? Sign up here.