Obama to Congressional Leaders: Hurry Up and Strike a Budget Deal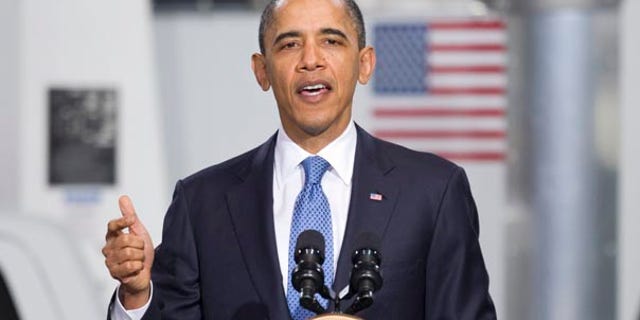 NEWYou can now listen to Fox News articles!
President Obama told the leaders of the House and Senate on Saturday to hurry up and strike a deal on the budget to avoid a government shutdown next weekend, the White House said.
Obama made separate calls to House Speaker John Boehner and Senate Majority Leader Harry Reid, urging them to "reach a final solution and avoid a government shutdown that would be harmful to our economic recovery," the White House said in a readout of the call.
Negotiators are discussing spending cuts in the $33 billion range but haven't agreed on where to make them. Talks were continuing through the weekend. Funding for the government expires at midnight Friday.
Boehner is under pressure from Tea Party-backed conservatives to not compromise after the GOP-led House passed a budget bill in February that cuts $61 billion from current spending levels.
During the phone call, Boehner "reminded the president that there is no 'deal' or agreement on a final number, and he will continue to push for the largest possible spending cuts," Boehner spokesman Michael Steel said.
After keeping a low profile and delegating the negotiating to the vice president, his budget director and other White House aides, Obama has begun to step up his involvement and press for a deal as the deadline nears. He said Friday that compromise was within reach.
Earlier Saturday, House Speaker John Boehner also said Congress needs to strike deal on the budget. But focused the weekly Republican message on steps he said the government must take to encourage small businesses to create jobs. Among those steps are continuing to cut spending, blocking tax increases, reducing the bureaucracy and eliminating regulations. Boehner once owned a small plastics and packaging business in Ohio.
"Washington's inability to get spending under control is creating uncertainty for our job creators," Boehner said. "It's discouraging investment in small businesses and eroding confidence in our economy. To put it simply, the spending binge in Washington is holding our country back and keeping our economy from creating jobs."
Obama used his weekly radio and Internet address to link economic growth and energy independence.
Obama said shifting the country away from imported oil and toward cleaner forms of energy will help continue a trend that has led to 1.8 million new jobs in the past 13 months.
A blueprint he outlined in a speech this week calls for increasing domestic oil exploration and production, making cars and trucks more energy efficient and building vehicles that run on alternative fuels or electricity.
Noting that the U.S. doesn't have enough oil reserves to meet its needs, he set a goal of reducing imports by one-third by 2025.
"By doing so, we're going to make our economy less vulnerable to wild swings in oil prices," Obama said. "We're going to use cleaner sources of energy that don't imperil our climate. And we're going to spark new products and businesses all over the country by tapping America's greatest renewable resource: our ingenuity."
The address was Obama's third this week on energy independence. Next Wednesday, he plans to visit Gamesa Technology Corp., a Philadelphia-area maker of wind turbines, for a town-hall discussion with workers about building a clean energy economy.
Oil prices have been rising because of growing demand in China and continued instability in some oil-producing countries in the Middle East. That, in turn, has pushed gasoline prices to new highs. The national average for a gallon of gas hit $3.619 on Friday, the highest price ever for this time of year, according to AAA and other sources. Prices have climbed 23.2 cents in the past month and more than 81 cents in the past year.
Obama said sparking new products and businesses during a transition away from imported oil will help create jobs. He spoke a day after the government reported that 230,000 private sector jobs were created in March, bringing the number of jobs created in the past 13 months to 1.8 million. The national unemployment rate also dipped to a two-year low of 8.8 percent last month.
"That's a good sign," Obama said in the address. He recorded it during a visit Friday to a UPS shipping facility in suburban Maryland, where he examined all-electric and hybrid vehicles used by AT&T, Verizon, PepsiCo and other companies.
"But we have to keep up the momentum, and transitioning to a clean energy economy will help us do that," he said.
The Associated Press contributed to this report.