Senate Dems Pin 2012 Hopes on Budget Battle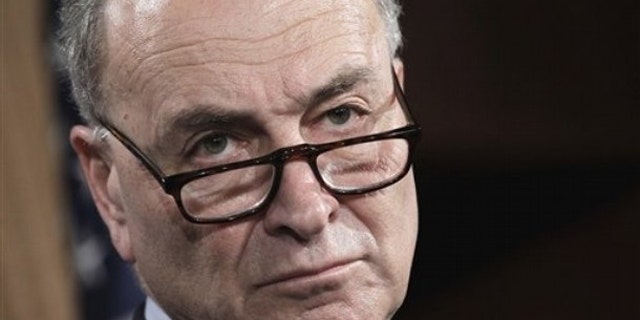 NEWYou can now listen to Fox News articles!
Democrats, who are barely clinging to a majority in the Senate, seem to be pinning their 2012 election hopes on exploiting the current budget impasse that has Republican leaders under pressure from Tea Party activists not to compromise.
Sen. Chuck Schumer, D-N.Y., who is in charge of the party's messaging, was heard this week giving talking points on the budget to other Democratic senators during a news conference–by-phone.
Clearly unaware that reporters were already on the line, Schumer advised his colleagues to call the House Republicans' proposed spending cuts "extreme and draconian."
"The subtext of this is, the only way we can avoid a shutdown is for (House Speaker John ) Boehner to come up with a reasonable compromise and not just listen to what the Tea Party wants."
What the Tea Party wants is $100 billion in cuts. The GOP-led House passed a budget in February that cuts $61 billion. Democrats have suggested they are willing to cut $33 billion.
If the two sides can't reach a deal, the government will shut down next weekend.
The National Republican Senatorial Committee accused Schumer of pushing for a government shutdown.
Schumer "accidentally lifted the curtain today – it turns out that instead of working to negotiate in good faith with Republicans to avoid a government shutdown, Sen. Schumer has been busy handing out election-cycle talking points to his Democrat subordinates," the committee said in a press release that listed a few examples of Senate Democrats up for re-election in 2012 following the marching orders.
Sens. Claire McCaskill of Missouri, Sherrod Brown of Ohio and Debbie Stabenow of Michigan were all quoted in recent weeks calling the GOP budget plan or Tea Party activists "extreme."
But the strategy may backfire on Democrats who were already facing an uphill battle in keeping control of the Senate.
Republicans have seized on the call to portray Democrats as playing politics with the budget negotiations.
"Do we have a de facto leader in Schumer, who thinks he wants to engineer a political game, as many reporters could actually hear on the call?" California Rep. Kevin McCarthy, the No. 3 Republican in the House, said.
It remains to be seen what role the budget battle will play in the 2012 campaign season, but it won't change the long odds that Democrats are facing.
Republicans need to win only four of the 23 seats up for election next year. What's more, the two Republican seats that appeared ripe for Democratic picking now look less vulnerable.
Poll numbers for Sen. Scott Brown, R-Mass, are on the rise and embattled Sen. John Ensign, R-Nev., has chosen not to run for re-election amid a sex and payola scandal.
Democrats hold the Senate majority thanks largely to Senate victories in states carried by Republicans in the last three presidential elections, including Montana, West Virginia, Nebraska, Missouri and the Dakotas. Now Republicans are focusing their 2012 efforts on those states.
Among the Democrats being targeted are Ben Nelson of Nebraska, Jon Tester of Montana, McCaskill of Missouri and Joe Manchin of West Virginia. Manchin won a special election last fall and now will seek a full six-year term.
Democrats hope 2012 will be a tougher year for Republicans than 2010 was, especially if President Obama regains his former popularity and Republicans nominate a flawed challenger.
Democrats say they may fare better than expected, in large part because Republicans might continue to damage themselves with Tea Party-dominated primaries. Such primaries last fall nominated unconventional Senate candidates who lost in Delaware, Nevada, Colorado and other states where the GOP had hoped for wins.
GOP Sens. Richard Lugar of Indiana and Olympia Snowe of Maine could face Tea Party challenges in their primaries.
The Associated Press contributed to this report.