Obama to Arizona Governor: Don't Call Me, I'll Call You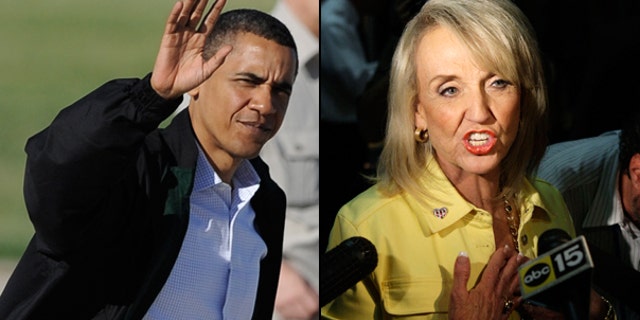 President Obama has turned down Arizona Gov. Jan Brewer's request to meet while she's in Washington next week as tensions mount between his administration and Arizona over the state's new law cracking down on illegal immigrants.
Brewer will be in Washington to meet with other governors. She said Friday that she had asked to meet with Obama and Homeland Security Secretary Janet Napolitano to discuss border security and immigration. But Obama's schedule "doesn't allow for a meeting" with her, White House spokesman Adam Abrams said, adding that the president "does intend to sit down with the governor in the future."
When Obama returns from his Chicago vacation on Tuesday, he will meet with Israeli Prime Minister Benjamin Netanyahu and Peru President Alan Garcia at the White House. On Wednesday, Obama is meeting with Gen. Ray Odierno, the top U.S. commander in Iraq, before heading to an event in Pittsburgh and hosting a concert at the White House to honor Paul McCartney.
On Thursday, Obama will speak at Secretary Clinton's reception for a new partnership between U.S. and India. On Friday, the president will welcome the Major League Soccer men's championship team, Real Salt Lake, to the White House.
The apparent snub comes after Justice Department officials told Arizona's attorney general and aides to the governor Friday that the federal government has serious reservations about the state's new immigration law. They responded that a lawsuit against the state isn't the answer.
"I told them we need solutions from Washington, not more lawsuits," said Attorney General Terry Goddard, a Democrat.
The Justice Department initiated separate meetings by phone and face-to-face in Phoenix with Goddard and aides to Brewer to reach out to Arizona's leaders and elicit information from state officials regarding the Obama administration's concerns about the new law.
The strong message that the Justice Department representatives delivered at the private meetings -- first with Goddard, then with Brewer's staff -- left little doubt that the Obama administration is prepared to go to court if necessary in a bid to block the new law, which takes effect July 29.
Goddard said he noted that five privately filed lawsuits already are pending in federal court to challenge the law.
"Every possible argument is being briefed," said Goddard, who is running unopposed for his party's nomination for the governor's race.
Brewer, who is seeking re-election, later said in a statement that her legal team told the Justice Department officials that the law would be "vigorously defended all the way to the United States Supreme Court if necessary."
Brewer, who has hired private attorneys to represent her in the pending cases, said the department officials "were advised that I believe the federal government should use its legal resources to fight illegal immigration, not the state of Arizona."
Key provisions of the sweeping law include a requirement that police enforcing any other law question people about their immigration status if there is "reasonable suspicion" that they are in the country illegally. It also makes it a state crime to be in the country illegally.
Arizona has an estimated 460,000 illegal immigrants, and the law's supporters contend it will save taxpayer money and reduce crime by pressuring illegal immigrants to "self-deport."
Federal officials and other critics fear the state law could lead to widespread racial profiling.
Goddard said it would be wrong to assume that Arizona law enforcement officers would not act in a fair and highly professional manner."
The federal officials' trip to Phoenix also was an effort to see if the two sides can find common ground in the debate, which has reignited immigration as a major political issue nationwide.
A number of other states are considering laws similar to Arizona's.
Justice Department spokesman Matthew Miller noted that U.S. Attorney General Eric Holder met with a number of police chiefs Wednesday in Washington "to hear their concerns about the impact of the Arizona law on their ability to keep communities safe.
"We continue to have concerns that the law drives a wedge between law enforcement and the communities they serve and are examining it to see what options are available to the federal government," Miller said.
While numerous police chiefs have criticized the law, several Arizona associations representing rank-and-file police officers support it.
The Associated Press contributed to this report.