Obama Tells Reporters Tensions With Afghanistan 'Simply Overstated'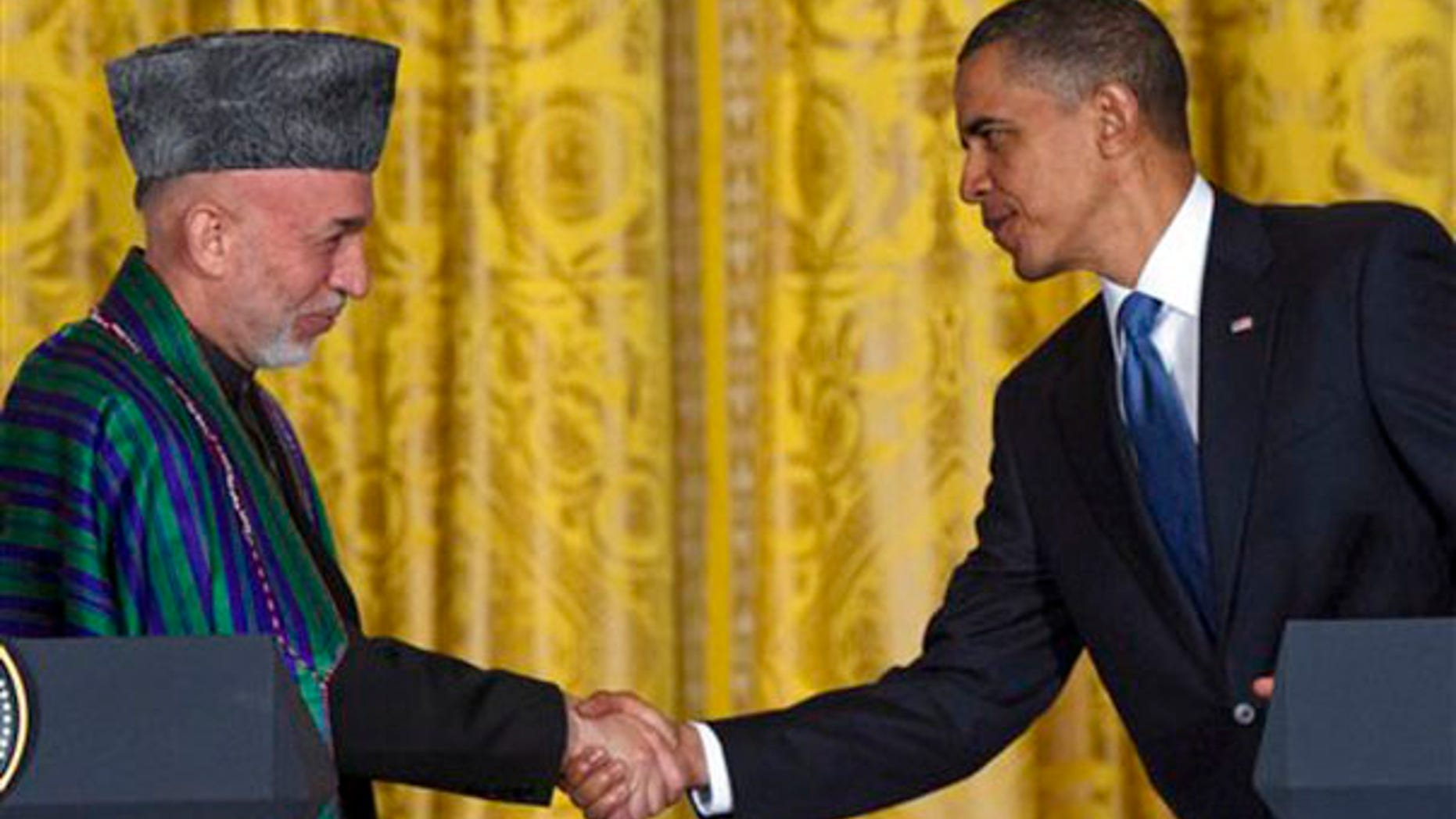 President Obama said Wednesday that "perceived tensions" between the United States and Afghanistan were "simply overstated," a remark made to a White House press corps that has been waiting for months for an opportunity to ask the president to clarify many of his statements.
In what was characterized as a press conference, but was limited to only two questions each for the U.S. and Afghan press, the president avoided public questioning and instead offered a well-orchestrated message about the strength of the U.S.-Afghan relationship, which has been on a roller coaster since a spat with Afghan President Hamid Karzai was conducted in public last month.
The administration has followed that with a charm offensive this week that included pulling out all the stops to make Karzai feel welcome during his visit to Washington.
"With respect to perceived tensions between the U.S. government and the Afghan government, let me begin by saying a lot of them were simply overstated," Obama said Wednesday, adding that as close allies the two countries need to have a frank dialogue.
"I believe what you saw in the past few months is reflective of a deep and strong relationship. And in that sort of relationship, as President Obama rightly described, there are moments that we speak frankly to each other. And that frankness will only add to the strength of the relationship and contribute to the successes that we have," Karzai added.
Obama repeatedly pledged a "reaffirmed" commitment to Afghanistan, while both leaders played down diplomatic flare-ups between them from last month.
"I am very comfortable with the strong efforts that President Karzai has made thus far and I think we both agree that we're going to have to make more efforts in the future," he said.
The visit marks the first in-person effort to smooth over relations between the two presidents.
The White House appeared ready to cancel the meeting in April following a remarkable outburst from Karzai in which he accused the West of perpetrating a "vast fraud" in last year's election. After calling Secretary of State Hillary Clinton to smooth things over, he reportedly told local officials that the Taliban could gain strength if the United States doesn't stop meddling and even suggested he would join them.
But the Karzai and Obama administrations pledged a mutual commitment during the Afghan president's visit to Washington. Clinton conceded Tuesday that U.S. relations with Afghanistan are strained but assured Karzai that the U.S. will stand behind his country long after the last American soldier is gone.
"We will not abandon the Afghan people," Clinton said. "Our civilian commitment will remain long into the future."
The Obama administration intends to begin withdrawing troops from Afghanistan next year.
Obama's and Clinton's pledge of a long-term U.S. commitment to Afghanistan addressed one of Kabul's major concerns. Many Afghans see the war as a conflict pursued by Washington for its own interests -- to forestall another terrorist attack on the U.S. Afghans fear the Americans will abandon them once they achieve their objectives.
Obama, though, is wary of any peace deal that includes unrepentant Taliban leaders. Karzai, meanwhile, sees reconciliation with militants as his country's best hope for a lasting peace. Obama said Wednesday that he's willing to open the door to Taliban members who cut ties with Al Qaeda, renounce violence and abide by the Afghan constitution.
Clinton and Karzai on Tuesday both stressed the positive but acknowledged that sharp differences have complicated efforts to stabilize Afghanistan more than eight years after the Taliban regime was toppled.
"The ability to disagree on issues of importance to our respective countries and peoples is not an obstacle to achieving our shared objectives," Clinton said in opening remarks Tuesday. "Rather, it reflects a level of trust that is essential to any meaningful dialogue and enduring strategic partnership."
The Afghan leader also visited wounded U.S. soldiers at Walter Reed Army Medical Center. In remarks afterward at the State Department, he spoke in emotional terms of his gratitude for U.S. sacrifices.
Karzai plans a visit Friday to Fort Campbell, Kentucky, home of the 101st Airborne Division, which is deploying to Afghanistan over the next several weeks.
The Associated Press contributed to this report.