Obama Praises G-8 Consensus on Condemning Iran's Postelection Violence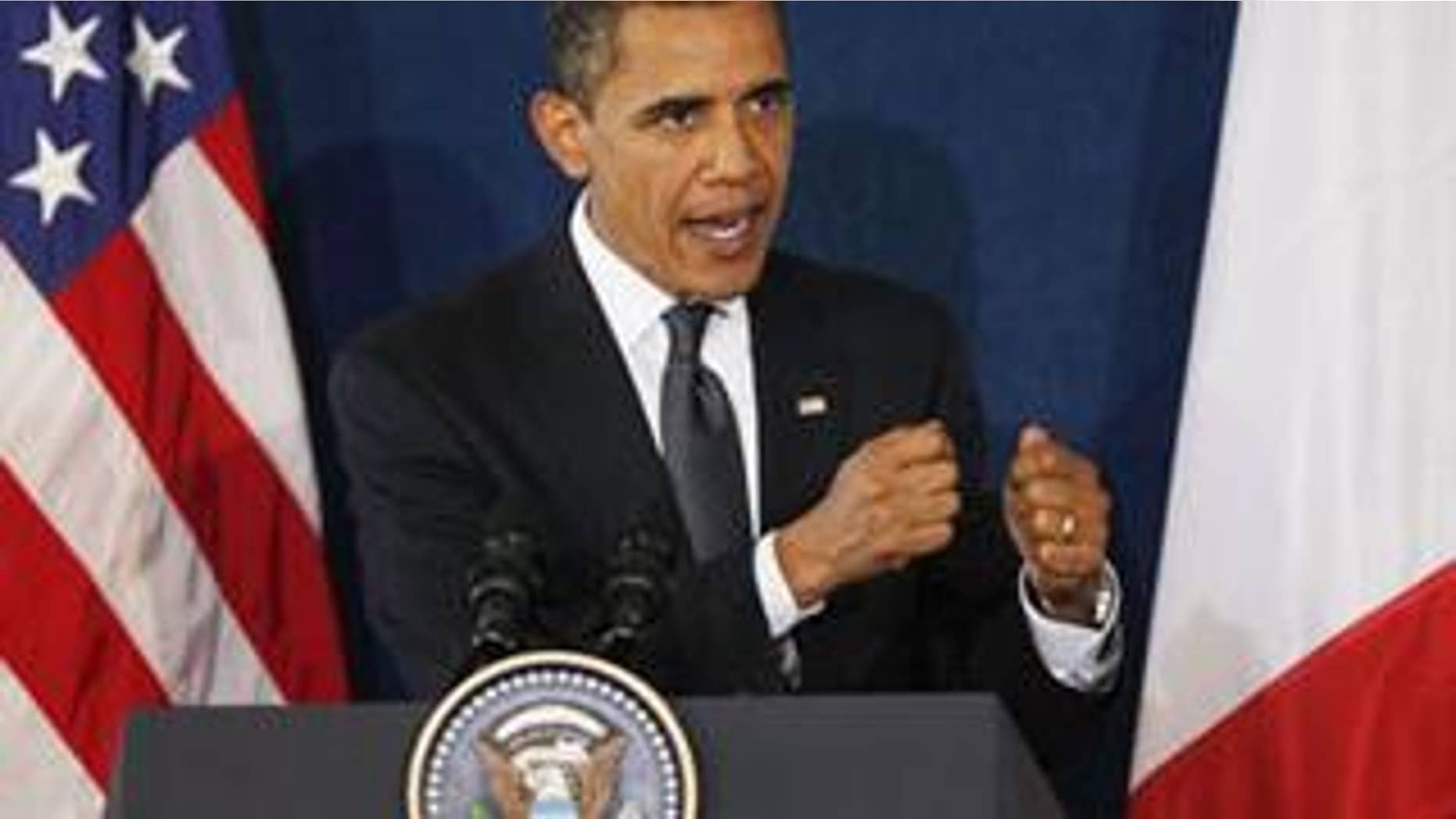 President Obama on Friday rejected news reports that claimed he was disappointed about the international community not imposing further sanctions on Iran.
Speaking as the G-8 summit concluded in Italy, Obama stressed that he and others were not looking for their summit partners to embrace sanctions at this week's meeting. Instead, he said that "what we wanted was exactly what we got" -- a statement of condemnation about Iran's actions in the wake of its disputed presidential election.
Obama said G-8 leaders voiced their concern about what he calls the "appalling" events surrounding the recent elections and the violence that followed. The leaders assembled at L'Aquila also addressed the threat of nuclear proliferation in Iran, he said, with a "strong statement" calling on Iran to fulfill its responsibilities without delay.
"This notion that we were trying to get sanctions or that this was a forum where we could get sanctions was not accurate," the president said.
"I think the real story here was consensus in that (G-8) statement, including Russia, which doesn't make statements like that lightly," he said. "Now the other story there was the agreement that we will reevaluate Iran's posture towards negotiating the cessation of a nuclear weapons policy."
Obama said the international community is "not going to just wait indefinitely" for Iran to renounce an interest in developing nuclear weapons.
"We'll evaluate that at the G-20 meeting in September," Obama said. "I think that what that does is, it provides a time frame. The international community has said, 'Here's a door you can walk through that allows you to lessen tensions and more fully join the international community.' "
"If Iran chooses not to walk through that door, then you have on record the G-8 to begin with and, I think, potentially a lot of other countries ... ," he said. "We're not going to just wait indefinitely and allow for the development of a nuclear weapon ... and wake up one day and find ourselves in a much worse situation and unable to act."
Obama said his hope is that the Iranian leadership "will recognize that world opinion is clear."
Obama also said Friday the world apparently has averted economic collapse but "full recovery is still a ways off."
Obama said world leaders had taken significant measures to address economic, environmental and global security issues.
He cited a "widespread consensus we must continue our work to restore economic growth and restore our financial regulatory systems."
Obama noted, however, that the leaders failed to agree on all issues, including global warming. "We have not solved all our problems," he said.
Those problems include international security.
Obama told reporters that world leaders "remain seriously concerned about the appalling events of Iran's presidential election," including the government's crackdown on protesters. He said the world would "take stock of Iran's progress" in coming days and watch its behavior.
The president said world leaders have made clear that for Iran to take its "rightful place" in the world, the country must adhere to international standards and behave responsibility.
On nuclear weapons, Obama said the U.S. and Russia must show they're "fulfilling their commitments" to lead global efforts to curb the spread. If the two superpowers show they can limit or eliminate these weapons, it would strengthen their moral authority to speak to other potential nuclear nations such as North Korea and Iran.
Obama said there is a need to build "a system of international norms" for nuclear weapons. With respect to North Korea and Iran, he said, "It's not a matter of singling them out ... but a standard that everybody can live by."
Leaders at Friday's meetings also committed themselves to a $15 billion initiative to help farmers in poor countries boost production.
Asked about his appeal to fellow leaders for the aid, Obama said he talked about his father, who was born in Kenya.
"The telling point is when my father traveled to the United States from Kenya to study ... the per capita income of Kenya was higher than South Korea's."
Now, Obama said, South Korea is industrialized and relatively wealthy while Kenya, as well as much of Africa, is still struggling economically.
"There is no reason why African countries can't do the same" and rise out of poverty with modern and open institutions, Obama said.