Obama policies hammered following coal-mine closings, layoffs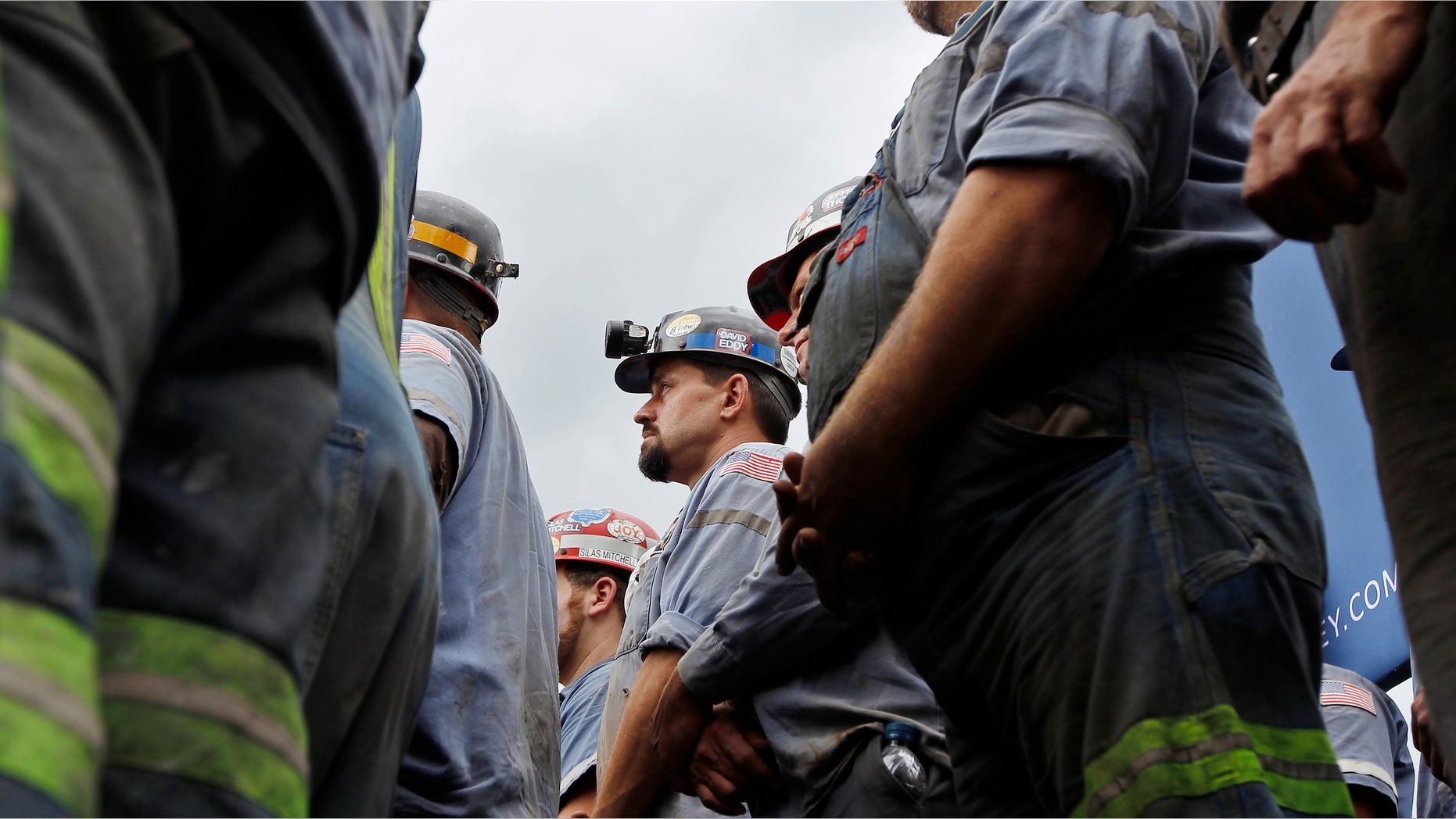 The announcement that 1,200 coal-mining jobs have been eliminated across central Appalachia has sparked renewed cries that Obama administration policies are crippling domestic-energy production and jobs -- and is already factoring into the 2012 presidential race.
Alpha Natural Resources announced Tuesday its plan to cut the positions and scale back coal production by 16 million tons annually -- which would result in eight mine closings in Virginia, Pennsylvania and West Virginia. Four-hundred workers will be laid off immediately, though the company reportedly may try to re-hire some of the 1,200.
Kevin Crutchfield, the company's chief executive officer, said the lay-offs and the closings of the non-union mines are the result a difficult market in which power plants are switching to abundant, less-expensive natural gas and "a regulatory environment that's aggressively aimed at constraining the use of coal."
However, elected officials and business groups have been less oblique in their analysis, saying Alpha employees are victims of President Obama's so-called "War on Coal."
The Mitt Romney campaign is among the most recent to put the blame squarely on the president, releasing a TV ad Wednesday that reminds voters about what Obama said in 2008.
"If somebody wants to build a coal-powered plant, they can, it's just that it will bankrupt them," the president said, in a quote interpreted by critics as a campaign promise that coal would have no future in an Obama White House.
West Virginia Republican Rep. Shelley Moore Capito acknowledged this week that several factors, including the declining price of natural gas, have led  to recent mine closures. But she said the Environmental Protection Agency's "extreme rules and regulations played a major role."
"The president's extreme policies are crippling entire towns and making it harder for workers to find jobs," Capito, co-founder of the Congressional Coal Caucus, said in a written statement. "Because of  the president's War on Coal, thousands of West Virginia families have to worry about where their next paycheck is going to come from."
She has added language to a bill which the Republican-controlled House is expected to vote on this week that would force the EPA to consider the impact on jobs and the economy when issuing new rules and regulations.
Billy Raney, president of the West Virginia Coal Association, said the EPA has specifically created "impossible standards" for electricity-generating plants. He also said the EPA is now "bullying" West Virginia into accepting water-quality standards over which the state once had some determination.
Raney said the coal industry wants to comply, but the administration has created "unrealistic timetables" and there is no technology to reach the goals.
"This goes right back to the administration's policies and the EPA," he said.
Raney and others said they agree that the United States should have a balanced energy policy that relies less on foreign oil, but the green energy alternatives backed by the president cannot shoulder the country's energy demand over the short term.
Obama, perhaps due to his coal policies and other factors, faces dim chances in West Virginia come November. Keith Judd, a felon incarcerated in Texas, won 40.7 percent of the vote in the Democratic primary. And neither West Virginia Sen. Joe Manchin III nor Gov. Earl Ray Tomblin attended this month's Democratic National Convention.
Steve Roberts, president of the West Virginia Chamber of Commerce, said internal polls already show Republicans have a shot at unseating Rep. Nick Rahall, a pro-coal Democrat.
In addition, Ohio and Virginia -- two battleground states Obama won in 2008 – are coal-producing states where Romney could hammer his message on the industry in the weeks ahead.