Obama Pays Tribute to Law Officers Killed in Line of Duty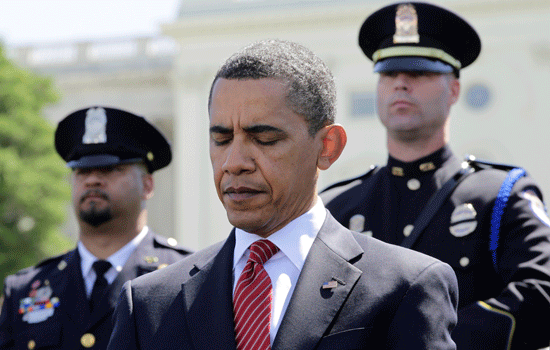 President Obama honored the law enforcement officers who were killed in the line of duty last year by attending a memorial service Saturday on the west front lawn of the Capitol along with families of those federal, state and local officers.
"You don't know what the next dispatch will bring," he said. "All you know is your duty -- keep us safe, keep communities safe -- duties you fulfill every day."
Peace Officers Memorial Day is part of National Police Week, an annual tribute to law enforcement service and sacrifice, hosted by the Fraternal Order of Police, the nation's largest law-enforcement labor organization.
"Every year, the FOP and its extended law enforcement family come together on this day to remember, to reflect, and to honor our fallen heroes," Chuck Canterbury, national president of the organization, said in a written statement.
"In sharing our grief, we find the strength to renew our commitment to serve and protect our families, our communities, and our nation," he said.
Figures from the National Law Enforcement Officers Memorial Fund show that officer deaths declined from 138 in 2008 to 116 in 2009. That's the fewest line-of-duty deaths since 1959, when there were 109.
Also joining Obama at the event was Attorney General Eric Holder.
Many who attended told Fox News they'd have to do more with less during the recession. On Friday, Obama tried to assure police that they would have the resources they need to do their jobs.
He said $3.5 billion in stimulus funds have gone toward supporting local law enforcement, helping to preserve 4,700 jobs and make progress toward a goal of putting another 50,000 new police officers on the street.
Officers say they can always use more manpower and equipment.
"We can always do more," Michael Powell, a special agent with the Illinois state police, told Fox News. "The crime doesn't stop. Terrorism doesn't stop and as everybody right now is in a budget crisis, any funding we can get allows us to hire more officers to protect the citizens.
Fox News' Malini Wilkes and The Associated Press contributed to this report.