Obama nominates first US ambassador to Cuba in more than 55 years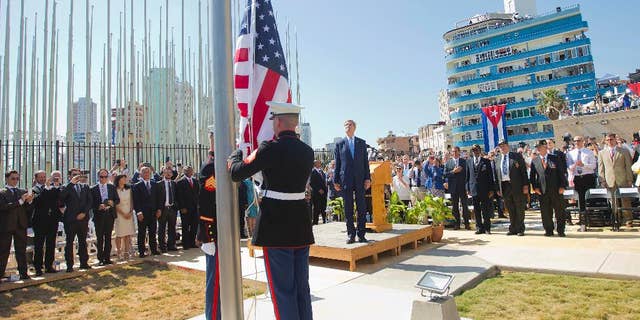 NEWYou can now listen to Fox News articles!
President Obama Tuesday nominated career diplomat Jeffrey DeLaurentis to be the first full-fledged U.S. ambassador to Cuba since 1960.
DeLaurentis, a 25-year State Department veteran, has been charge d'affaires at the U.S. Embassy in Havana since the U.S. and Cuba formally restored diplomatic ties on July 20, 2015. Prior to the normalizing of relations, DeLaurentis was chief of the U.S. Interests Section in Cuba from August 2014.
"Jeff's leadership has been vital throughout the normalization of relations between the United States and Cuba, and the appointment of an ambassador is a common sense step forward toward a more normal and productive relationship between our two countries," Obama said in a statement. "There is no public servant better suited to improve our ability to engage the Cuban people and advance U.S. interests in Cuba than Jeff."
DeLaurentis' appointment must be approved by the Senate. Senators Marco Rubio, R-Fla., and Ted Cruz, R-Texas, vowed earlier this year to block the nomination of any ambassador to the Communist state.
Rubio and Cruz, who are both of Cuban heritage, have repeatedly criticized Obama's moves to restore diplomatic relations with the Castro regime during the president's second term.
The last U.S. ambassador to Cuba, Philip Bonsal, was recalled to Washington in October 1960, a few months after Fidel Castro seized power.