Obama goes to Colorado to rally support for gun control, amid Republican opposition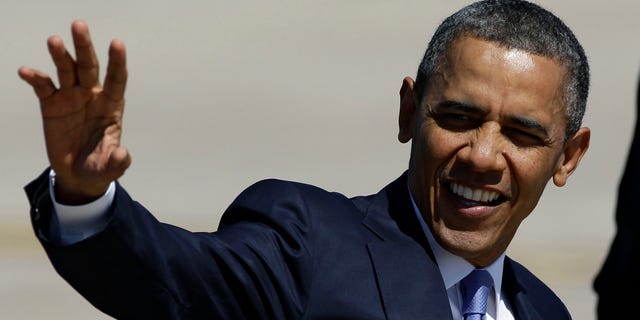 President Obama on Wednesday visited Colorado -- the site of a recent mass shooting and home to new firearms regulations -- to rally public support for federal gun control legislation ahead of full Senate votes expected next week and amid Republican opposition.
"I believe there doesn't have to be a conflict in reconciling these realities," Obama said in Denver. "There doesn't have to be a conflict between protecting our citizens and protecting our Second Amendment rights," he said.
Obama noted that more than 100 days have passed since the shooting rampage that killed 20 first-graders and six adults at an elementary school in Newtown, Conn., and reignited the national debate over access to guns.
"Every day that we wait to do something about it even more of our fellow citizens are stolen from our lives by a bullet from a gun. Now the good news is Colorado has already chosen to do something about it," he said.
To be sure, Obama and other gun control advocates already mostly have lost hope for bans on semi-automatic weapons and high-capacity magazines, instead focusing their energy on getting Congress to pass tougher background checks and protections for school children.
But Obama's strategy was quickly knocked down by Colorado Republican Rep. Doug Lamborn who said the president is touting a state model destined to fail in Washington.
"Colorado Democrats rammed these bills through the state legislature in a highly partisan and contentious manner without gaining the support of a single Republican lawmaker," Lamborn said. "If President Obama and Democrats want to push their extreme, gun control agenda in Washington, they will face intense opposition."
The president and others gun control advocates know the National Rifle Association and other gun rights groups helped end an assault weapons ban in 2004 and are opposed to much of their reform agenda, including background checks.
"They are very well organized and they are very well financed," Obama said. "The only way it will be different this time is if the American people demand it be different."
In an understated, roughly 25-minute speech, Obama vowed hunters would not lose their gun rights and that the background checks would bolster, not replace, existing ones.
He also tried to garner public support for proposed checks on private gun sales.
"If you're selling a gun, wouldn't you want to know who you're selling it to?" he asked the crowd.
Key senators have been unable to reach a bipartisan compromise that would require federal background checks for gun transactions between private individuals. Federal background checks currently apply only to sales handled by licensed gun dealers.
The proposed weapons and ammunitions bans are not expected to be in Senate Majority Leader Harry Reid's legislation. However, Obama wants Congress to at least vote on them in other legislation.
Colorado expanded background checks and placed restrictions on magazines despite being a state with a deep-rooted hunting tradition, where gun ownership is a cherished right.
Before his speech in Denver, Obama met with law enforcement officials and community leaders at the Denver Police Academy, not far from the Aurora suburb where a gunman last summer killed 12 people in a movie theater. The president's trip is occurring in the same week that prosecutors announced they would seek the death penalty for James Holmes, accused of carrying out the Aurora rampage.
Among those participating in the Denver discussion with Obama was Sandy Phillips, the mother of 24-year-old Jessica Redfield Ghawi, who died in the Aurora shooting. She conceded that gun control is a difficult issue, and said she has spoken to numerous lawmakers in Washington who "want to do the right thing without it costing their jobs."
She said she is counting on Obama to press the issue.
"We need to have universal background checks for every sale, that's a minimum," she said in an interview ahead of Obama's appearance. "I hope he keeps pushing for the assault weapons ban and I hope he keeps pushing for magazine restrictions."
With Congress due to return to Washington after a two-week Easter break, Obama has been scheduling high-profile events on gun legislation to push lawmakers and sustain a drive for some kind of action aimed at curbing gun violence more than three months after the massacre at a Newtown, Conn., elementary school.
Last week, he called for legislation while flanked by 21 mothers who lost children to gun violence. "I haven't forgotten those kids," he declared then.
On Monday, just before the planned start of the Senate's debate on gun legislation, Obama is scheduled to go to Hartford, Conn., where state lawmakers have announced a bipartisan agreement on gun legislation in response to the shootings at Newtown's Sandy Hook Elementary School.
In selecting Colorado, Obama showcased a state with a long centrist tradition that prizes its Western frontier heritage. But an influx of young coastal transplants and growing Hispanic voter clout have helped Democrats win a string of victories in the state. Even before the Sandy Hook massacre energized gun control proponents, Democratic Gov. John Hickenlooper said he was open to new gun control measures in the state.
Colorado Republicans fought the new legislation, contending that Democrats overreached and will be punished by the voters in November. Several county sheriffs have vowed not to enforce the new gun restrictions. Democrats contend that the measures are generally popular, especially among the suburban women who decide Colorado elections.
Obama's trip comes a day after a study commissioned by the National Rifle Association, which has opposed Obama's gun control measures, recommended that schools have trained, armed staffers to increase security for students. The American Federation of Teachers denounced the proposal
From Colorado, Obama travels to San Francisco to attend fundraisers Wednesday and Thursday for Democratic Party organizations.
The Associated Press contributed to this report.