Obama declares Venezuela situation an 'extraordinary threat' to U.S. national security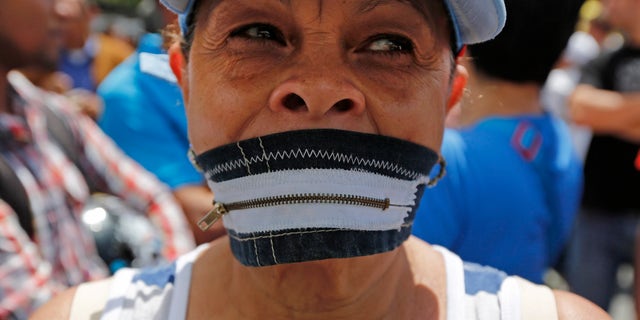 NEWYou can now listen to Fox News articles!
The U.S. has issued new sanctions against seven Venezuelan officials and has accused the South American country of violating basic human rights.
President Barack Obama issued a new executive order on Monday declaring the situation in Venezuela an "unusual and extraordinary threat" to U.S. national security and foreign policy.
The executive action also orders the immediate suspension of travel visas and freezes the U.S. assets of seven Venezuelan military and police officials. The White House says the penalties are not aimed at the Venezuelan people or economy.
The individuals all come from the top echelon of the state security apparatus that was responsible for cracking down on anti-government protests that rocked Venezuela last year and for pursuing charges against leading opponents.
The action follows Venezuelan President Nicolás Maduro's banning several U.S. politicians at the end of February and, last week, slashing the number of people at the U.S. diplomatic mission in Venezuela to less than 20 percent.
The U.S. responded by criticizing Maduro for his anti-American rhetoric.
The U.S. Congress passed legislation late last year authorizing sanctions that would freeze the assets and ban visas for anyone accused of carrying out acts of violence or violating the human rights of those opposing Venezuela's government. The White House says the sanctions announced Monday mark Obama's implementation of that bill.
"We are deeply concerned by the Venezuelan government's efforts to escalate intimidation of its political opponents," the White House said in a statement. "Venezuela's problems cannot be solved by criminalizing dissent."
Florida Rep. Ileana Ros-Lehtinen, a vocal critic of Maduro and one of the U.S. politicians recently banned by his administration, reacted to the executive action, tweeting Monday: "It took 2 long but at last @WhiteHouse @USTreasury #OFAC @StateDept final sanctioned 7 #Maduro cronies 4 #humanrights abuses #SOSVenezuela."
Rep. Mario Diaz-Balart, who has also been banned from Venezuela, tweeted: "Glad to see @WhiteHouse finally keeping their word on VZ sanctions. Human and civil rights MUST be upheld against #Maduro regime #sosvzla."
The seven sanctioned officials are:
—Antonio José Benavides Torres, commander in Venezuela's Bolivarian National Armed Forces and former operations director for the Bolivarian National Guard.
—Gustavo Enrique González López, director general of Venezuela's Bolivarian National Intelligence Service. The U.S. says he is responsible for or complicit in acts of violence and other human rights abuses against anti-government protestors. He was also associated with the surveillance of Venezuelan opposition leaders.
—Justo José Noguera Pietri, president of the Venezuelan Corporation of Guayana a state-owned entity, and former GNB general commander.
—Katherine Nayarith Haringhton Padron: national level prosecutor who has charged several opposition members with conspiracy related to alleged assassination and coup attempts using what the U.S. says is "implausible — and in some cases fabricated — information."
—Manuel Eduardo Pérez Urdaneta, director of Venezuela's Bolivarian National Police. The U.S. says the police force has engaged in "significant acts of violence or conduct that constitutes a serious abuse or violation of human rights."
—Manuel Gregorio Bernal Martínez, chief of the 31st Armored Brigade for Caracas of Venezuela's Bolivarian Army and the former director general of national intelligence services. He was intelligence chief on Feb. 12, 2014, when officials fired their weapons on protestors killing two individuals near the Attorney General's Office.
— Miguel Alcides Vivas Landino, inspector general of Venezuela's Bolivarian National Armed Forces.
Includes reporting by the Associated Press.