Obama camp tips hand on debate, hints president will attack Romney on Bain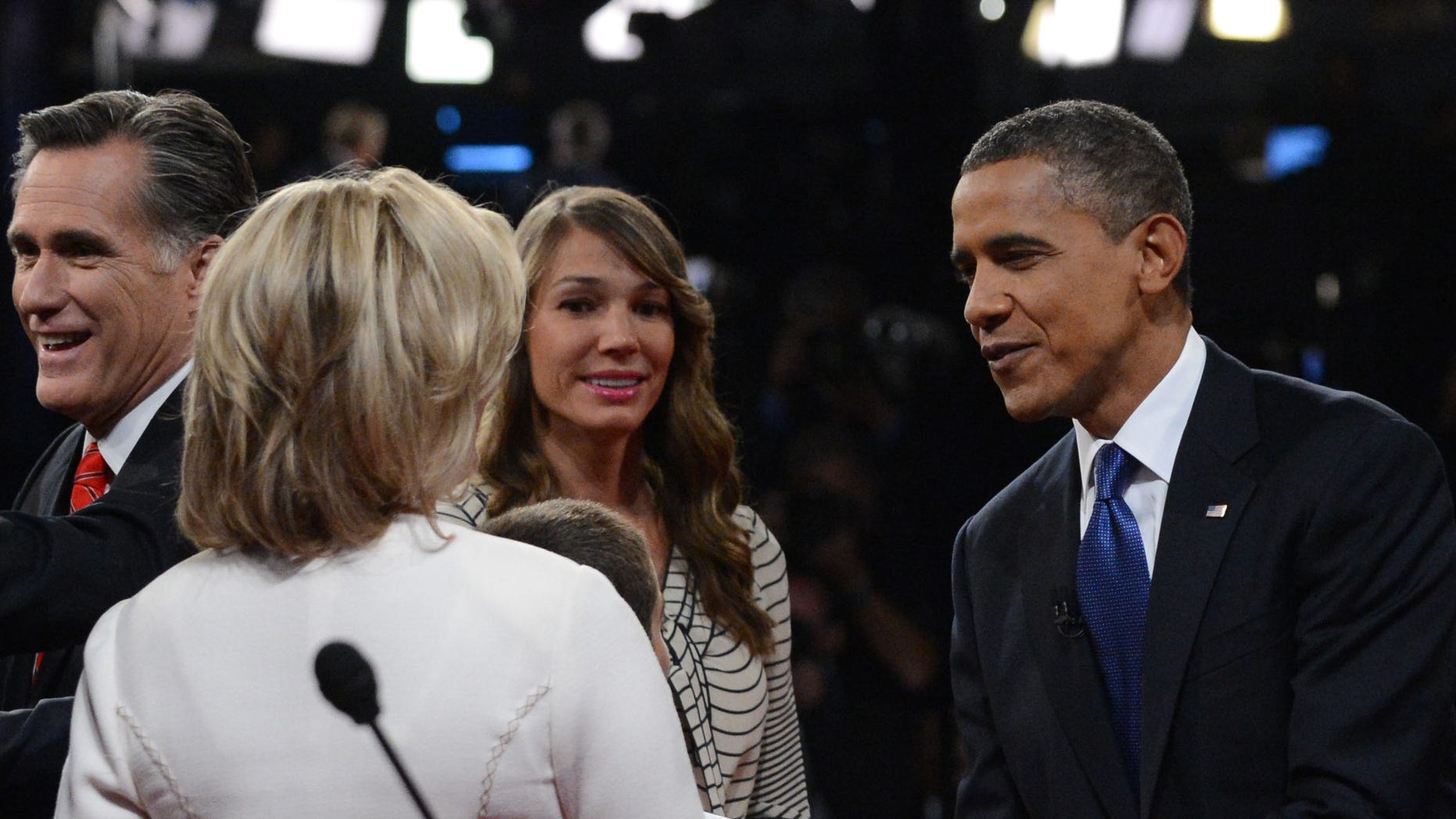 WILLIAMSBURG, Va. – As President Obama began to hunker down at a plush resort here for three full days of debate prep, his campaign team signaled the incumbent may steal a page from Vice President Joe Biden and show a more aggressive tone in Tuesday's second face-to-face showdown with Republican Mitt Romney.
"Gov. Romney has been making pitches all of his life and he knows how to say what people want to hear whether that was during his time at Bain or during the dozens of town halls he did during the primary," Obama campaign spokeswoman Jen Psaki said Saturday. "His running mate also left him vulnerable on a number of issues -- admitting there was a $5 trillion tax cut, after he denied it, but again failing to explain how they would pay for it, leaving women worried about their ability to make choices about their own health care and failing to articulate their plan for winding down our presence in Afghanistan."
It's significant that Psaki previewed the president's next clash with Romney with an immediate mention of his time at Bain, a word Obama never mentioned during the first presidential debate, in Denver.
Senior campaign adviser David Axelrod said on "Fox News Sunday" that Obama is making "adjustments" before the debate and plans to be more aggressive.
Axelrod also referred to Romney's investment capital career before entering politics.

"We expect Governor Romney will have a great debate too," he said. "He is a great salesman. That is what he did as a professional, he is very good at it."
Later Sunday, Psaki noted women's health-care issues were left out of the first debate, which appeared to suggest Obama would raise the topic this time.
"The American people should expect to see a much more energized President Obama making a passionate case for why he is a better choice for the middle class," she told Fox News. "He will continue to hold Mitt Romney's feet to the fire on the facts about his policies, whether that is his 5 trillion tax cut plan that will leave the burden on the middle class,  his plans to voucherize Medicare or his belief that women should not be able to make choices about their own healthcare."
In the first debate, the president turned in an effort that left even some of his own advisers wondering about a lackluster performance, and preparations for the second debate are critical -- with Democrats eager to see him stop the momentum Romney has gained in several key states.
Also noteworthy is that Psaki mentioned Romney's running mate, Rep. Paul Ryan, R-Wis., who faced intense pressure from Biden literally from the first minutes of their one and only vice presidential debate, this past Thursday.
Biden hit Ryan on everything from tax cuts to Iran policy with a ferocity that left Republicans complaining about interruptions and eye-rolling that GOP officials believe will ultimately backfire with undecided voters because of its negativity.
White House officials, however, are raving about Biden's performance with so many superlatives that they are openly acknowledging that the vice president did a better job of explaining the president's agenda than Obama himself.
On Friday, White House Press Secretary Jay Carney, a former Biden aide, opened a briefing with reporters by saying he wanted to assert a "point of personal privilege" to laud the vice president.
"I took extreme pleasure in watching the debate last night because of the way that he demonstrated his passion and his wisdom and the joy that he brings to the job of serving the American people as vice president and of working with this president to bring about positive change for the middle class and for this country," Carney said just hours after the Biden-Romney debate. "I thought he presented a remarkably strong case for the policies that this president has put in place and the policies that he believes are the right ones to move the country forward."
Still, top Democrats say the Obama campaign realizes that in Tuesday's debate at Hofstra University, which will feature actual voters in a town hall format, the president has to be careful not to mimic Biden too closely or he risks coming across as too negative.
And with critics sometimes charging the President is aloof, his campaign staff is trying to downplay expectations for an "I feel your pain" moment a la Bill Clinton and is instead emphasizing their contention this is a choice election and Obama has a second chance on Tuesday to lay out the stakes in November.
"The president is looking forward to answering questions from the American people who have a shared stake in where this country goes over the next four years," said Psaki. "The question is not just which candidate connects with the questioner, but who has the better policies for the American people for the next four years and on that front the president has a great advantage."
It's no accident that Obama chose this battleground of Virginia for debate preparations again. In the run-up to the first debate, Obama did his prep sessions in the hotly-contested state of Nevada, which enabled him to visit a campaign office there to thank his volunteers and fire up his base at a large rally in Las Vegas.
This time aides say the president is not planning to hold any similar campaign rallies here, though there is a possibility he may venture out for a brief stop or two to mingle with voters.
He will spend most of his time holed up at the popular Kingsmill Resort along the James River, which aides say he values for its ability to provide some quiet time. His prep sessions are taking place in the main building of the resort, while the president is staying in a house on the campus.
Those debate prep sessions consist of a combination of studying up on what Romney and Ryan have said in the debates so far and on the campaign trail, in addition to actual practice.
Despite the weak performance in Denver, campaign officials have suggested there has been no major shakeup to the sessions.
Sen. John Kerry, D-Mass., once again playing Romney in the mock sessions, though there has been at least one minor change.
Ben Rhodes, a national security aide at the White House, has been added to these sessions because the second debate will feature both foreign and domestic policy.