Obama Administration Welcomes U.N. Flotilla Probe, Downplays Panel's Authority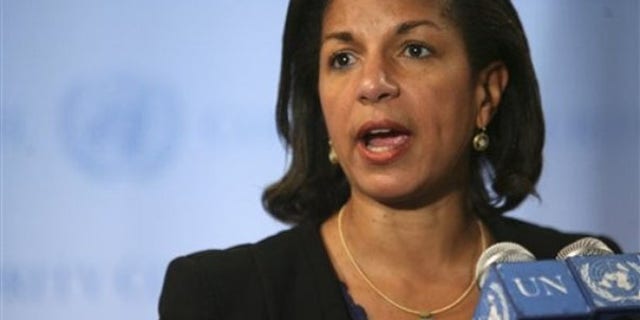 The Obama administration on Monday welcomed a U.N. investigation into the Israeli raid on a flotilla bound for the Gaza Strip, but downplayed the U.N. panel's power and cautioned that the international probe should not trump investigations that Israel and Turkey are conducting.
The U.S. and Israeli support for the inquiry marked a turnaround. Israel has accused U.N. groups of being biased against the Jewish state while the Obama administration, as well as U.S. senators, said as recently as June that Israel was capable of conducting its own probe. Nine Turkish activists were killed in the May 31 raid.
But Susan Rice, U.S. ambassador to the United Nations, indicated that the panel probing the incident would have limited authority. She said in a written statement that the U.N. group will "make recommendations as to how to avoid such incidents in the future."
"This panel is not a substitute for those national investigations" by Turkey and Israel, she said. "It complements them."
The four-member panel will include a representative each from Turkey and Israel. It will be chaired by former New Zealand Prime Minister Geoffrey Palmer and co-chaired by outgoing Colombian President Alvaro Uribe.
Rice, as well as U.N. Secretary General Ban Ki-moon, said they hope the investigation will help restore frayed diplomatic relations between Israel and Turkey. Turkey, which yanked its ambassador from Israel following the raid, has said it will not restore relations until Israel agrees to an international probe.
Israeli Prime Minister Benjamin Netanyahu said in a written statement that his country has "nothing to hide."
"It is in Israel's national interest to ensure that the factual truth about the entire flotilla incident will be brought to light . . ., " he said.
Yousef Munayyer, executive director of the pro-Palestinian group The Jerusalem Fund, called the announcement a positive step.
"You can't have someone who's suspected of committing a crime investigating themselves. That wouldn't fly really anywhere," he told FoxNews.com.
Munayyer acknowledged the U.N. probe probably wouldn't have much teeth. But he said Turkey may demand compensation from Israel for the victims' families before relations can be restored.
The prospect of a U.N. investigation had been viewed with skepticism by some in Washington, particularly after the U.N. Human Rights Council voted simultaneously to condemn Israel and launch an inquiry.
John Bolton, U.S. ambassador to the United Nations during the Bush administration, said he couldn't see the up-side for Israel. He said the panel will not vindicate Israel's actions and warned that it could set a troublesome precedent -- obligating Israel to subject itself to international inquiries every time a complaint is raised.
"It validates the idea that the U.N. has some supervisory capacity. ... I find the whole concept repugnant to the idea of sovereignty," Bolton said. "Having accepted it here, how does Israel now reject it anywhere else?"
Bolton expressed doubt that the findings would change international views on the clash.
"This is not a neutral fact-finding exercise in the minds of those who want this commission," he said. "This is a political act."
Eighty-seven senators wrote a letter to President Obama in June condemning the Human Rights Council and supporting Israel's "right to determine how its investigation is conducted."
White House Press Secretary Robert Gibbs at the time said Israel's investigation could meet the standards of impartiality, credibility and transparency.
Rice, though, said at the time that an international investigation would "buttress its credibility in the eyes of the international community."