NY Senate leader quits top post after arrest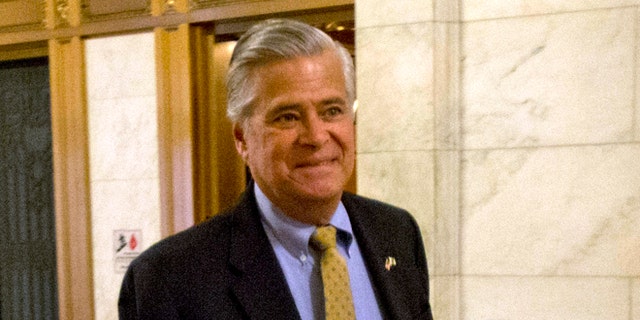 Republican Dean Skelos has resigned his position as New York Senate majority leader after his arrest on federal corruption charges, but he intends to keep his legislative seat, a person familiar with the decision said Monday.
He becomes the latest leader to lose his power in a state government marred by corruption.
Skelos, a legislator from Long Island, is fighting charges he traded his influence for payments to his son, Adam Skelos, who is also charged in the case. Both men say they are innocent.
The resignation comes after Democrats vowed to force a vote on Skelos' ouster. Skelos held onto power for a week following his arrest, but his support among the Senate's Republican majority steadily eroded.
GOP Sen. John Flanagan of Long Island won a contest against Syracuse-area Sen. John DeFrancisco to replace Skelos as leader, the person said. A formal vote was expected later in the day.
The person wasn't authorized to discuss the matter and spoke to The Associated Press on condition of anonymity.
Seven top New York state lawmakers have stepped down in the past six years because of criminal charges or scandal. In January, Assembly Speaker Sheldon Silver was charged in January with accepting nearly $4 million in payoffs. Silver stepped down as speaker but kept his Assembly seat and has pleaded not guilty.
Skelos, 67, was first elected to the Senate in 1984.
Authorities said the legislative veteran traded his influence to extort money from others with business before the state, including hundreds of thousands of dollars from a senior executive of a major real estate development firm who was cooperating with the government. The money was paid to Adam Skelos, authorities said, with the expectation that Dean Skelos would use his position to support the developer's legislative priorities.
Dean Skelos promoted and voted for real estate legislation sought by the developer, including some pertaining to rent regulation and property tax abatements, the complaint said.
The probe focused in part on whether Skelos influenced Nassau County's decision to award a $12 million contract to Arizona-based AbTech Industries in 2013. Adam Skelos worked for the company as a consultant; investigators claim his monthly pay more than doubled after the contract was approved.