'Not a scientist': Palin slams Bill Nye over global warming stance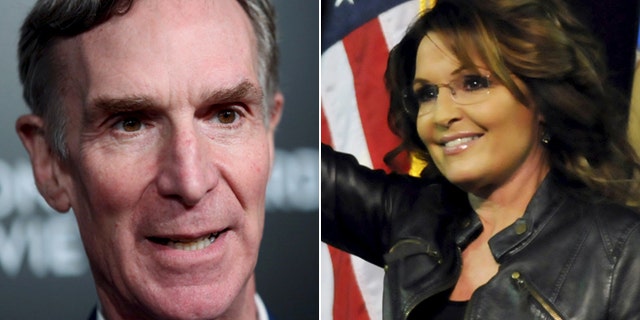 Sarah Palin's latest target: Bill Nye the Science Guy.
The former Alaska governor, at a panel Thursday on Capitol Hill, ripped the TV star's credentials and accused him of intentionally using his stature to spread what she described as an alarmist agenda on global warming.
"Bill Nye is as much a scientist as I am," Palin said at a screening of "Climate Hustle" on Capitol Hill, according to an account in The Hill. "He's a kids' show actor. He's not a scientist."
Nye, who graduated from Cornell University with a degree in mechanical engineering, is famous for his show "Bill Nye the Science Guy," an educational program for kids that covers the basics of various scientific topics. His program was a science classroom staple in the '90s and 2000s. After Nye ended his show in 1998, he went on to give speeches around the country with prominent figures in the scientific community.
Palin insisted that children need to question climate change and raise doubt over scientific thought rather than blindly believing what the scientific community says. "Ask those questions and don't just believe what Bill Nye the Science Guy is trying to tell them," she reportedly advised parents.
"Climate Hustle," starring Marc Morano, a climate change skeptic and head of the Climate Depot blog, is largely a response to a documentary attacking such skeptics called "Merchants of Doubt." A screening was held on Thursday on Capitol Hill and was followed by a panel discussion where the 2012 GOP vice presidential nominee made her remarks.
In an interview with Morano, Nye claimed that people and companies who challenge the notion of climate change need to be investigated.
"The introduction of this extreme doubt … about climate change is affecting my quality of life as a public citizen," he said. "So I can see where people are very concerned about this and are pursuing criminal investigations."
FoxNews.com's Danny Jativa contributed to this report.