No habla Español? No problem! Candidates no longer need Spanish to win Latino voters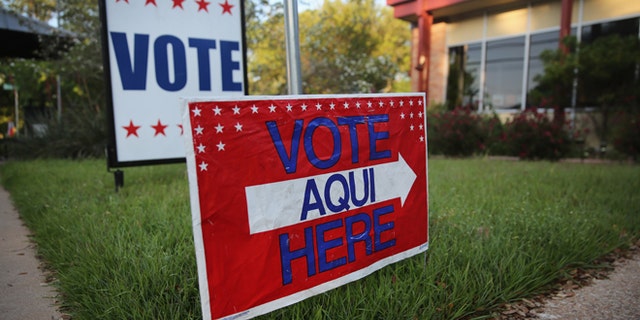 During his announcement speech last week, Republican presidential candidate and former New York Gov. George Pataki peppered his statement to supporters with Spanish. Back in April, Democratic presidential front-runner Hillary Rodham Clinton launched a Spanish-language version of her campaign website only days after GOP candidate Sen. Marco Rubio of Florida gave a one-on-one interview in Spanish with Univision's Jorge Ramos.
Political candidates from all parties have been reaching out to Latino voters like never before – underscoring the importance of the 2016 Latino vote. But recent polling data suggests that the candidates don't need to learn to rolls their "r"s or dust off their Rosetta Stone to attract Latino support because more and more Hispanic voters speak English … and speak it well.
According to Pew Research Center analysis of U.S. Census Bureau data released last month, 68 percent of all Latinos in the U.S. over the age of 5 – around 33.2 million people – speak English proficiently. In 2000, 59 percent of Latinos spoke English proficiently.
Meanwhile, the number of Latinos speaking Spanish at home has decreased somewhat since 2000, from 78 to 73 percent.
"Using Spanish language should be only one tactic of the presidential campaigns when trying to reach Latino voters," Laura Vazquez, the senior immigration legislator at the National Council of La Raza, told Fox News Latino. "We want to see them tackle all the issues that are important to us."
Vazquez said political campaigns need to realize that political outreach should be more about substance than what language politicians try to speak when they get on stage.
Besides their English-language skills, Latino voters also tend to be younger – with a median age of 19 – and more tech-savvy than other voting blocs.
Political observers have pointed out that the diversity of the Latino demographic makes it impossible to pinpoint the group when attempting outreach.
"There is a great deal of diversity among Latino voters and it is important for political campaigns to have strategies that appeal to this diversity," Vazquez said. "Latino voters want meaningful outreach and a relationship with the candidate … It can't just be a town hall here or a campaign stop there."
But there is one thing that is lost when Hispanics become more assimilated – they become less politically active. Arturo Vargas, executive director of the National Association of Latino Elected and Appointed Officials (NALEO), said that while fewer Hispanics are turning to Spanish-language media to get information, the ones who do are more likely to head to the polls.
"Latino naturalized citizens outperform native-born citizens in voting," Vargas told FNL in an email.
Still, he noted, "Candidates and campaigns need a Latino outreach strategy that is both in English and Spanish."
As the presidential campaign begins to heat up, political strategists warn that Latinos will see through candidates who try to alter their message to a Spanish-speaking audience. Some candidates, including Texas Sen. Ted Cruz, have been accused of softening their message in Spanish-language ads while taking hard-line stances in English.
"In English, Republicans restrict Latino voting rights, rail against 'amnesty' and affordable healthcare for Latinos, and prefer mass deportation to keeping Latino immigrant families together," Pablo Manriquez, the Democratic National Committee's Hispanic media director, told FNL. "In Spanish, on the other hand, Republicans tout a thinly-veiled affinity for the music of Pitbull and an even firmer commitment to tax cuts for billionaires."
Republicans, however, argue that their Latino outreach for 2016 is more diverse and engaging than ever before, as the party attempts to gain a more significant share of the Hispanic vote than it did in the last presidential election. Republican Mitt Romney won only 27 percent of Latino voters compared to President Barack Obama, who grabbed 71 percent.
Earlier this year, Whit Ayres, a longtime GOP pollster working for Rubio, said that his party's eventual nominee will need to win more than 40 percent of the Latino vote to make it to the White House, a performance only two Republicans — Ronald Reagan and George W. Bush — have approached in the last 35 years.
GOP strategists say that their party is better suited now than any time in recent memory to attract Latino support – whether speaking in Spanish or not – and that they are employing a number of strategies to accomplish this goal.
"It is vital to engage the diverse Hispanic community on a daily basis and provide real solutions to their top issues," Ruth Guerra, the director of Hispanic media at the Republican National Committee, told FNL. "A one-size-fits-all strategy will not work with us. That's why our focus, at the RNC, for the past two years has been to engage Hispanic voters in different ways across the country and in both English and Spanish."