New York Firefighters Mark 9/11 by Biking to Emotional Pentagon Ceremony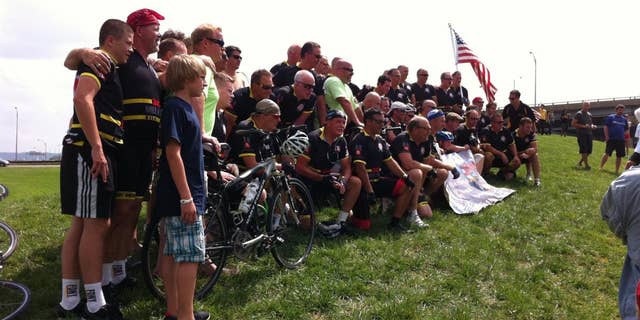 NEWYou can now listen to Fox News articles!
An emotional morning ceremony to mark the tenth anniversary of 9/11 at the Pentagon began at dawn with the unfurling of an enormous American flag--a replica of the one that hung in the same spot after flight 77 crashed into the building that tragic morning--and ended with the arrival of New York firefighters who biked there to commemorate the day.
Military and civilian defense leaders spoke to a small gathering of family members who've had to cope with their losses 10 years. Admiral Mike Mullen, Chairman of the Joint Chiefs of Staff, told them "these are the things the terrorists could not eradicate. They could bring down walls, but they could not bring down America. They could kill our citizens, but they could not kill our citizenship."
Vice President Biden said he admired the courage of the families. "Those in this building that day knew that this was a declaration of war by stateless actors bent on changing our way of life... who believed these horrible acts of terror could buckle our knees... could bend our will... could break us."
After the ceremony there was a break in the somber mood as roughly 100 rowdy New York City Firefighters showed up at the Pentagon on their bicycles, having just completed at 343 mile ride from Montauk, Long Island. The number 343 holds special meaning; it's the same number of firefighters who died trying to save the lives of others at the World Trade Center.
The ride took five days and almost all those involved were from the South Bronx Firehouse: Engine 50, Ladder 19, Battalion 26. They lost two of their own that day.
"It felt good," said Captain Mike Alexander. "But it's kind of a somber day for us, remembering all the great people that we lost, not only in the fire department, but all the other great Americans we lost. So it's a somber day but I think we honored them well this week. It's kind of mixed emotions."
Biking with the group was Army Specialist Evan Marcy who lost his leg in Afghanistan two years ago. He said when the ride got really hard he just looked down at the small pieces of steel from the World Trade Center towers that they had attached to their bikes.
The firefighters finished their ride by climbing to a grassy hill overlooking the Pentagon. They held the American flag high and sang "God Bless America" at the top of their lungs.
Later Sunday afternoon, President Obama laid a wreath at the "Zero Age Line" of the Pentagon memorial, not far from the area dedicated to 3-year-old Dana Falkenberg, the youngest to die in the September 11th attack on the Pentagon.
Read more about the firefighters who rode to the Pentagon Sunday at www.FDNY343.com