Nebraska lawmakers debate whether to remain only state denying driver's licenses to so-called 'Dreamers'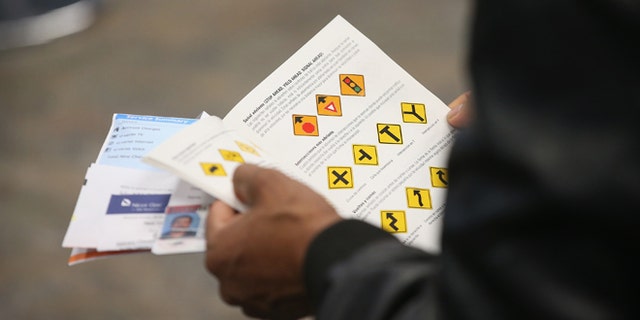 NEWYou can now listen to Fox News articles!
LINCOLN, Neb. (AP) – Some Nebraska conservatives on Wednesday sought to keep in place a policy that has left the state the only one in the nation that denies driver's licenses to young people protected from deportation despite being brought to the U.S. illegally as children.
Most Nebraska lawmakers, including some conservatives, support authorizing licenses for the immigrants, often referred to as Dreamers, who are part of a federal program that gives them a Social Security number and work permit for two years. But other conservatives who oppose the bill that would allow the licenses mounted a filibuster Wednesday against the measure.
President Barack Obama created the Deferred Action for Childhood Arrivals program in 2012 for young people who had been brought to the United States illegally as children. A similar program that would benefit parents of U.S.-citizen children is on hold pending a federal lawsuit.
The Nebraska bill has support from prominent ranching and business groups and conservatives such as Omaha Mayor Jean Stothert. The Nebraska Cattlemen Association and Nebraska Restaurant Association have argued that the state's current policy makes it harder for immigrants to find jobs in industries that need them.
"This is a good, conservative bill," said Sen. John McCollister, an Omaha Republican. "We want these folks to be able to drive and pay taxes, attend church and go to doctor's appointments."
The state policy was approved in 2012 by former Gov. Dave Heineman, a Republican who campaigned heavily against illegal immigration. Current Republican Gov. Pete Ricketts has maintained the policy and argued that those who arrived in the country illegally shouldn't receive privileges intended for legal residents.
A similar law in Arizona was blocked by a federal appeals court in July, leaving Nebraska as the only state with such a policy. The American Civil Liberties Union of Nebraska is challenging the policy in court.
Nebraska's policy has also drawn criticism from the state's previous Department of Motor Vehicles director, who led the agency when the ban was enacted. Bev Riecks told a legislative committee in March that she argued against the ban near the end of her tenure in 2013, but her recommendation was rejected.
"We all know it can be hard or nearly impossible to get to work without a car," said Sen. Jeremy Nordquist of Omaha, a Democrat and the bill's lead sponsor. "Why would we want to limit their ability to work and to contribute to our state's economy?"
Opponents argued that the bill could open the door to licenses for others who are in the country illegally.
Sen. John Murante of Gretna said the bill could create problems if the next president rescinds the program that protects the young people from deportation.
Some lawmakers said Nebraska residents have emailed them to urge them to reject the proposal.
"My constituents in my district are strongly opposed (to the bill), and I'm going to support them on this issue," said Sen. David Schnoor, of Scribner.
Sen. Ernie Chambers of Omaha accused opponents of trying to "lightly veneer their racism" with arguments that don't hold water.
"They're not honest enough to admit they're bigots," he said.
Lawmakers are expected to vote on the bill Thursday morning.
Like us on Facebook