MSNBC Ends Keith Olbermann's Suspension After 2 Days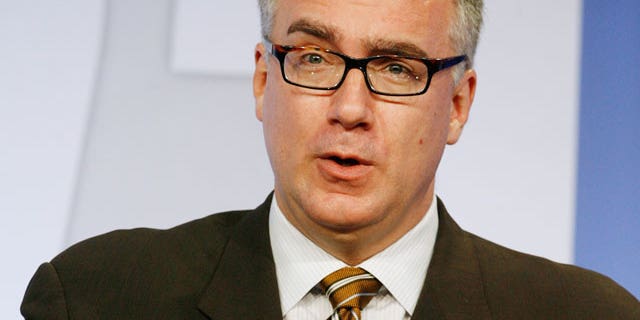 MSNBC host Keith Olbermann will be back on the air Tuesday, ending his suspension for violating NBC's rules against making political donations, the network announced Sunday.
MSNBC's chief executive Phil Griffin said late Sunday that after several days of deliberation, he had determined that two days off the air was "an appropriate punishment for his violation of our policy."
The left-leaning cable network's most popular personality acknowledged donating $2,400 apiece to the campaigns of Kentucky Senate candidate Jack Conway and Arizona Reps. Raul Grijalva and Gabrielle Giffords.
The donations were made on Oct. 28, the same day Grijalva appeared on the MSNBC show "Countdown With Keith Olbermann."
Politico, which was first to report the contributions, published Olbermann's confirmation of the donations.
"I did not privately or publicly encourage anyone else to donate to these campaigns nor to any others in this election or any previous ones, nor have I previously donated to any political campaign at any level," Olbermann said in a statement to the newspaper.
NBC News prohibits its employees from making political donations unless an exception is granted in advance by the network news president. In this case, Olbermann's bosses didn't know about them until being informed by a reporter.
"We look forward to having him back on the air Tuesday night," Griffin said in a statement.
Liberal groups had taken on Olbermann's suspension as a cause. An online petition calling for his reinstatement, run by the Progressive Change Campaign Committee, had exceeded 300,000 signatures Sunday, and Michael Moore had tweeted his support. The committee's Adam Green said Griffin was repeatedly e-mailed updates on the petition drives.
"Progressives proved that when one of our own are targeted, we will have their backs," he said.
Left unanswered is the question of why Olbermann would do something he undoubtedly knew would be provocative, or whether he was trying to make a statement against NBC's policy. He did not immediately return an Associated Press e-mail message seeking comment Sunday.
On his Twitter page, Olbermann wrote: "Greetings from exile! A quick, overwhelmed, stunned THANK YOU for support that feels like a global hug."
The Associated Press contributed to this report.