Michael Cohen's case, from standing by Trump to implicating him in plea deal: A timeline
Prior to taking a plea deal regarding campaign finance violations as well as bank and tax fraud, Michael Cohen was a trusted member of the Trump Organization, personal attorney and "fixer" to the president.
He helped raise millions of dollars for President Trump's campaign and once loyally proclaimed he does "everything in [his] power to resolve" any issue for his boss.
Read on for a look back at how the case against Cohen started and the events that led up to his plea deal.
Feb. 27 - House hearing
Michael Cohen, President Trump's former attorney, testified before the House Oversight and Reform Committee on Capitol Hill, where he claimed Trump was a "racist," a "conman" and "cheat," alleging the president wanted him to lie. He also claimed Trump had advanced notice WikiLeaks obtained emails damaging to Hillary Clinton's presidential campaign.
MICHAEL COHEN TESTIFIES ABOUT TRUMP, ROGER STONE-WIKILEAKS PLOT AT HOUSE HEARING
"Mr. Trump called me a 'rat' for choosing to tell the truth, much like a mobster would do when one of his men decides to cooperate with the government," Cohen said.
"I am ashamed of my weakness and misplaced loyalty, of the things I did for Mr. Trump in an effort to protect and promote him," he added. "I am ashamed that I chose to take part in concealing Mr. Trump's illicit acts rather than listening to my own conscience. I am ashamed because I know what Mr. Trump is."
Feb. 26 - Disbarred
He was stripped of his law license in New York as he headed to Capitol Hill to testify before Congress.
Jan. 24 – Senate subpoena 
The Senate Intelligence Committee, led by Chairman Richard Burr, R-N.C., and Ranking Member Mark Warner, D-Va., subpoenaed Cohen on Jan. 24 to appear before the panel.
Jan. 23 – Postpone House testimony
Cohen planned to testify before the U.S. House of Representatives on Feb. 7, but he ultimately postponed his appearance, citing "ongoing threats against his family from President Trump and [Rudy] Giuliani."
Cohen's adviser Lanny Davis says the delay is on the advice of Cohen's lawyers because Cohen's still cooperating in special counsel Robert Mueller's Russia investigation.
The Democratic-led House Oversight and Reform Committee is investigating hush-money payments during the 2016 campaign to silence women who claimed to have had sex with Trump. Prosecutors say Trump directed Cohen to make the payments as a way to quash potential scandals during the campaign. Trump has denied the affiars.
Dec. 12 – Prison sentence
Cohen was sentenced to three years in prison after pleading guilty to charges of tax evasion, campaign finance violations and lying to Congress about a Trump real estate project in Russia.
Ahead of his sentencing, Cohen blamed his actions on "blind loyalty" to Trump, which he said led him "to take a path of darkness instead of light."
Dec. 7 –  Federal prosecutors recommend 'substantial term of imprisonment'
Federal prosecutors on Dec. 7 said in a court document recommending prison time that Cohen should receive a "substantial term of imprisonment" with a "modest amount of credit for his cooperation," The Associated Press reported.
The news comes after Cohen, who is scheduled to be sentenced next week in New York federal court, plead guilty in late November to lying to Congress.
Cohen's lawyers said he should be spared any prison time in a recent filing of their own.
Nov. 29 – Cohen pleads guilty to lying to Congress
In a surprise court appearance, Cohen pleaded guilty to lying to the Senate Intelligence Committee about a plan to build a Trump Tower in Moscow.
Mueller has already interviewed Cohen over the Trump Tower deal in Russia, the Wall Street Journal reported in September. Cohen said in 2017 that he discussed the deal with Trump three times during the campaign, though the project was abandoned in January 2016.
EX-TRUMP ATTORNEY MICHAEL COHEN PLEADS GUILTY TO LYING TO CONGRESS IN RUSSIA PROBE
Cohen told the Senate Intelligence Committee last year that the possible project was "solely a real estate deal and nothing more" and it was scrapped before the Iowa caucus and months before the first primary.
Aug. 22 – Trump bashes Cohen on social media
Trump seemingly implied Cohen fabricated "stories in order to get a 'deal'" in a tweet that referenced Paul Manafort, Trump's former campaign chairman who was convicted of eight bank and tax fraud charges on the same day Cohen pleaded guilty.
"If anyone is looking for a good lawyer, I would strongly suggest that you don't retain the services of Michael Cohen!" Trump also tweeted.
Aug. 21 – Cohen pleads guilty to 8 criminal counts, implicates Trump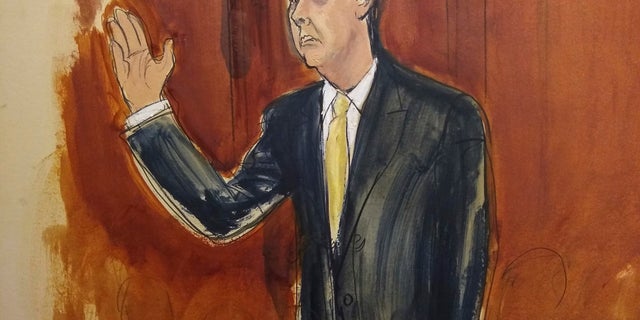 Cohen pleaded guilty to violating campaign finance law as well as tax evasion and making false statements to a financial institution.
Cohen could have received up to 65 years in prison if convicted of all charges. However, as part of his plea deal, Cohen agreed not to challenge any sentence between 46 and 63 months. The deal does not involve a cooperation agreement with federal prosecutors.
MICHAEL COHEN'S LEGAL PROBLEMS INVOLVE BUSINESS DEALINGS, PAYMENTS TO PORN STAR: WHAT TO KNOW
Lanny Davis, Cohen's attorney, said his client is "more than happy" to tell Mueller "all that he knows." He told MSNBC's Rachel Maddow Cohen has knowledge that would be "of interest" to Mueller's investigation.
Aug. 19 – Bank fraud investigation revealed in reports
The New York Times reported federal investigators were probing whether Cohen committed bank fraud on more than $20 million worth of loans as well as violated campaign finance laws.
Particularly, investigators were looking into the possibility Cohen misrepresented assets in order to obtain loans from Sterling National Bank and the Melrose Credit Union. At issue, as well, was how Cohen's company handled dozens of taxi medallions and if income from those were properly reported to the Internal Revenue Service.
The Times report also said prosecutors were looking into whether Cohen violated campaign finance laws by securing deals with women who claimed they had affairs with Trump.
July 24 – Tape of Cohen and Trump discussing payments released
A recording of Trump and Cohen discussing a payment to a woman who said she had an affair with the real estate mogul was leaked. Cohen has been accused of secretly recording Trump.
Karen McDougal, a former Playboy model, said she had a "consensual, loving relationship" with Trump in 2006. She was paid $150,000 to kill her story of the alleged relationship; the White House has denied the affair.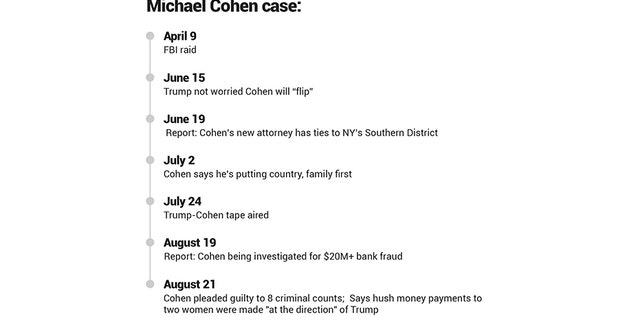 PAUL MANAFORT TRIAL TESTED MUELLER, TRUMP: WHAT TO KNOW ABOUT THE CASE
On the recording, which was made prior to the 2016 presidential election, Cohen tells Trump: "I need to open up a company for the transfer of all of that info regarding our friend David," adding he has consulted Trump Organization CFO Allen Weisselberg "about how to set the whole thing up."
Cohen told Trump, "We'll have to pay," and Trump said something about paying "with cash," although that part of the audio is not clear. Trump attorney Rudy Giuliani later told Fox News Trump was telling Cohen, "Don't pay with cash."
July 2 – Cohen puts his family first
Cohen began to seemingly distance himself from the president in an interview with ABC News as he stressed his family is his first priority.
"My wife, my daughter and my son have my first loyalty and always will," he said. "I put family and country first."
"My wife, my daughter and my son have my first loyalty and always will."
Cohen also said, "I will not be a punching bag as part of anyone's defense strategy. I am not a villain of this story, and I will not allow others to try to depict me that way."
He also reportedly told ABC he does not like the term "witch hunt" – which Trump has repeatedly used to describe the Russia investigation – and said he doesn't agree with those who "demonize or vilify the FBI."
June 20 – Cohen resigns from RNC post
Cohen stepped down from his position as deputy finance chair of the Republican National Committee's Finance Committee, citing the ongoing investigation.
June 15 – Trump expresses confidence in Cohen
In a testy exchange with reporters outside the White House, Trump said he was not "worried" because he "did nothing wrong."
Trump also said while he hadn't spoken to Cohen in "a long time," he thought Cohen was a "good person."
MICHAEL COHEN ADMITS VIOLATING CAMPAIGN FINANCE LAWS IN PLEA DEAL, AGREES TO 3-5 YEAR SENTENCE
"I've always liked Michael," he said.
May 22 – Cohen's associate pleads guilty
Evgeny Friedman, known as the "taxi king" in New York, pleaded guilty to pocketing $5 million in passenger fees that were supposed to help fund public transportation. Friedman at one time managed cabs Cohen owned, according to The Washington Post.
Part of his plea agreement required him to cooperate with any ongoing investigation, The Associated Press reported.
Cohen distanced himself from Friedman on social media, saying the pair had "never been partners in this business or any other."
May 11 – Cohen no longer Trump's attorney, Giuliani says
Giuliani told Politico Cohen no longer represented Trump as his personal attorney.
"As far as we know, he's not," Giuliani said. "And there's nothing for him to do right now."
April 27 – Judge puts Stormy Daniels lawsuit on hold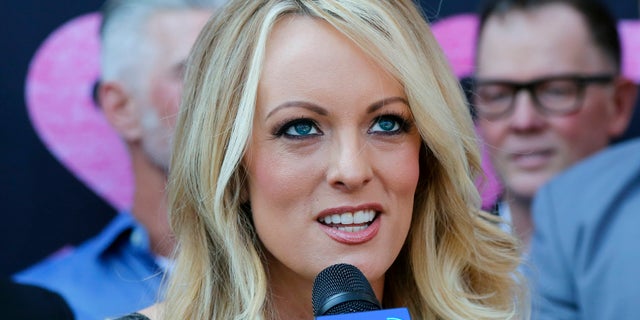 A federal judge decided to put the lawsuit against Cohen – brought by Stormy Daniels – on hold for 90 days. Judge S. James Otero said he came to the decision because the civil case would most likely overlap with the criminal investigation.
TRUMP AND THE RUSSIA INVESTIGATION: WHAT TO KNOW
Days prior, Cohen formally moved to plead the Fifth in the case.
April 26 – Special master appointed to oversee Cohen's documents
A federal judge decided to appoint a so-called special master tasked with overseeing the handling of information and materials seized from Cohen.
U.S. District Judge Kimba Wood had previously denied Cohen's team the opportunity to review the information taken.
April 11 – Cohen would "rather jump out of a building" than turn on Trump
Cohen reportedly said he would "rather jump out of a building than turn on Donald Trump," The New York Times reporter Michael M. Grynbaum wrote on Twitter.
Cohen reportedly made the remarks over lunch with executive and television personality Donny Deutsch.
April 9 – FBI raids Cohen's home, office
The FBI raided Cohen's home, office and a hotel room and confiscated documents related to his finances, taxi company and payments made to women who alleged affairs with Trump.
In particular, investigators sought information relating to the $130,000 payment to adult film star Stormy Daniels – whose real name is Stephanie Clifford – who claimed she had a one-time sexual encounter with Trump in 2006 while he was married to Melania. She alleged she was paid by Cohen in 2016 ahead of the presidential election.
Trump has denied the affair. Of the raid, he expressed his anger on social media, saying "attorney-client privilege is dead."
Fox News' Judson Berger, Samuel Chamberlain, Alex Pappas, Edmund DeMarche, Brooke Singman and The Associated Press contributed to this report.