Mexico Pushing Energy As Key Issue At North American Summit With U.S. And Canada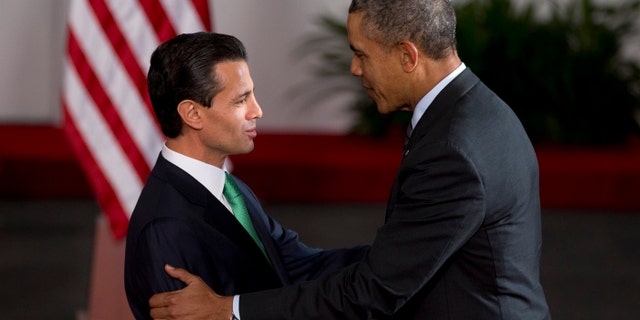 MEXICO CITY (AP) – The North American Free Trade Agreement has been good for Eugenio Madero's company. Now he's hoping that a deeper plunge into economic integration, focused on Mexican energy, will be even better.
Madero is CEO of SANLUIS Rassini North America, a Mexico-based maker of suspension and brake systems for an auto industry that has embraced free trade by increasingly sending components and vehicles across borders.
The company has a plant in Montpelier, Ohio, and just opened another in Flint, Michigan to serve clients such as Chevrolet, Ford and Chrysler. It has seven plants in Mexico and two in Brazil. Revenues have grown 70 times — to nearly $11.5 billion pesos — in the last 25 years, significantly aided by the free trade deal that took effect in 1994.
"Being in Mexico is just geography. We could be in Detroit," Madero said.
The leaders of the three NAFTA nations met Wednesday in Mexico in part to highlight the economic cooperation that has grown since NAFTA joined the U.S., Canada and Mexico 20 years ago. But all eyes, including Madero's, were on one key area that NAFTA didn't touch: Energy.
Experts say the continent of three oil-producing countries could become energy independent with Mexico's reform, which eliminates the state monopoly and opens the oil sector to international investment and contractors with expertise to extract the country's vast proven reserves.
For Madero and plant owners across Mexico, the more near-term impact could be cheaper electricity. His company now must import natural gas and electricity from Texas to run its border plant in Coahuila, even though Mexico sits on a vast supply of shale gas it so far has been unable to tap.
"We're paying higher electricity in our Mexican facilities than in the U.S.," he said. "The sooner we get more gas out of the ground here, the volume, it's going to lower prices."
Energy and other reforms Pena Nieto pushed through congress last year have once again created buzz about Mexico as a good place for foreign investment, despite a stagnant economy in 2013 and security problems. But much depends on how laws to implement the reforms will be written, and just how open Mexico's energy sector will become after decades of constitutional restrictions that gave state-run Petroleos Mexicanos a monopoly and left most of Mexico's vast reserves still in the ground.
While oil output has been rising in the U.S. and Canada, Mexico's production has fallen 25 percent since 2004 despite increased investment.
Pena Nieto's reforms also open telecommunications and aim to improve Mexico's education and the tax structure. U.S. Commerce Secretary Penny Pritzker brought 17 corporations to Mexico two weeks ago in anticipation of Obama's trip, some looking to do business in Mexico for the first time.
"Our goal right now is to help those companies figure out where their next opportunity is," she said. "They know the Mexican government wants them there."
U.S. foreign direct investment in Mexico has increased steadily since NAFTA was signed, to more than 400 percent to a total of $92 billion, and trade between the two countries has more than tripled.
Follow us on twitter.com/foxnewslatino
Like us at facebook.com/foxnewslatino